You have /5 articles left.
Sign up for a free account or log in.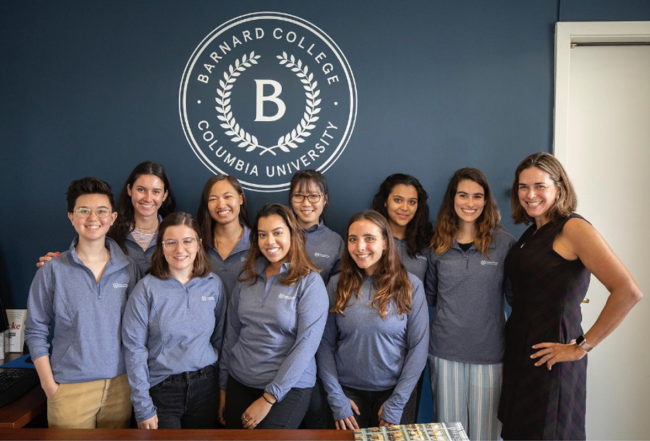 Preparing for life after graduation can be a daunting task for students, but Barnard College's peer career advisers program offers friendly faces and advice from fellow students.
For over a decade, students have worked alongside staff at the college's career center to provide professional development help for the larger campus community, part of a long-standing institutional tradition.
How it works: Barnard's PCAs are sophomores, juniors and seniors who offer a variety of career services for other students—from one-on-one advising on résumés and cover letters to leading workshops hosted by student organizations and assisting in resource creation for the larger advising and programs team.
The PCAs, beyond learning how to give career advice themselves, knock down a barrier of intimidation that may exist for students engaging with Barnard's career center, Beyond Barnard. Students are more comfortable meeting with staff members after first meeting a PCA, Christine Valenza Shin, Beyond Barnard's interim executive director, says.
Becoming an adviser: To become a PCA, students apply in the winter and complete an interview with staff and the current advisers. Each cohort is around 10 strong, and PCAs often serve for two consecutive years.
Before the school year starts, PCAs complete a weeklong, full-day orientation to learn about Beyond Barnard and basic advising types: reviewing résumés, LinkedIn profiles and cover letters, interviewing and networking tips, among other subjects.
The cohort also meets weekly with Beyond Barnard's adviser and programs coordinator to discuss challenges in their work, share tips with one another and ask questions.
Scaling up: The PCA program launched in 2009 and has looked similar since in numbers, but the types of work and visibility of service offerings has grown over the past decade, Valenza Shin says. Now, more offices and dorms request special presentations on career skills from PCAs and the group creates materials for the college's advising management platform, Handshake. The PCA program also evolved to offer virtual services and scheduled appointments during the pandemic and has slowly shifted back toward drop-in availability as student activity returns to in-person, Valenza Shin says.
On the job: PCAs offer between six to 10 paid working hours per week. Students interested in receiving peer career advice can schedule a time to meet virtually or in person, Monday through Friday between 10 a.m. and 5 p.m.
Beyond Barnard has completed around 22,000 advising engagements since 2018, and PCAs offer approximately 500 appointments each semester, or about 20 percent of total advising sessions.
"It's not so much that our staff is smaller—rather, it would be impossible to complete that many additional appointments without PCAs," Valenza Shin explains.
What works: Around eight in 10 students who meet with a PCA go on to meet with a full-time staff member, and that double interaction makes a stark difference in the advisee's appointment productivity, Valenza Shin says.
"We can usually tell if they have seen a PCA first without even looking," Valenza Shin says, because a student's résumé quality and formatting is higher quality. The advising appointment with staff is often more efficient and productive, as well.
Around 97 percent of graduates in Barnard's Class of 2021 used Beyond Barnard resources during their time at the college, and the office has found its satisfaction data is "consistently very high for both PCAs and our full-time advising staff," Valenza Shin says. "More than nine [out of] 10 advisees report that they would recommend meeting with Beyond Barnard advisers to a friend."
PCAs are also often among alumnae who return to campus for panels and mentoring opportunities for students, she adds. "Their PCA work sets them up for a lifetime commitment to helping support others in their career exploration, even if they don't go into it as full-time work."
If your student success program has a unique feature or twist that you believe is worth modeling, we'd like to know about it. Click here to submit.