You have /5 articles left.
Sign up for a free account or log in.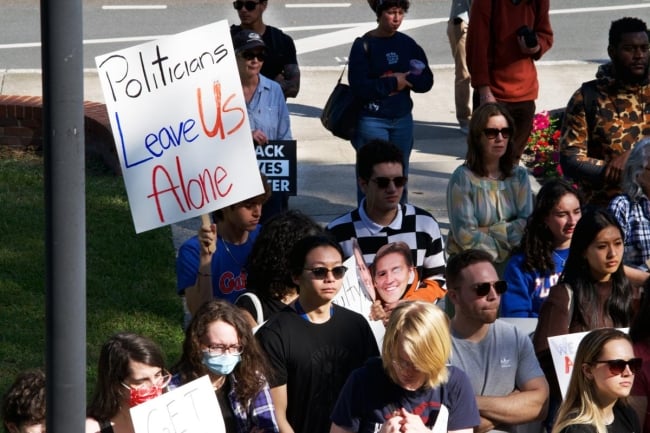 Gabriella Aulisio/The Independent Florida Alligator
When Florida's Republican governor, Ron DeSantis, announced plans last week to defund diversity, equity and inclusion initiatives across the state, he was joined on stage by political activist Chris Rufo, who has made a career out of questioning the purpose of DEI programs.
Among other things, Rufo helped craft new model legislation recently released by the Manhattan Institute to guide states seeking to defund DEI initiatives at their public universities—a playbook that DeSantis appears to be largely following. Florida's proposed legislation is expected to be considered in March when state lawmakers convene.
At a press conference last Tuesday, DeSantis said that defunding DEI programs—which he called "hostile to academic freedom"—will make them "wither on the vine."
While proponents of DEI programs see them as necessary to counteract bias against underrepresented students and employees, many in conservative circles subscribe to DeSantis's belief that DEI initiatives serve as a liberal smokescreen designed to shame whites and conservatives while imposing a radical left-wing orthodoxy.
Defunding DEI
When the Manhattan Institute released its model legislation in mid-January, Rufo touted it on Twitter as a way for state lawmakers to put an end to DEI programs at public institutions.
"We've developed a playbook for state legislators to abolish DEI bureaucracies and restore colorblind equality in public universities. The truth is simple: red states should not subsidize racialist ideology, bureaucratic capture, and the destruction of their public academies," Rufo tweeted. (He did not respond to recent requests for comment from Inside Higher Ed.)
The new model legislation has four stated proposals: to abolish DEI bureaucracies; to end mandatory diversity training; to curtail "political coercion"; and to eliminate identity-based preferences.
Ilya Shapiro, a senior fellow and director of constitutional studies at the Manhattan Institute, who co-authored the model legislation, said its goal is to shut down DEI offices in a way that doesn't impinge upon academic freedom, primarily by targeting resources to such programs rather than dictating what is taught in the classroom.
"This is about the structures and systems that have arisen in the last decade, and especially in the last few years, that have enforced and indoctrinated what I've called an illiberal ideology, racialist thinking, treating people based on their identity, teaching people to think about different levels of privilege and guilt, and all of that sort of critical studies or whatever you want to call it," Shapiro told Inside Higher Ed.
While the model legislation has been public for only a few weeks, Shapiro pointed to Florida as one state that will soon be acting on it, though other states have expressed interest, he added. A Manhattan Institute spokesperson confirmed conversations with officials from other states but did not specify which ones.
"Several different lawmakers from states across the country have reached out to the Manhattan Institute's external affairs team to discuss technical policy ideas included in our issue brief on abolishing DEI bureaucracies and restoring colorblind equality in public universities," Jesse Arm, a Manhattan Institute spokesperson, said by email. "Gov. Ron DeSantis' recently announced proposal to reform higher education in Florida employs some of the ideas that Manhattan Institute fellows highlighted in our issue brief. We anticipate and hope that policymakers will continue to view the Manhattan Institute's research products as a valuable resource."
The model legislation has drawn a handful of high-profile supporters from academe, many of whom have courted controversy in the past by criticizing DEI efforts or the Black Lives Matter movement.
Shapiro himself has also drawn controversy. He abruptly resigned from Georgetown University Law Center last year following his suspension for a tweet that questioned the role race played in the appointment of Supreme Court justice Ketanji Brown Jackson, who is Black. (Shapiro later apologized for the tweet.) Weeks later, student protesters shouted Shapiro down at the University of California Hastings College of the Law, where he was scheduled to speak.
Shapiro said the model legislation he helped craft is ultimately about enhancing the freedom of students and employees by forcing public universities to maintain a neutral stance on political controversies, a position that he—along with lawmakers such as DeSantis—believes has been overtaken by "woke activism."
"I want universities to go back to their essential missions as seekers of truth and generators of knowledge and educators of the next generation," Shapiro said. "Anything beyond that is beyond the university's basic mission. They're not supposed to indoctrinate, and they're not supposed to treat people differently based on race and sex and other immutable characteristics."
While the endorsement of prominent academics may signal some degree of support within higher education, the authors have a different audience in mind: lawmakers who can act on the legislation, using the playbook in the same way DeSantis is to try to end state DEI efforts.
The DeSantis administration did not respond to a request for comment from Inside Higher Ed.
Model legislation is neither new nor limited to conservative viewpoints. Both conservative and liberal organizations—think tanks and corporations alike—have pushed various model legislation over the years to promote their causes. The Florida case, however, shows how such legislation can drive reforms in a major way when it is shaped by activists who have close ties to top state officials. Not only is DeSantis drawing on the Manhattan Institute playbook Rufo helped write to end DEI in his state, but he also appointed Rufo to the board of New College of Florida, giving him a platform where he can test out and refine that playbook. Rufo and other trustees have already begun efforts to close NCF's Office of Outreach and Inclusive Excellence, which heads DEI efforts at the college.
Defending DEI
Proponents of DEI programs have questioned the DeSantis administration's motives. Some have accused the governor of trying to score political points with Republican voters ahead of an expected White House run in 2024. Others have condemned the Florida governor as racist, citing his objections to DEI programs as well as his recent attack on the Advanced Placement African American Studies course, which state officials barred from being taught in schools in its original form.
Some critics have also blasted DeSantis on free speech grounds.
"These proposals represent nothing less than an effort to substitute the dictates of elected officials for the historic autonomy of higher education institutions. If enacted, they would unquestionably pose a grave threat to free speech on Florida campuses," Jeremy C. Young, senior manager of free expression and education at PEN America, said in a news release denouncing the reforms proposed by DeSantis. "The core freedom that is a vital prerequisite of academic research and teaching is the ability of scholars and students to pursue lines of inquiry, and this in turn depends on a university remaining free from political interference."
Paulette Granberry Russell, president of the National Association of Diversity Officers in Higher Education, said the rhetoric around DEI programs is purposefully divisive. She believes the efforts in Florida are meant to send a signal to colleges and universities to cease and desist on DEI work.
"I think it is intended to have a chilling effect on the efforts of institutions," Granberry Russell said.
She disagreed sharply with detractors' claims that DEI initiatives are intended to impose a liberal orthodoxy on colleges, pointing to broader efforts to promote "structural change within institutions so that they have the ability to recruit, retain a more diverse student body, faculty and staff," and to create an inclusive, welcoming campus culture.
Granberry Russell pointed to a recent fact sheet released by the Department of Education's Office for Civil Rights noting that initiatives such as DEI training and instruction on the impact of systemic racism do not "categorically create a hostile environment on the basis of race"—and are in fact consistent with Title VI, which prohibits discrimination on the basis of "race, color or national origin."
While DeSantis may succeed in defunding DEI offices across Florida, Granberry Russell suggested that won't necessarily put an end to the work—especially at institutions where it remains a core value and administrators are committed to the cause. She added that eliminating DEI funding won't eliminate diversity on campus, and that students and employees are unwilling "to go back to an era where individuals from marginalized communities are rendered invisible and silenced."
Still, Granberry Russell acknowledged that in the DEI world, all eyes are on Florida. If DeSantis's efforts to dismantle DEI are successful, other red states will likely copy his playbook.
While NADOHE will continue to lead the fight to uphold DEI initiatives, Granberry Russell said she hopes allies will step up with a structured effort to resist the push by state lawmakers to kill off DEI initiatives. But so far at least, no real legislative counterpunch has emerged to defend against the strong offense outlined in the Manhattan Institute's playbook.