You have /5 articles left.
Sign up for a free account or log in.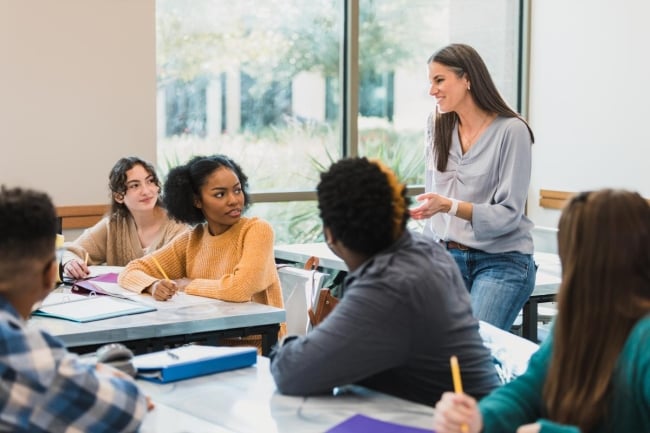 SDI Productions/E+/Getty Images
Community college leaders are largely thrilled about the rise in high school students enrolling in college classes, particularly after steep enrollment declines during the pandemic, and many are hoping the trend continues. But offering dual-enrollment courses comes at a cost for many community colleges because of discounted tuition rates for high school students and extra expenses associated with these courses, among other financial challenges, according to a new working paper by the Community College Research Center at Columbia University's Teachers College.
The paper offers strategies for colleges to run dual-enrollment programs without breaking the bank.
"There's a lot of pressure among parents and students and policy makers to offer dual enrollment—that's a good thing," said Davis Jenkins, a senior research scholar at the CCRC and a co-author of the paper. "But community colleges can't lose their shirt in the process."
Community colleges aren't the only higher ed institutions that offer dual enrollment, but they serve the majority of high school students in college courses, 70 percent, the paper notes. Over the course of a decade, from fall 2011 to fall 2021, the number of high school graduates attending community colleges decreased by more than 2.3 million students, but the number of high school students enrolled almost doubled from 539,861 to over a million students, according to data from the Integrated Postsecondary Education Data System, or IPEDS.
Dual-enrollment students have "been the only area of growth for community college enrollment in the last decade or more," Jenkins said.
For example, dual-enrollment students made up 11 percent of overall enrollment at Tennessee community colleges in 2012, and that share rose to 20.7 percent by 2021, according to data from the Tennessee Board of Regents. These students accounted for almost a quarter of enrollment this past fall, or about 16,700 students out of a student body of about 70,000.
"Our enrollment among adults and recent high school graduates has declined rapidly during the pandemic," said Russ Deaton, executive vice chancellor for policy and strategy for the Tennessee Board of Regents. "It's starting to stabilize … There are some campuses where that recent high school graduate number is growing again, but across the system, it's not. So dual enrollment is one of the major growth drivers right now."
He attributes the surge in part to the Tennessee General Assembly expanding state grants for dual enrollment in 2022. The state will cover community college tuition for up to five dual-enrollment courses per high school student.
Dual enrollment has similarly more than doubled at Compton College in California since 2016. These students were disproportionately students of color and now make up more than a third of the college's enrollment. During the 2021–22 academic year, 77 percent of dual-enrollment students were Latino and 9 percent were Black.
Keith Curry, president and CEO of Compton College, said dual enrollment has been a long-term part of the college's enrollment strategy.
"It provides us with an opportunity to engage students early on while they're in high school in Compton College activities," he said. "Also, it's a great equalizer as it relates to college access."
Jenkins said dual-enrollment programs can be a "money loser," but when "done intentionally can really propel students, especially those from underrepresented groups to college education" and can be financially sustainable.
Heightened Costs
The paper, which is based on an analysis of IPEDS cost data, shows that various factors can make dual-enrollment courses more costly than other classes. Many community colleges offer discounted dual-enrollment courses in order to expand access to them, but they come with extra costs for institutions. The courses can require colleges to negotiate articulation agreements with school districts or schools, evaluate faculty, add IT infrastructure, and hire personnel dedicated to enrollment management, advising and supports for high school students, among other needs, all of which take time and money.
Some modes of instruction are cheaper than others, according to the paper. Generally, having community college instructors teach these classes on campuses is costlier than having them taught at high schools by college faculty members or high school teachers certified to teach at a college level.
Nonetheless, "the cost varies by the modality and who's teaching, but in general under all those scenarios, they're losing money," Jenkins said.
Researchers at CCRC estimated that revenue from dual-enrollment classes only cover between 72 percent and 85 percent of the costs for the average community college. A college that enrolls 10 percent of students in dual-enrollment courses has a net loss of between 1.5 percent and 2.8 percent of its total budget.
The paper also details how widely funding structures for dual-enrollment programs vary across states. For example, dual enrollment is completely publicly funded and free for students in 26 states, but 12 states offer no public funding whatsoever, so the costs fall entirely to students and parents. In 12 other states, the costs are partly covered by public funding. School districts are the primary funders in three states and provide partial funding in 16 other states. Meanwhile, 18 states limit how much community colleges can charge for dual-enrollment tuition.
Martha Parham, senior vice president of public relations at the American Association of Community Colleges, said this is a complicated landscape for colleges to navigate. She noted state and local funding structures for dual-enrollment programs can also change "depending on who's in charge."
"If you rely on it solely as a boost for enrollment, and something changes, it can really affect your fiscal health as a college," she said. "I think there are just nuances and complexities that people really need to understand when they look at their dual enrollment. Mission-wise, it absolutely fits into the mission. It's a great way to partner with local high schools. It's a great way for students to get ahead. But as CCRC … has noted, the economics—there's some challenges and just things to consider."
Potential Solutions
But the dual-enrollment cost landscape isn't all doom and gloom. The paper emphasizes that there are several ways community colleges can offer dual-enrollment programs without losses.
It notes that increases in the number of dual-enrollment students cause the average cost of implementing these programs to drop. The paper also highlights that dual-enrollment students tend to be high achieving, do well in their classes and are retained at relatively high rates, so in states with performance-based funding formulas that include dual-enrollment students, these students can bring in extra state funding. Some states also provide specific grants and subsidies for dual enrollment. Lastly, the paper suggests that if these students are encouraged to enroll at the community college post–high school, they'll bring in future tuition revenue and perhaps performance-based funding as well.
Jenkins said colleges have traditionally taken a "very laissez-faire" approach to dual enrollment, offering random class options as opposed to strategic offerings designed to help students explore career interests and guide them into the degree programs or transfer pathways they offer.
"They sort of see dual enrollment as separate … program serving a separate group of students," he said. "We're saying, no, you need to recruit these students."
Deaton said preliminary data suggest roughly 20 to 25 percent of dual-enrollment students at Tennessee community colleges enroll after they graduate high school. He wants to see that percentage grow over time.
"When we have that dual-enrollment student, it's a captive audience," he said. "Let's take that chance to inform them about the admissions process, broader financial aid, other programs we have."
John Fink, co-author of the paper and senior research associate and program lead at CCRC, said college leaders have had a "shift in mind-set" about dual enrollment, which used to be perceived as "programs of privilege" that are "really designed for students on the college track." Now administrators are starting to see that dual enrollment can be a tool to engage high school students who might not have otherwise considered college.
"The mind-set is shifting to how can we provide a high-quality, college-level course to more high school students … with the right supports to ensure that they're going to be successful, to really just build and transform that trajectory for students to connect with a college program or a college pathway that they're interested in," he said. "It's sort of the right thing to do for students and communities to expand opportunity," and at the same time, "it's economically a very important thing to do."
He noted that the already college-bound students traditionally in dual-enrollment courses are likely not considering community colleges post–high school, but the students exposed to college through dual enrollment very well might and stand to benefit the most.
He added that employing these strategies to improve dual enrollment and make it financially sustainable in the future can come with its own costs, but the expenses are financially and morally worth it.
"Perhaps in the short term there are some additional costs to providing outreach, advising, supports for dual enrollment," he said. "It takes investment to expand dual enrollment in a thoughtful, intentional way." But it comes with "returns to their own revenues down the line" and "a huge return on colleges' mission."
Curry said California covers tuition for dual-enrollment students, but Compton College provides them with supports. For example, the college set aside $500,000 this year to provide emergency grants to dual-enrollment students in need. But the costs aren't viewed as additional expenses because dual-enrollment students are as much a part of the student body as any other student, he said. He also believes the value to students and their families far outweighs the costs.
Designing intentional dual-enrollment programs with adequate supports requires an investment, but "we're talking about finances instead of talking about transforming communities," he said. "We need to figure out ways to support students regardless of the potential costs, because budgets are our value statements."