You have /5 articles left.
Sign up for a free account or log in.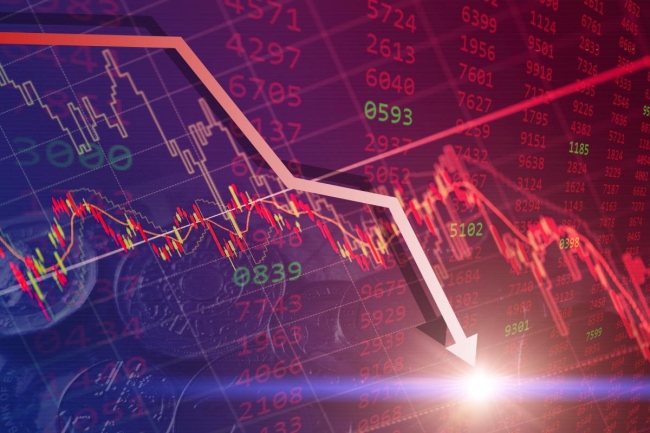 Soaring inflation put a squeeze on college endowments in the 2021–22 fiscal year, driving returns down, according to the annual report from the National Association of College and University Business Officers
The report, released today, is a marked change from the booming returns of fiscal year 2021, when endowments soared. The average return for all college endowments in fiscal 2022 was negative 8 percent, falling far short of the 30.6 percent overall average return in 2021. NACUBO also found that colleges increased their endowment spending, with dollars increasingly flowing toward institutional operating budgets, largely focused on student financial aid.
The survey, conducted by NACUBO and the financial service company TIAA, counted 678 participating colleges and universities with a total of $807 billion in assets.
A news release from NACUBO notes that the dramatic reversal reflects the fact that the second half of fiscal 2022 "included robust tightening efforts by central banks to combat surging inflation, along with significant geopolitical disruptions" that drove financial markets down. The news release adds that "all endowment size cohorts posted negative returns," though the largest endowments—those with assets upward of $1 billion—averaged returns of negative 4.5 percent. By contrast, those in the smallest cohort, with less than $25 million in assets, saw average returns of negative 11.5 percent.
"The 2022 fiscal year was truly a tale of two markets, with positive economic tailwinds driving equities higher through December 2021, followed by a crushing combination of inflationary pressures and other factors that forced most major investment indices down sharply by the year's close," Jill Popovich, a TIAA official, said in a news release accompanying the study.
Despite the rocky returns, NACUBO found that donations to endowments increased by an average of 22 percent in 2022, for institutions with both large and small endowments. Strong gifting, officials noted, helped offset endowment losses driven by a market downturn.
Endowment Performance
The institutions with the five largest endowments remained unchanged from fiscal year 2021. Once again, in order, the largest endowments belong to Harvard University ($49.4 billion), the University of Texas system ($42.6 billion), Yale University ($41.3 billion), Stanford University ($36.3 billion) and Princeton University ($35.8 billion), according to NACUBO's figures. Endowments for all five have declined slightly when compared to fiscal year 2021.
Rank
Institution Name
Fiscal 2022 Total Endowment Market Value (in $1,000s)
Fiscal 2021 Total Endowment Market Value (in $1,000s)
Change in
Market Value (%)
   1
Harvard University
49,444,494
51,900,662
-4.73
2
University of Texas System
42,668,276
42,906,847
-0.56
3
Yale University
41,383,300
42,282,900
-2.13
4
Stanford University
36,300,000
37,800,000
-3.97
5
Princeton University
35,794,186
37,697,509
-5.05
6
Massachusetts Institute of Technology
24,739,862
27,527,204
-10.13
7
University of Pennsylvania
20,724,351
20,523,546
0.98
8
Texas A&M University System
18,243,191
18,028,267
1.19
9
University of Michigan
17,347,188
17,022,683
1.91
10
University of Notre Dame
16,729,299
18,074,543
-7.44
11
University of California
15,417,663
16,267,485
-5.22
12
Northwestern University
14,121,488
14,958,441
-5.6
13
Columbia University
13,279,846
14,349,970
-7.46
14
Washington University
12,252,329
13,536,003
-9.48
15
Duke University
12,116,260
12,692,472
-4.54
16
Vanderbilt University
10,206,067
10,928,512
-6.61
17
Emory University
9,997,742
11,031,029
-9.37
18
University of Virginia
9,858,442
10,532,651
-6.4
19
Cornell University
9,838,198
10,028,480
-1.9
20
Johns Hopkins University
8,244,472
9,315,279
-11.5
21
Dartmouth College
8,065,743
8,484,189
-4.93
22
Rice University
7,814,267
8,061,260
-3.06
23
University of Southern California
7,319,123
8,009,340
-8.62
24
Ohio State University
6,960,782
6,814,413
2.15
25
Brown University
6,141,243
6,520,175
-5.81
Colleges appearing at the bottom of the full endowment list are Oakton Community College ($6.2 million), Lakeland Community College ($5.7 million) and Western Governors University ($1 million).
Of the 678 institutions that participated in the survey, 132 reported assets over $1 billion. However, more than half of survey respondents had endowments of less than $250 million.
Though one-year returns are down by an average of 8 percent, NACUBO data show overall return averages of 7.5 percent over the last three years, 7.3 percent for five-year returns and 7.8 percent for 10-year returns.
Even as endowment returns dipped, colleges tapped those assets to fund their needs. Study respondents reported spending $25.8 billion from their endowments in fiscal 2022, roughly $2 billion more than the $23.9 billion institutions spent in fiscal 2021. Colleges tapped into their endowments for a variety of reasons, but primarily for student financial aid.
Other top areas funded by endowments in fiscal 2022 were academic programs and research, endowed faculty positions, and campus operations and maintenance, NACUBO reported, noting roughly 75 percent of respondents used endowment funds for their operating budget. The median percentage of budgets funded by endowments was 5.3 percent.
DEI, ESG and Staffing Issues
One silver lining for colleges seeing negative returns was increased donations, which the survey found were up by an average of 22 percent across both small and large endowments.
"Overall endowment values declined 4 percent, and endowments generated an average return of negative 8 percent overall, but encouragingly, these negative returns were offset by an increase in gifting levels," Popovich said in a Thursday press call hosted by NACUBO.
Of the 678 participants, approximately two-thirds reported that some donations were specifically tagged for diversity, equity and inclusion initiatives. While such initiatives, commonly referred to as DEI, have been condemned by conservative lawmakers, many donors are directing dollars toward supporting DEI efforts via scholarships, research and funding for faculty.
This is the second year the NACUBO survey has asked about donations for DEI efforts.
"We're happy to see donors supporting priorities in areas critical to the mission and future of higher education. For NACUBO, increased focus on DEI initiatives is an organizational and sectorwide priority. And we encourage our members to find impactful ways to allocate these gifts now and over the long term," Lynne Schaefer, NACUBO's interim president and CEO, said on the press call, adding that colleges also focused more on DEI in selecting investment managers.
She added that colleges with large endowments have seen more gifts in this area than others.
Beyond DEI, the report finds that more colleges are increasingly focused on another three-letter acronym: ESG, which stands for "environmental, social, governance" and refers to standards used by investors to assess the potential impact of investments. ESG investing, broadly speaking, emphasizes environmental sustainability and corporate responsibility. And like DEI, the focus on ESG is also under fire from some conservative lawmakers, though to a lesser degree.
The survey found "over 86 percent of endowments that responded to this year's question about investment policies include a commitment to environmental, social and governance (ESG) principles in their policies," up from about 80 percent as reported in last year's study. An increased focus on ESG comes as student groups and other campus constituents have pressured colleges to divest from fossil fuels, even as the energy sector has boomed and provided major returns for investors.
The 678 participants in the 2022 survey is down from the 720 that participated in last year's report. The reason for that reduction, explained Ken Redd, senior director of research and policy analysis at NACUBO, was largely due to staffing challenges at colleges.
"Many schools that have participated over many years were not able to this year," Redd said on the press call, noting that higher education is facing many of the same staffing issues as the corporate world with the loss of employees, which has been deemed the Great Resignation. Redd noted that shrinkage has forced remaining staff members to take on greater workloads.
"We don't think it's due to lack of interest as much as just the realities of the labor market," Redd said about the decline in participation, noting the issue was more prevalent at small institutions.