You have /5 articles left.
Sign up for a free account or log in.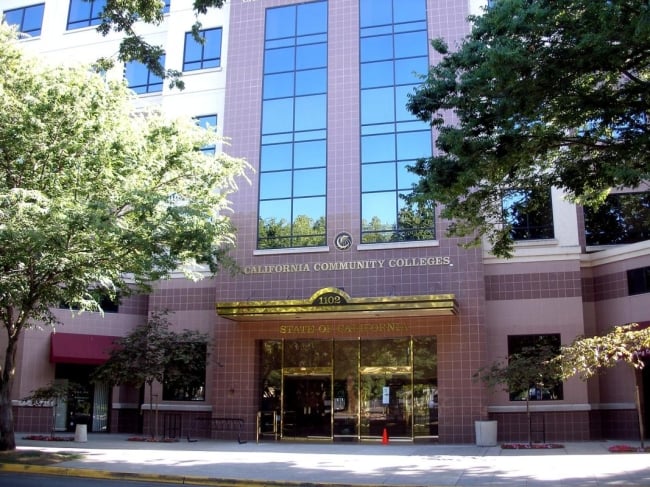 Coolcaesar at the English Wikipedia
Campus and faculty leaders in the California Community College system are eagerly anticipating the selection of a new chancellor this week. The Board of Governors of the 116-campus system is scheduled to appoint someone to fill the role at a meeting Thursday.
The stakes of the announcement are high for administrators and instructors hoping for a steady, long-term hand on the wheel of a sprawling, geographically diverse system. The new chancellor is bound to face competing pressures as some constituents push to continue the previous chancellor's pattern of bold, systemwide policies and others hope for a more hands-off approach that gives more discretion to individual colleges. Meanwhile, the system, like community colleges across the country, experienced significant enrollment declines during the pandemic. Nearly 2.1 million students were enrolled in the 2019–20 academic year, but that number dropped to around 1.8 million in 2021–22, according to the system's website.
The new chancellor will replace Eloy Ortiz Oakley, who left the position last summer to lead the College Futures Foundation, a private grant-making organization focused on boosting college completion among low-income and minority students in California. Former deputy chancellor Daisy Gonzales has been serving as interim chancellor since August.
Amy Costa, president of the Board of Governors, said she wants someone who is "student focused and centered" and will continue implementing the Vision for Success, a strategic plan instituted by Oakley to close equity gaps and increase transfer and graduation rates and adopted by the system in 2017. She also wants someone who will enact the road map set by Governor Gavin Newsom last year outlining goals and expectations for the system.
"We want a leader who can help us operationalize both of those ambitious plans," said Costa, who served on the subcommittee of board members, students, faculty and staff members involved in the search for a new chancellor. (System leaders also hired a search firm to assist them in the process.)
She said the position drew a lot of interest from impressive candidates inside and outside California.
"We had a very strong pool," she said.
Rumors Spreading
Rumors abound about who is in that pool and who will ultimately be chosen.
Kindred Murillo, interim president and superintendent of Santa Barbara City College, said it's hard to know who's going to be selected given how many theories are being thrown around within the system. Her own name has been bandied about, and she didn't even apply, she said.
"I had to actually send a note to my board and tell them I wasn't one of the finalists," she said. "That's how bad the rumor mill is right now."
Though those close to the search process have been tight-lipped about the selection, one name seems to be circulating the most among campus and faculty leaders: Sonya Christian, who became chancellor of the Kern Community College District in July 2021 after serving as president of Bakersfield College. Some see her as a champion of improving student outcomes and a natural fit to carry on the Vision for Success. Others anonymously raised concerns about her limited length of experience heading a district. Some also worry that, as a leader on the rise, she might jump-start new initiatives while colleges are still trying to implement various state mandates.
A spokesperson for the Kern Community College District did not confirm or deny whether Christian was in the running, though some faculty members in her district seem pleased about the prospect of her being named.
"In my experience, Chancellor Christian leads with a thoughtful heart and a data-driven approach," Andrea Thorson, a communications professor at Bakersfield College, wrote in a message to Inside Higher Ed. "Equity is at the forefront of her work."
Wendy Brill-Wynkoop, president of the Faculty Association of California Community Colleges (FACCC), which advocates for professors in the system, noted that the Kern Community College District, and Bakersfield College in particular, have been lauded for making significant strides on some of the goals in the Vision for Success plan, such as implementing guided pathways. She believes these achievements make Christian a "logical choice" for the Board of Governors.
Brill-Wynkoop said some faculty members who worked with Christian have described her as "inclusive in decision-making and trying to implement a lot of the policies that we've been working on in the last decade." But she's also heard from other faculty members who said Christian was "difficult to work with."
Evan Hawkins, executive director of the FACCC, said he'd be thrilled to have a chancellor representing California's Central Valley. But he's concerned about Christian's membership on the Board of Directors of the Campaign for College Opportunity, a California higher ed advocacy group that has been involved in the drafting of several pieces of legislation the association has opposed. The list includes state laws mandating the system undertake extensive remedial education reform and revamp the transfer process, automatically placing all students who plan to transfer on a guaranteed pathway to the California State University system, though not necessarily a nearby campus.
Brill-Wynkoop said the goals of these mandates are admirable, but faculty members find them flawed and overly burdensome. She hopes the new chancellor will "want to hear from partners, will want to work together to try and implement policies that work for our students, and when we come across these kind of unintended consequences, try and work through ways we can serve 100 percent of our students."
Murillo described Christian as a "visionary" and a "real leader in equity" as an early and successful adopter of guided pathways. Murillo has also heard other names as possibilities for the chancellor role, including DeRionne Pollard, president of Nevada State College, and Keith Curry, president and CEO of Compton College. She believes each would bring valuable strengths to the table.
Whoever it is, "I really want a good chancellor," Murillo said. "I think it's really important to the college system. We've gained a lot of traction. We've been funded better than we have been in many, many years. We have a lot of mandates on us … I think it's really important to have a really strong, equity-focused chancellor who can bring people together, who will help us continue to make sure people really understand that community college is a critical component of higher education."
Hopes and Concerns
Campus leaders are feeling a mix of excitement and trepidation about the impending news.
Jose Fierro, president and superintendent of Cerritos College, said he's eager to welcome a new chancellor and trusts the board to pick the right person for the job.
"It's going to take a little bit of adjustment for all of us to learn the style of the new chancellor," said Fierro, who is also president of the Chief Executive Officers of the California Community Colleges Board, a group of campus and district leaders from different regions who advocate on education policy issues​. "Eloy had a very particular style, and we adjusted, and whomever the new chancellor is, I think we can do the same as long as there's collaboration, partnership, and good communication."
Sunita Cooke, president and superintendent of MiraCosta College, said she and some of her colleagues were concerned that no campus presidents were on the search team, which she found "highly unusual."
"It just furthers the divide between the people that run the colleges within the system and the people who are trying to exert leadership over the system," she said, describing a rift she believes has grown in recent years. "Moving forward, we need to bridge the gaps and create more opportunities for collaboration, idea exchange, as we focus on the work of improving student outcomes, improving socioeconomic mobility, closing equity gaps."
Oakley was also known for rolling out ambitious, systemwide policies, and some campus leaders want the next chancellor to give them a reprieve from new mandates as they work toward the goals already in place.
"Policy-wise, we have a lot on our plate that we have to focus on," Cooke said. "So I'm hoping there will be no major new initiatives but that we will focus on implementing the work that is already before us that is in progress now. I think there's plenty to implement and then assess and see what's working and what still needs attention."
Larry Galizio, president and CEO of the Community College League of California, which represents the system's chancellors, presidents and trustees, said local leaders need more freedom to make decisions while working toward systemwide goals, given that districts are "extraordinarily diverse" with diverse needs. He wants a chancellor who respects campus and district officials as the experts on the needs of their student bodies.
"Whether it's the Vision for Success or the road map of the governor, those goals and outcomes are fine and they're supported," he said. "What does not exist, and what we need, is more flexibility and regulatory reform, because there are so many obstacles to allowing the local leaders to do what they need to do in this new environment."
For example, he noted that as mental health challenges and food and housing insecurity surge among students, campus leaders are limited in how they allocate resources to those needs because of the Fifty Percent Law, a California law that requires community colleges to put half of their expenses toward instruction. He hopes the new chancellor will push for reforms that give college leaders greater discretion and decision-making power.
Campus leaders are also hoping the new chancellor stays for a while. Cooke noted that there have been six different chancellors at the helm over the roughly 17 years she's worked for the system. She said being chancellor is a "complex role" given the size and diversity of the system. She's hoping for more stable leadership at the system level—and the district and campus levels, which similarly struggle with frequent turnover.
A role like this requires a commitment to staying "through the tough days and the good days" and to doing "whatever it takes to collaborate and partner with those in and outside the system who are going to serve our students best," she said.