You have /5 articles left.
Sign up for a free account or log in.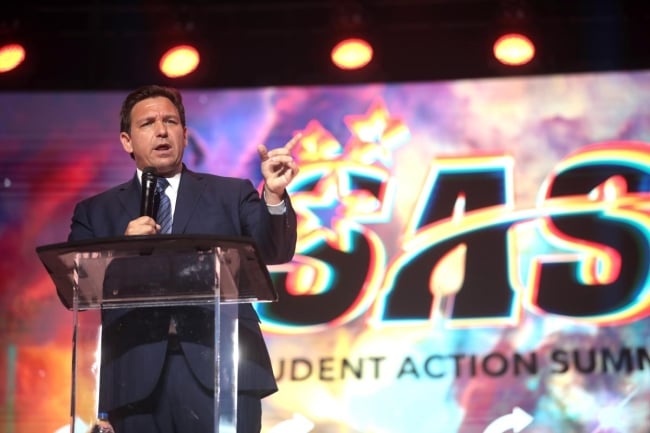 Gage Skidmore from Surprise, AZ, via Wikimedia Commons
Florida governor Ron DeSantis promised sweeping reforms earlier this year to, he claims, rescue higher education in his state from "woke activism." Last week, the Legislature took the first step toward realizing DeSantis's vision with the introduction of HB 999, which aims to dramatically reshape higher education in the Sunshine State.
The bill, prefiled in the Florida House before the legislative session begins in March, looks to defund diversity, equity and inclusion efforts at state institutions; concentrate hiring power in the hands of trustees; allow for posttenure faculty review at any time; eliminate majors in certain subjects focused on race and gender; and create new general education requirements.
Critics consider the bill an attack on higher education related to broader culture war issues—ahead of a potential DeSantis presidential run in 2024—rather than a serious piece of legislation aimed at fixing current issues or improving higher education. They worry that if passed as written, HB 999 will deal an irreparable blow to Florida's public higher education system by eliminating academic freedom, exacerbating faculty recruitment issues, causing problems with accreditors and potentially costing institutions millions in federal grant money.
The bill mirrors much of the governor's recent rhetoric and revisits draft legislation from DeSantis that never made it into the 2022 legislative session.
Reactions to HB 999
With the March legislative session approaching, DeSantis made his plans known at the end of January. At the time, he held a press conference that focused on defunding DEI efforts in the state and issued a news release detailing proposed reforms that now appear in HB 999.
Alex Andrade, the Republican House member who filed the legislation, did not respond to a request for comment. And the DeSantis administration had little to say on HB 999.
"Since this legislation is still subject to the legislative process (and therefore different iterations), the governor will decide on the merits of the bill in final form if and when it passes and is delivered to the governor's office," a DeSantis spokesperson told Inside Higher Ed via email.
Some with close ties to DeSantis are celebrating the move. Chris Rufo, an anti-DEI activist whom DeSantis appointed a trustee in a conservative takeover of the New College of Florida, cheered the move on Twitter last week. "This would be the most ambitious reform to higher education in a half-century," he tweeted. "Gov. DeSantis is channeling the sentiment of the voters, who have demanded that taxpayer dollars stop subsidizing left-wing racialist ideology and partisan political activism. Democracy returns."
But critics see a bill focused on a political campaign rather than real issues, with DeSantis tasking legislative foot soldiers with winning culture war battles, to the detriment of higher education. And many are anxiously watching to see how HB 999 advances in the Legislature.
"The way this bill is currently written essentially strips academic freedom away from the universities and turns the state university system into a political entity that will be completely controlled by whomever is elected in Tallahassee," said Amanda Phalin, chair of the University of Florida Faculty Senate, adding that academic freedom is not a liberal or conservative issue.
Phalin also questioned why higher education is in lawmakers' crosshairs when state agencies, such as the Florida Department of Children and Families and the Department of Corrections, have seen multiple deaths and deadly missteps under their purview but haven't been subject to similar scrutiny.
Andrew Gothard, president of the United Faculty of Florida, warned that the bill as it stands would deal a blow to public higher education that the state wouldn't recover from for years, leading to potential repercussions from accreditors and the loss of faculty members.
Gothard also called the move hypocritical, arguing that DeSantis claims that faculty are indoctrinating students and then seeks to do exactly the same thing by cracking down on DEI initiatives and introducing curricular restrictions that will eliminate majors and minors in gender studies.
"If you actually believe in freedom of thought, we shouldn't be banning any subject matter," Gothard told Inside Higher Ed. "It shouldn't matter if there's subject matter being taught at a higher education institution that disagrees with whatever position a political party has adopted."
Some critics have skewered the bill online, warning of potentially far-ranging consequences.
"This is why students across the state are fighting back—these policies are extreme, un-American and bad for Florida," tweeted Anna Eskamani, a Democratic member of Florida's House of Representatives, citing recent student protests across the state aimed at DeSantis policies that many condemned as racist. "It's right wing projection wrapped up in a bill that will push the best and brightest out of our state and will risk our accreditation too."
The free speech advocacy group PEN America also took aim at the bill; Jeremy C. Young, senior manager of free expression and education, called it "draconian and censorious."
"FL HB 999 would end academic freedom, shared governance, and university independence in [Florida] public higher education in favor of one man's authoritarian control of public university decisions. It would be the end of [Florida] higher ed as a space of open inquiry and free expression," Young said last week in a series of tweets criticizing the legislative proposal.
Some have questioned what enacting the legislation would mean for federal grant programs with DEI components, suggesting that research universities stand to lose millions of dollars. Others have argued the battle over DEI and political meddling with higher education may also extend to the playing fields, potentially driving top athletes to sports programs in other states.
The Looming Legislative Battle
While HB 999 arrived as a prefiled bill in the House, there is to date no companion bill in the Senate. While critics are anxiously watching the bill, they said it's too early to go on offense until they see how it shapes up in the legislative process.
If the bill gains momentum, Gothard noted that UFF will respond with a flurry of actions that include lobbying lawmakers to vote down the legislation. And if HB 999 becomes law, UFF's vigorous opposition will extend to the court system with the hopes of upending the legislation there. Ultimately, Gothard said, "no options will be off the table" in fighting the legislation.
In the past, DeSantis has been fairly successful in pushing higher education legislation. Previous legislative sessions have produced restrictions on teaching certain controversial topics, political litmus tests for faculty members and additional posttenure scrutiny for professors.
University leaders have also fallen into line, with the upper ranks offering little public pushback; in January, 28 Florida college system presidents signed off on a statement denouncing critical race theory.
So far, students and faculty have led the resistance to DeSantis's agenda, but given the potentially far-reaching effects of HB 999, some hope administrators will finally step up publicly.
"I think that all of our university administrations should, and probably will—I hope—reiterate their support for academic freedom in teaching and research and service," Phalin said.