You have /5 articles left.
Sign up for a free account or log in.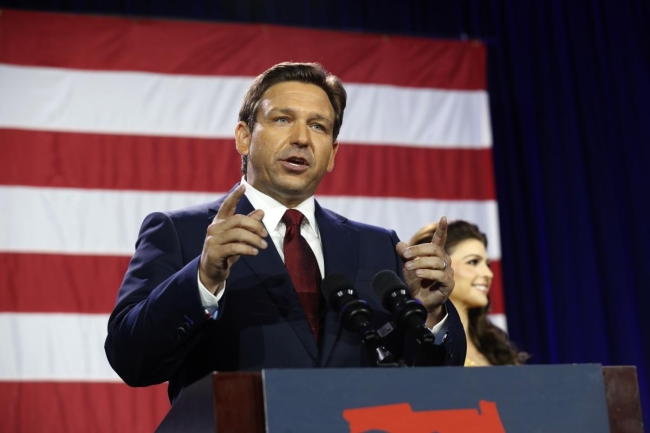 Octavio Jones/Stringer/Getty Images North America
Scholars in Florida are angry, disappointed and divided over a recent joint statement, signed by Florida College System presidents, promising to "not fund or support any institutional practice, policy, or academic requirement that compels belief in critical race theory or related concepts."
Some professors saw the statement as a baffling and infuriating capitulation to Florida governor Ron DeSantis, who's made no secret of his plans to purge the teaching of critical race theory—or anything that may be mistaken for critical race theory—from Florida public education. Other parsed the statement's subtleties, noting the presidents' careful language used to describe their plan to continue doing what they've always done—teach, not compel "belief"—while still appeasing the DeSantis administration. Some observers sympathized with the presidents as they try to navigate a state political climate increasingly hostile to parts of their mission—and with state funding hanging in the balance.
The presidents, who released the statement last month, represent 28 state colleges in the Florida College System, including those that predominantly offer two-year degrees and workforce training programs.
John Avendano, president of Florida State College of Jacksonville, presented the statement on behalf of the system's Council of Presidents at a Florida Board of Education meeting. The group pledged in the statement to ensure efforts at their colleges "do not promote any ideology that suppresses intellectual and academic freedom, freedom of expression, viewpoint diversity, and the pursuit of truth in teaching and learning."
The statement also said that critical race theory—a once-obscure, now widely politicized academic concept that racism is systemic and structural—will only be taught "as one of several theories and in an objective manner." The presidents gave themselves until Feb. 1 to have "fully evaluated and removed any institutional instruction, training and policies opposed to the forms of discrimination described" in the statement.
A press release from the governor's office celebrated the move, calling it a rejection of the "progressivist higher education indoctrination agenda" and a commitment "to removing all woke positions and ideologies" by February.
Some faculty members were incensed.
Irene Mulvey, president of the American Association of University Professors, said the statement fails to "defend academic freedom or challenge the false narrative put forth by DeSantis and others that discussing important topics in the classroom is somehow akin to indoctrination."
"They've simply said they are ok with political interference in higher education in Florida because they did not wish to displease the governor," she said in an email. "It would appear that they are showing they are willing to fall in line with draconian state control of higher education at the expense of the mission of the higher education institutions they oversee."
Bruce Strouble, an adjunct professor at Tallahassee Community College and Florida A&M University for over a decade, said he was "outraged" by the statement. He teaches African American studies and history, among other courses.
He doesn't believe all the presidents who signed the statement truly support it, but their action nonetheless left him feeling "like I was under attack, personally, because this is something I utilize in my educational practice," he said. "Pretty much every course that I work in is influenced by critical race analysis of social issues."
He's worried by the "nebulousness" of the recent statement. Even if it says he can teach critical race theory alongside others, he and his colleagues aren't convinced they're protected from being penalized. They're already wringing their hands over what they can and can't teach, especially those who have dual-enrollment students and don't know whether they have to contend with restrictions for K-12 schooling as well, he said.
Strouble, however, doesn't plan to change his teaching.
Students are "free to decide" if they want to use critical race theory in their own research, he said. But "we shouldn't be hiding different ways of approaching and analyzing data from students. That's anti-education."
A War on 'Many Fronts'
The controversial pledge by campus leaders comes at a time when DeSantis is waging an unsubtle war against what he sees as a liberal agenda at the state's colleges and universities. He dropped a series of bombshells about his proposed reforms for higher ed at a press conference Tuesday, including plans to defund diversity, equity and inclusion efforts at state public universities. He also lamented bloated "DEI bureaucracies," the use of diversity statements in hiring and the prevalence of campus diversity trainings.
A press release describing his proposed legislation to come said it will prohibit "higher education institutions from using any funding, regardless of source, to support DEI, CRT and other discriminatory initiatives."
These announcements were the latest in a torrent of shake-ups to Florida higher education by state lawmakers. The 13-member Board of Trustees at New College of Florida, including six trustees appointed by DeSantis, also ousted the college's president Tuesday as a step toward their stated vision of making the liberal arts college more like Hillsdale College, a private Christian institution in Michigan. Meanwhile, the DeSantis administration called on public universities last week to submit all expenditures related to DEI initiatives. The Stop WOKE Act, which limits how instructors can discuss race and gender in public colleges and K-12 schools, was also signed into law by DeSantis last year, although its application to higher ed has been halted by a temporary injunction. Similar legislation, called "divisive concepts" laws, has proliferated across the country in recent years.
Jeremy Young, senior manager of free expression and education at PEN America, a free speech advocacy organization, said the Florida college presidents seem to have caved to "political bullying" and written their statement "under duress." But as far as he's concerned, they still voluntarily chose to issue what amounts to a "gag order" on their own campuses, despite the fact that Florida's divisive concepts law is on hold for colleges.
"This is the only instance we've ever seen of an educational institution formally agreeing to restrict itself in some of the ways of the most restrictive laws aimed at higher education have done in Florida and in other states," he said. "These college presidents are agreeing to something they're not required to do by law at all, at least not by a law that is currently enforced."
Eric Scarffe, an assistant professor of philosophy at Florida International University, said he's not entirely surprised presidents of "chronically underfunded colleges" felt a need to "mirror back" some of the language state lawmakers are using in their rhetoric.
Presidents "are looking at their budgets and are trying as hard as they can to get a little bit more money from the legislature in order to provide our students, my colleagues, our fellow Floridians with top-notch, affordable education," said Scarffe, who is also vice president of the United Faculty of Florida chapter at his university. Presidents likely feel like "you either fall in line or you get run over."
He also believes campus leaders took pains to use specific wording that "didn't commit to doing anything anyone would find objectionable," since colleges already don't compel anyone to adopt "belief" in academic concepts taught in classrooms. Nonetheless, he sees the statement and the "larger attack on higher ed" in the state causing "self-censorship" among professors afraid to lose their jobs.
"When you take a step back and look at all the different fronts the battle is being waged on, what you come to understand is they're trying to exhaust us," he said. "They're trying to wage as many battles as they can on as many fronts as they can so that we just get tired. But we're not going to get tired, because it's too important to get tired."
Young noted that the language used in the presidents' statement echoes the intentionally vague wording in some of the divisive concepts laws in other states, such as Idaho and South Dakota. Presidents might think "they pulled one over on the governor" and agreed to much less than he'd hoped, he said. But these kinds of restrictions, no matter how vague, make faculty members afraid to teach certain subjects. He highlighted a new report by the RAND Corporation, which found that a quarter of K-12 teachers changed their curriculum or practices because of limits on how to discuss race and gender. Black teachers disproportionately were the ones changing their teaching.
A chilling effect on diversity work, spurred by political rhetoric in the state, appears to already be taking hold at some community colleges. For example, Valencia College canceled optional professional development courses related to diversity for faculty members this spring to avoid running afoul of the law, The Orlando Sentinel reported. The college's student body is 42 percent Hispanic and 17 percent Black, according to fall 2021 data from the college.
Young, of PEN America, said the statement from Florida College System presidents is "demoralizing" news for Florida professors and students but also campus leaders across the country.
"Our hope is that college leaders and system leaders will band together to oppose this kind of legislation," he said. "I think it's disheartening to every president at every public university in the country to see this happen … It does break down the solidarity that is needed across institutions to resist this kind of legislation."