You have /5 articles left.
Sign up for a free account or log in.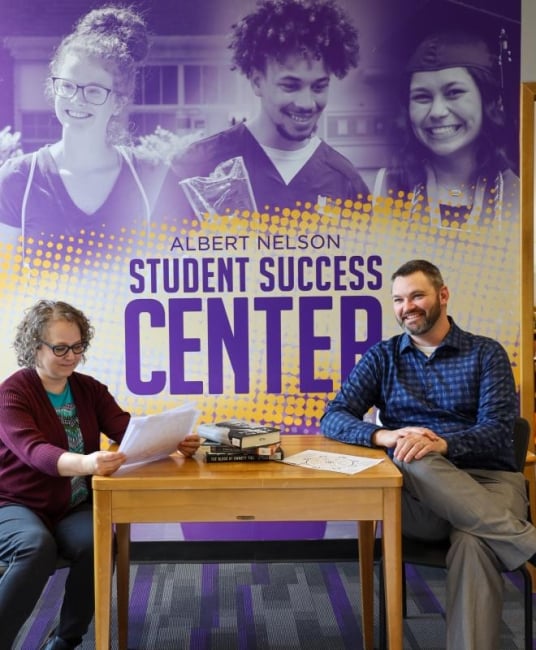 Kansas Wesleyan University
Recognizing that making connections is vital in a student's first year, Kansas Wesleyan University's student success center matches its new faces to seasoned staff to create a recipe for success.
KWU's student success coaching program gives students a personal connection to library resources and its personnel, which in turn boosts retention, says student success center director JD Koons.
What is it: The Albert Nelson Student Success Center, housed in the university library, is about 12 years old, and the success coaching program has run for three years.
Each first-year student at KWU is matched to a success coach in the fall. The success coach is responsible for helping to ease the student's transition into college, most directly through resource education and connecting students to the success center.
The goal is to "intentionally get in front of students from the beginning," Koons explains. As the landscape of higher education is changing, so are student needs, and KWU aims to provide a personal touch in ensuring students are aware of the academic resources available to them, rather than directing them to a website or something less interactive.
If a student misses their registration deadline, for example, their success coach can step in and set up a meeting.
Coaches work with their student cohort, either one-on-one or in a group setting, for the first year before handing them off to academic advisers for sophomore, junior and senior year. Academic advisers are faculty members who support students with class schedules, major interest identification and career preparation, building off the success coaching from freshman year.
Each coach is affiliated with one of KWU's majors. Undeclared major students—or exploring students, as Kansas Wesleyan calls them—are grouped together with a member of career services to help make connections between students' interests and career opportunities, Koons says.
What's different: KWU's student success coaches are part of the university's Albert Nelson Student Success Center, housed in the Memorial Library, rather than the career center or an academic division.
The success center ties other university initiatives into its own functionality, partnering with new student orientations and transfer services to promote services but also get feedback on what students need, as well, Koons says.
Kansas Wesleyan has also heard from its students that they want more face-to-face resources following the pandemic, Koons says success coaches also serve as confidence boosters for students to relearn how to find in-person resources following virtual teaching.
What's working: Koons attributes part of Kansas Wesleyan's record retention numbers to the library's first-year programming, because students who engage with their coaches have higher retention rates compared to their peers who don't.
For its fall 2021 class, KWU reported a 62 percent first-year fall-to-fall retention rate, a five-percentage-point increase from the fall 2020 cohort, Koons shares. Nationally, retention is a bit higher; about 66.4 percent of students who started college in fall 2020 returned for a second year, according to July 2022 data from the National Student Clearinghouse Research Center.