You have /5 articles left.
Sign up for a free account or log in.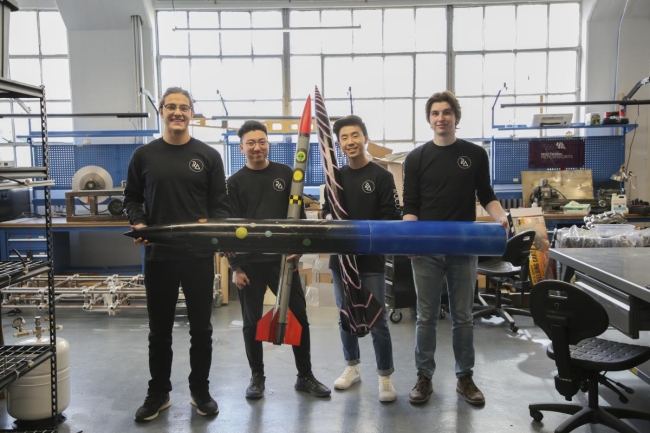 NYU Tandon School of Engineering
At New York University's Tandon School of Engineering, the seven-year-old Vertically Integrated Projects program has grown from five teams to almost 50, involving hundreds of students each semester. Through the experiential learning opportunities, students develop research and their professional skills to prepare them for postgraduate success.
Beyond giving students hands-on experience, Vertically Integrated Projects are designed with accessibility in mind, giving any interested student or faculty member the opportunity to get involved.
The nuts and bolts: A Vertically Integrated Project is an interdisciplinary research study program with 10 to 20 students on a team, distributed across all grade levels.
Projects vary from creating a fully-functioning concrete canoe to exploring accessibility within XR to a vertical farming research project.
Each team is managed by one faculty adviser who supervises and grades students throughout the project.
Students commit to participate in their project for three semesters, earning one to three credits for each, but many work on their VIP for longer, says Jack Bringardner, director of vertically integrated projects at NYU Tandon.
"The ideal student is someone who gets involved in the first or second year and then really takes advantage of that long-term participation to move up into leadership roles to get more of that really in-depth experience," Bringardner says.
When students do lock in for longer than three semesters, they "start to act like graduate students," in terms of the level of research and responsibility they take on, which in turn creates greater opportunity in their graduate or postgraduate research, Bringardner explains.
All NYU students can apply, and there are no prerequisite courses. While there is an application process, most students are placed in a project, with the primary consideration on their grade level and major to create balance among teams.
"We actually try to limit any kind of résumé reviews, GPA reviews, all of that," Bringardner says. "We know internships and some summer research internships … can be kind of exclusive, and the VIP is intended to be accessible."
The foundation: NYU's program belongs to the VIP Consortium, first started by Georgia Tech and Purdue University, but it is a university-run and funded initiative.
The VIP solves three common problems in undergraduate research:
It disrupts disciplinary siloes. By creating teams that are interdisciplinary by subject and students, it creates a more well-rounded environment that models the working world.
It creates long-term development beyond the revolving door of academia. Typically, a student's research is bookended by the academic term or their own tenure at their institution. By involving students across grades and rooting the project under a faculty adviser, VIPs don't end when the school year does.
It expands opportunities for faculty and student engagement because it breaks the mold of a one-to-one research project, opening doors for more relationships and research projects. The legacy system of a VIP also means it's not a faculty member onboarding the new team members, but more often an older student.
"By taking advantage of the size of the team and the multiyear component of it, you have some self-sustaining abilities, where the team starts to develop almost like a start-up culture," Bringardner says.
Growing up and out: NYU started with five VIPs in 2016: the ReprintBot, NYU-X, the SpaceX Hyperloop Pod, Smart Cities Technology and the Urban Food Lab.
In the seven years since, NYU has added over 40 more projects, with 760 students participating in 46 teams this semester, a jump from the 40 teams and 655 students in fall 2022.
Though VIPs started with the Tandon School of Engineering, as more faculty have joined the fray, projects have expanded in topics as well, even moving outside of engineering. Robotics, sustainability and health applications are some of the most popular research areas.
The project is an asset to faculty looking to complete their own research, because it provides easy access to undergraduate students and support for their research, plus qualifies as "broader impact," a frequent grant-funded-research consideration.
As the program has grown, so has its staff. NYU Tandon added a full-time program manager and a program administrator to support growth and operations. Uniformity across the program has grown as well, with a new-adviser orientation and branded templates to create program materials.
Tools of the trade: The biggest takeaway from a VIP is to bridge classroom education and curriculum with research and life experience, Bringardner says. "They get educated on disciplinary topics, but also project management skills, so they learn both professional skills that will help them be leaders and managers in the future."
The research also gives students opportunities to get involved in field development as well as provides work experience, which can be vital for acquiring a summer internship or job after graduation, Bringardner adds. "The thing that we hear over and over from students is that their Vertically Integrated Project that they list on their résumés is the first thing that employers ask about in an interview."
Share your own story about how a successful program for students has grown.