You have /5 articles left.
Sign up for a free account or log in.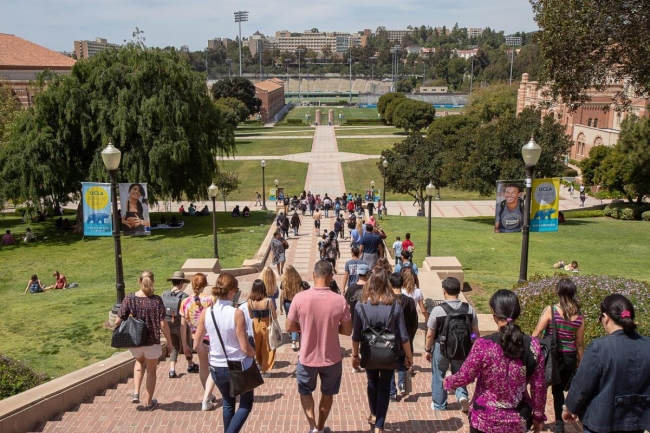 In the latest California budget proposal, Governor Gavin Newsom called on the University of California, Los Angeles, to create a guaranteed transfer pathway for community college students or forfeit a chunk of state funding.
To meet the requirements outlined in the proposed budget, UCLA would have to join the UC Transfer Admissions Guarantee program, which offers California community college students who meet specific criteria guaranteed admission to participating UC campuses. Six of the nine campuses that educate undergraduates currently participate, with UCLA, UC Berkeley, and UC San Diego making up the last holdouts.
UCLA would also be required to participate in the Associate Degree for Transfer program, which promises community college students who fulfill certain requirements a guaranteed spot at participating four-year institutions, including all California State University campuses. If UCLA doesn't meet both requirements, it risks losing $20 million in ongoing state funding, the Los Angeles Times reported. The state Legislature has until June 15 to pass the budget for the 2023–24 fiscal year.
The proposal has detractors and defenders. Some higher ed leaders and experts see a guaranteed transfer pathway as a way to provide more clarity for students hoping to transfer to the highly competitive institution, and as a positive step toward larger transfer reforms in the state. Others were surprised the governor singled out UCLA, given how many transfer students the institution already accepts and at a time when the University of California system is making progress on improving the transfer process.
The proposal also comes on the heels of a public disagreement between Newsom and UCLA leaders on the university's decision to join the Big Ten collegiate athletic conference. Newsom demanded a public explanation from the university about how the decision would benefit student athletes, and some onlookers speculate the latest proposal may reflect these tensions between the governor and the institution.
Ben Chida, chief deputy cabinet secretary and a senior policy adviser for the governor's office, said the goal of the proposal is to give community college students certainty about their next steps.
"Uncertainty is a dream-destroyer," Chida said in a statement. "How can you motivate yourself to excel in class, while also working or taking care of loved ones, if the end of the journey is a 'maybe'? A guarantee is a game-changer for opportunity—and equity."
Jessica Cattelino, chair of the UCLA Academic Senate, said the proposal caught her and others in the UC system off guard.
"The faculty at UCLA and throughout the University of California consider transfer to be core to our academic mission and a priority," she said. "We look for ways to make improvements, even as we also wish to highlight our achievements, including UCLA's success in achieving its transfer admission goals and its prominent place in the system of the University of California."
Of the 24,943 transfer students who applied to UCLA for fall 2022, 24 percent, or 5,961 students, were admitted, according to data from the system. Of those admitted, 61 percent enrolled. UCLA's transfer admit rate was among the lowest for UC campuses, matching UC Berkeley's rate. The average admit rate for UC campuses was about 50 percent. However, the yield rate, the percentage of transfer students admitted who enrolled, was the highest compared to other campuses in the system.
Among the criticisms of UCLA is that too many transfers come from Santa Monica College relative to other colleges in the region. For example, UCLA welcomed 441 transfers from Santa Monica in fall 2022, compared to 62 from East Los Angeles College and 178 from Los Angeles Pierce College, system data show.
Michele Siqueiros, president of the Campaign for College Opportunity, a California-based higher ed research and advocacy organization, said this dynamic is part of what needs to change, and UCLA has a responsibility to make transfer smooth for all students, no matter what college they first attended.
"You have campuses that focus intensely on the transfer mission," she said. "Santa Monica advertises itself as an institution where you go there and you can transfer to UCLA, and they have strong articulation agreements with [UCLA]. That's part of what's uneven and unfair about the transfer pathway for students, is that it really does depend on where you go, the counseling you get, and there's huge inequality in the process."
'Myopic' or a Step Forward?
UCLA administrators declined to comment on the proposal through a spokesperson. But the Legislative Analyst's Office, a nonpartisan state government agency that advises lawmakers on policy, called the move "myopic" and unfair for its singular focus on UCLA in a February analysis of the budget.
"The Governor's approach focuses solely on inputs (participating in certain transfer programs) rather than outcomes, which is counter to the basic notion of performance-based budgeting," the analysis reads. "Moreover, the Governor's approach violates the basic tenet of fairness in that it potentially punishes a single campus for not doing certain things, while other campuses acting in the same ways would experience no state repercussions."
The Legislative Analyst's Office recommended state lawmakers reject the proposal and instead consider making all UC campuses participate in the transfer programs.
Ryan King, a spokesperson for the UC system, said in an email that UC system leaders share "Governor Newsom's and the California Legislature's commitment to ensuring California community college students have the necessary support and resources they need to transfer to and thrive on our campuses." He noted that the system recently announced plans for outreach to 69 California community colleges serving many low-income students, in addition to other efforts focused on transfer.
He also said that a third of undergraduates on UC campuses come from community colleges, a population of nearly 45,000 transfer students.
"We accept 75 percent of California community college applicants to our campuses, and we enroll more community college students than any university of our caliber in the nation," he wrote.
Some also argued UCLA specifically has a decent recent track record on admitting transfer students. The Legislative Analyst's Office report noted that UCLA expects to enroll more transfer students than any other UC campus during the 2022–23 academic year.
Cattelino, of the UCLA Academic Senate, said she's proud of UCLA's transfer record but also acknowledged the process could be improved. She just isn't sure the governor's plan is the right way to do it.
"If you look at our transfer class, we're proud of their achievements, of their diversity," she said. "More analysis needs to be done to ascertain whether those achievements and values would be enhanced or challenged by switching over to a new process."
James Chalfant, chair of the UC Academic Senate's special committee on transfer, doesn't believe the proposal would accomplish what state lawmakers hope for regarding UCLA or other competitive universities in the system if the governor is thinking of this move as a "pilot." He noted that UCLA has a comprehensive review process for applicants, whereas the Transfer Admissions Guarantee program has much more limited requirements for eligibility.
"I don't imagine the governor looks at UCLA and says, 'You look at too many things for these students. I want you to admit a different set of students on a narrower basis,'" he said.
Chalfant doesn't believe a popular university like UCLA has the capacity to accommodate all the transfer students who would be guaranteed a spot there under the proposal. He also noted that the Associate Degree for Transfer program was designed with the CSU system in mind and, as a result, it requires courses that don't matter to UC campuses and lacks courses that do. Also, students who meet the program's requirements are already automatically eligible for consideration to transfer to UC campuses—they're just not guaranteed acceptance, he added.
Other higher ed advocates believe the UC system has lagged in its efforts to streamline the transfer process, to the detriment of community college students.
"The fact that [the governor] is talking about ensuring a better streamlined path into UCLA, I think that's the right expectation," said Siqueiros. But she wants to see all UC campuses held to that standard, like the California State University system. The Cal State system guarantees Associate Degree for Transfer students admission to a Cal State campus, though not necessarily the campus of their choice.
The Campaign for College Opportunity helped craft legislation signed into law in 2021 that required the UC and CSU systems to settle on a common set of general education courses and create a single lower-division general education transfer pathway by fall 2025. The legislation also requires California Community Colleges to automatically place all students who plan to transfer on the Associate Degree for Transfer pathway, unless they opt out, by August 2024.
"There's a long history of sort of campus-by-campus independence around defining requirements for courses that I think has been institutionally centric instead of student-centered," Siqueiros said. "The abysmal transfer rates tell you our system is broken—it doesn't work, and we need to do better."
She said UC campuses should not only embrace a guaranteed transfer pathway but also expand their capacity to take on more transfer students, because more community college students are eligible for admission than there are open seats. And she believes the governor and state Legislature would likely be open to offering the UCs more funding to increase enrollment capacity.
"The question is also if UCLA is committed to the kind of growth necessary and providing greater access to students in the region," she added.
Chalfant said the UC campuses are willing to put in the work to admit more students.
"Everyone would like to find ways to accommodate more students," he said. "We need the funding, and we need the capacity."