You have /5 articles left.
Sign up for a free account or log in.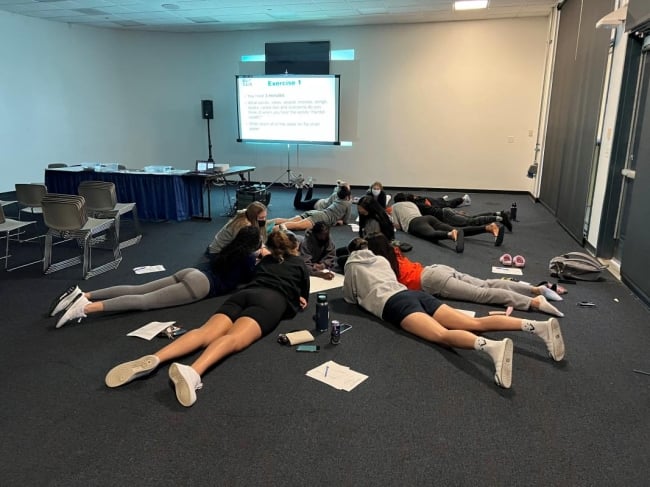 University of California, Irvine
To reduce the negative social stigma around mental health services among its student athlete population, the University of California, Irvine, implemented two programs to improve self-care and support the athletic community.
The need: A May 2022 study from the NCAA found 55 percent of male student athletes and 47 percent of female student athletes believe student athletes' mental health is a priority to their athletic department.
Two-thirds of student athletes know where to go on campus for mental health concerns, but only 47 percent feel comfortable seeking help from a mental health provider on campus.
At UCI, over half of student athletes identified personal struggles as their top mental health concern, according to an internal survey. A quarter of the students identified family as their second challenge, and around one in eight students struggled with death, loss or suicide.
The fix: Behind Happy Faces, an evidence-based curricular program from the Human Power Project, provides students with tools and resources regarding mental health, mental illness, receiving care and supporting peers, among others.
The program is "designed to get student athletes comfortable with talking about and supporting each other with mental health issues," says Doug Everhart, director of student wellness and health promotion at UCI.
By the end of the program, students can effectively provide self-care, seek help outside themselves, gain confidence, experience a better attitude toward mental health and lose their negative mind-sets around mental health, according to the program's website.
UCI uses comfortable and engaging activities for Behind Happy Faces that create open and honest dialogue between students, Everhart shares.
UCI also has a universitywide bystander intervention program called Step Up! UCI, which teaches students to intervene in times of need and provide aid to their peers.
"In this program, students identify their unique strengths and strategies to intervene effectively and to respect that everyone can intervene in their own unique way," Everhart adds. "This creates the culture of care, where it has become an expectation that we look out for each other and intervene or support each other when necessary."
How it works: Both Behind Happy Faces and Step Up! UCI are mandatory trainings for every team each year. UCI alternates between the two programs annually, so "in their four years as a student athlete at UCI, they will get each program twice," Everhart explains.
Teams complete that year's program training sometime between preseason in August to the end of January, which they schedule based on athletes' availability.
At each training, there is a trained or experienced facilitator for the program who leads the student athletes through the curriculum.
Students receive T-shirts, buttons and posters to reinforce the lessons learned, as well.
Over one hurdle: Together, the programs create a more supportive space for student athletes to find help for themselves or support their teammates when they are struggling.
UCI has found student athletes are now more confident in their understanding of mental health and mental illness, and the differences between the two.
If your student success program has a unique feature or twist that you believe is worth modeling, we'd like to know about it. Click here to submit.