You have /5 articles left.
Sign up for a free account or log in.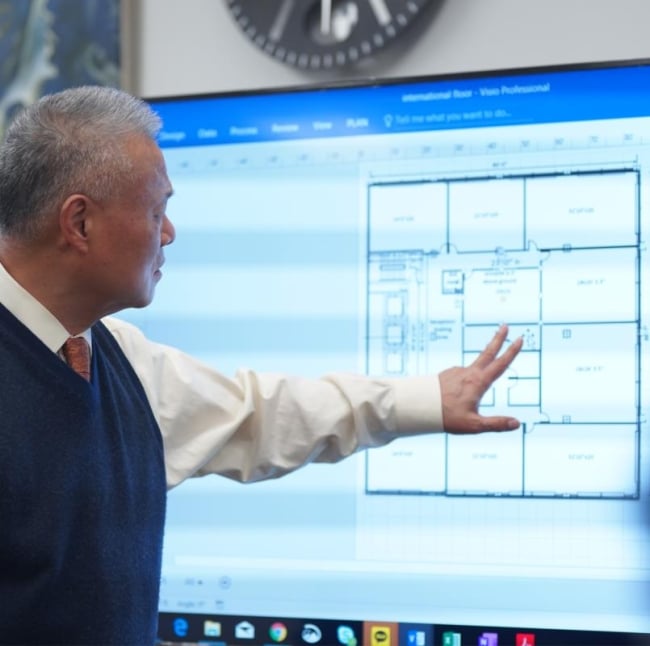 The King's College has long relied on the generosity of billionaires.
Richard DeVos—Amway co-founder and father-in-law of former education secretary Betsy DeVos—donated millions to the small evangelical institution in New York City before his death in 2018. Bill Hwang, a trader who earned billions on Wall Street, pumped several million into the college before his 2022 arrest on fraud charges.
Now another billionaire, Peter Chung, may hold the key to the fate of the King's College.
Earlier this year, the college announced a funding gap of $2 million that it needed to close quickly in order to remain open. As fundraising fell far short of the goal, Chung stepped in with a $2 million loan.
But unlike the billionaires that preceded him, Chung is more than just a wealthy donor; he also has business ties to the college, which hired his for-profit education company, Primacorp Ventures, to launch an ambitious online program.
Employees believe the college's partnership with the Canadian billionaire has exacerbated its financial troubles. Primacorp, led by a board freshly stocked with trustees tied to Chung, has been involved in a series of failed efforts, including an ambitious online expansion. Though the college dissolved its agreement with Primacorp earlier this month, some campus constituents fear the damage is already done and may now be insurmountable.
To blame Chung for all the woes at the King's College would be to ignore the fact that the institution has been running at a deficit for years as enrollment has dwindled. But employees say the partnership with Primacorp blew the institution way off course, with administrators pursuing initiatives that have failed to yield new enrollments. They also question the ascendence of Stockwell Day, the interim president, who has ties to Chung. And given Chung's track record of sinking other colleges, faculty and staff worry the King's College may be headed for the same fate.
A Failed Online Program
Like the leaders of many struggling institutions, those at the King's College looked to online enrollment as a way to bring in more students, boost the bottom line and address long-simmering business issues like the persistent funding gap that has been plugged by wealthy donors. But finding a partner to help navigate the world of online program management was no easy task.
One former official at a well-known online program manager said the King's College first approached his company roughly a decade ago to make inroads into online education.
"The King's College approached us about helping them build an online presence, and we passed, along with, I would assume, every other OPM of quality," said the former official, who requested anonymity to speak freely about a sensitive subject. "When you are looking to partner with a university, the OPM is going to commit millions of dollars of capital, so you have to be really careful about who you partner with."
The college wasn't a good fit, the official said, because of its small student body—currently about 300 students—the lack of a brand name and the absence of strong leadership, among other factors. His company was unwilling to commit the resources to stand up an online program for the King's College, he said, because it did not believe such a program would be successful.
"They had every red flag you can imagine," the former OPM official said.
But the King's College was undeterred and eventually landed with Primacorp Ventures, a Canadian investment company involved with education, real estate and health care. Led by Chung—who speaks frequently about his Christian faith—Primacorp Ventures has an online presence at more than 40 campuses across Canada, according to the company's website.
(Neither Chung, Primacorp nor the King's College responded to Inside Higher Ed's requests for comment.)
The college struck a deal with Primacorp in April 2021, with the stated goals of growing in-person enrollment and adding online programs. Primacorp also took on student recruitment, marketing and fundraising for the college, aiming to dramatically grow the student body through online programs. And last year it announced a "Global Rotation Program" designed to allow students to study abroad, but the program has failed to materialize as expected in the current academic year.
Some faculty and staff saw warning signs from the start.
"One [red flag] was that when we have all this work to do to get online programs up and running and stabilize a business model, why was Peter Chung so enamored with this idea of a global rotation where students would be studying in Israel and Korea and New York? I thought, 'let's go slow here, let's focus on King's growth,'" said a faculty member familiar with the discussions who requested anonymity to speak openly to Inside Higher Ed.
He also noted that Chung's track record was worrisome. The billionaire first came under fire from regulators in 1991, when Wilshire Computer College in California—which he owned—failed. Chung was accused of violating California's state business code, misleading students about job opportunities and lying about the college's accreditation status, according to court documents. The college was closed in 1993, and Chung later moved his operations to Canada.
"I never admitted to wrongdoing—to this day I don't," Chung told a Canadian newspaper in 2012, adding that he did not pay the $12 million the court demanded he compensate former students.
Similarly, a 2022 Canadian Broadcasting Company investigation into CDI College—a multicampus, for-profit institution owned by Eminita Group, another Chung company—found multiple instances of admissions representatives lying about accreditation status and job-placement rates. The CBC reported that CDI College is now being investigated over issues raised in its exposé.
Now some worry that Chung is similarly misleading the King's College constituents through Primacorp.
One source with knowledge of the King's College's online expansion plan said that Primacorp promised to bring in 10,000 online students over the course of three years. (Publicly, King's interim president said that Primacorp would bring in 6,000 online students—a mix of degree seekers and those taking noncredit courses—within that time period.)
But the source who worked on the now-shuttered online initiative said neither benchmark was realistic without seriously watering down the institution's rigorous academics and "bastardizing the brand." He also said the deal between the college and Primacorp was heavily tilted in favor of the OPM, which would collect 95 percent of the online enrollment revenue and give King's a 5 percent share.
"That's absolutely unheard-of in the OPM world," he said.
The former OPM official concurred, saying a common revenue split would be 60 percent for the college and 40 percent for the online program manager.
But for all its lofty ambitions, the King's College currently has no online programs. The former official who worked on the online initiative said the enrollments never materialized, hovering at about 150 students in the first year, which prompted the operations to be quickly wound down.
Primacorp Digs In
Many of the details of the agreement between the King's College and Primacorp remain unknown. Officials from both organizations have been tight-lipped about the deal and subsequent split, though some particulars are spelled out in tax documents from the most recent fiscal year. But what is clear is that Primacorp, despite its recent exit, is still embedded in the King's College.
Primacorp, for example, "has the ability to nominate for election a non-majority four of the nine trustees" on the board of the King's College, according to details in its most recent tax filings. Among those trustees is Stockwell Day, a former Canadian politician who worked as a consultant for Chung before being appointed to the board. Fellow trustees later selected him as interim president.
Now questions linger about whose interests Day represents: The college's, or Primacorp's?
"It's quite clear to me that Stockwell Day is protecting and representing Chung more than us," said the anonymous faculty member who argues that the interim president's past consulting work for Chung amounts to a conflict of interest.
The college also incurred $470,000 as of August 2021 in "various personnel and other expenses" related to the now-defunct online program, according to tax documents—money that the King's College desperately needs now to remain viable.
Further, tax documents show a $10 million line of credit provided by Burnaby Investments, which is affiliated with Primacorp. That line of credit is "secured by college property," tax documents show, which appears to refer to the lone building the King's College owns in New York's financial district, where the college mostly leases space.
That building, DeVos Hall—purchased for $19 million in 2018—is currently for sale. Some faculty members thought the purchase of DeVos Hall, which had previously served as student housing but is not currently occupied, would open the door for the institution to eventually develop its own campus; now they worry that Chung will scoop the building up for pennies on the dollar.
And some suggest there is precedent for a land grab by the entrepreneurial billionaire.
In 2020, Primacorp Ventures signed an agreement with Quest University in British Columbia, acquiring the land and buildings from the heavily indebted institution and then leasing back the campus. Primacorp also agreed to provide recruiting, marketing and fundraising services to Quest as part of that deal, only to later cease that support, according to local media reports.
Primacorp Ventures reportedly paid 43 million Canadian dollars (about $32 million) for Quest University's land and buildings. Now Quest University is set to close at the end of this academic year; the real estate assets Primacorp acquired—which are now for sale—were recently assessed at 69 million Canadian dollars ($50.1 million). (College officials told local media that the land had been put up for sale without their knowledge.)
A president at another U.S. college who engaged in talks with Primacorp about launching an online program noted that his institution never contracted with the OPM, in part because he "heard through the grapevine" that the company was unable to deliver on its promises to King's.
"We were getting some word that Primacorp had somehow misjudged the marketplace and misjudged their ability to deliver the numbers. And they were therefore pulling back on some of their commitments to King's, which placed King's in a difficult financial bind," said the president, who requested anonymity to speak freely with Inside Higher Ed.
But there was also language in Primacorp's proposal related to real estate assets that concerned him.
"What was interesting about the agreement—and what caught my attention and made me a little wary—was a clause that said that they would have the first option on our buildings," he explained. "They would have first option to acquire and lease back the existing college real estate assets."
An Uncertain Future
Officials at the King's College are presently on two parallel paths: fundraising for the future while also inking agreements with other institutions so that students have transfer pathways in the event of a closure. The college's accreditor also required it to submit a teach-out plan, due this week.
The King's College has also sought partnership opportunities, so far without success.
"We are pursuing every opportunity to keep King's open and thriving, but at this point, we still haven't secured an affiliation with another educational institution or raised enough funds to ensure that we are able to do that," Day said in an email to students and parents on March 3.
Another email from the college on March 8 assured campus constituents that the King's College will be able to complete the current semester and hold commencement on May 6, as planned.
Employees, meanwhile, are watching warily. Some contracts will likely not be honored at the end of this semester, and some employees are already posting about their job search on LinkedIn. But faculty members know that there is more at stake than their jobs. If the King's College closes, it will eliminate a rarity: an evangelical liberal arts college located in the heart of Wall Street.
"We have a gem here, and I think people know that. We also know we've had some financial difficulties, and we just want to protect the gem and try to find a new owner who will protect the gem as best as possible to maintain a Christian liberal arts college in New York City. I think that's all we care about personally. I care about that even more than my own job," the anonymous faculty member told Inside Higher Ed. "To me, it will be a tragedy if that gem disappears."