You have /5 articles left.
Sign up for a free account or log in.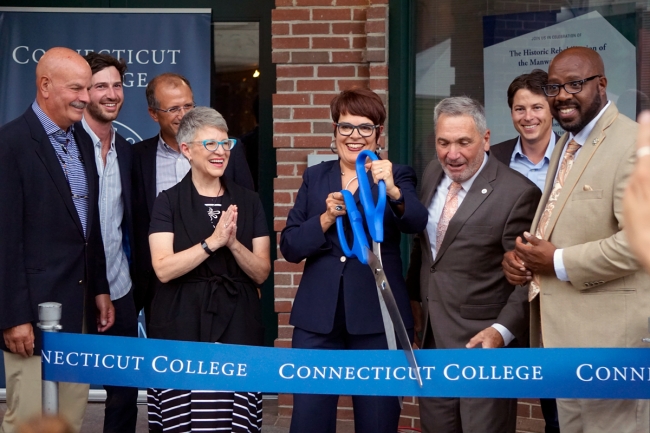 Connecticut College/Facebook
The administrative building at Connecticut College is finally quiet, emptied of the students who gathered to protest President Katherine Bergeron. But that's only because they've gone on spring break.
When they return from the two-week break on March 27, students say the protests are likely to resume.
Students first occupied Fanning Hall, where Bergeron's office is located, last month after Rodmon King, the dean of institutional equity and inclusion, resigned in protest of the college's decision to hold a fundraiser at the Everglades Club in Florida, which has a famously discriminatory past.
King had warned Bergeron against holding the fundraiser there, but she reportedly ignored the advice, prompting his resignation and the last-minute cancellation of the event.
In a scathing resignation letter, King accused Bergeron of bullying and creating a "toxic administrative culture of fear and intimidation" that left people afraid of crossing her. Now students, faculty and staff have united in opposition to the president, demanding her resignation. Employees say the issues King raised have been simmering for a while.
Bergeron, meanwhile, has hunkered down, hoping to weather the protests and keep her job.
Neither Bergeron nor any college trustee was willing to provide comment to Inside Higher Ed.
Unpacking the Controversy
The planned Palm Beach fundraiser was part of a Connecticut College capital campaign tour that included events in New York City, Chicago and elsewhere; another fundraising event is scheduled for Wednesday in San Francisco, and Bergeron will reportedly attend.
The Everglades Club has long been known for secrecy, exclusivity and discrimination. When singer Sammy Davis Jr. was famously denied entry, Joseph Kennedy, the father of former president John F. Kennedy, resigned his membership, accusing the club of discriminating against Black and Jewish people. Past media coverage suggests the club never had a Black member because none ever applied.
Even Donald Trump once complained about the racial exclusivity of the country clubs in Palm Beach.
King resigned on Feb. 7, the day before the scheduled Everglades Club fundraiser. Bergeron announced his resignation in a campus email that said she was "saddened and shocked to receive this news." On the same day, students posted fliers around campus pointing out that King had resigned in protest of the event. Bergeron sent a follow-up email the next day noting that the college had canceled the event and expressing regret for engaging the venue in the first place.
Frustrated by King's resignation and steady turnover in the Division of Institutional Equity and Inclusion, students began to protest. And as Bergeron remained silent, the protests grew.
A new group quickly formed in the aftermath of the incident: Student Voices for Equity.
Shamar Rule, a Connecticut College junior involved with the protests and SVE, said the incident raised other troubling issues.
"Many of these issues include addressing the failed leadership of the Bergeron administration and calling for an immediate change in leadership to sustain an environment that welcomes and takes action towards living up to full participation, diversity, equity, and inclusion," Rule said by email. "The issues SVE is addressing are the structural inhibitions to the college: retention, lack of accountability, monetary funds, workplace culture, student experience, and transparency."
Faculty and staff members have supported the protests by donating food to students occupying the administrative building and providing flexibility regarding class attendance. Faculty members have also expressed their own concerns, which in many ways mirror the students'; they overwhelmingly passed a no-confidence vote in Bergeron's leadership, 149 to 11.
"We've never had a protest that's brought all three of these groups together—staff, faculty and students. The fact that all three are behind this particular cause is important to underscore," said Afshan Jafar, a professor and the chair of the sociology department.
Jafar added that faculty have been raising concerns about Bergeron to the Board of Trustees since at least 2017, complaining about her administrative overreach, micromanagement and lack of transparency.
"We bring concerns to the board. We are able to air our grievances pretty candidly, but nothing actually comes out of it. As far as how effective it actually is, my experience has been that it's not effective," Jafar said. "And I've always found communication with trustees to be one-way. We say a whole lot at these meetings [with trustees]—it's almost like delivering reports of what's happening on this campus—but the trustees never have that kind of engagement back with us."
The Board of Trustees has held public forums with students in recent weeks to hear their concerns, but Bergeron has not attended. Sources told Inside Higher Ed that the president was willing to meet with protesters, but only if they agreed not to film the meeting—a request the students occupying Fanning Hall rejected.
Bergeron's silence seems only to be adding to the tensions.
"I think every week that goes by, the possibility to rebuild trust gets less and less likely. And I think the public perception of what is going on is getting more and more negative," said Chris Steiner, a professor of art history and anthropology and director of the museum studies program.
Steiner added that the ongoing controversy is "a case study in how a lack of communication is so destructive."
He also pointed out that the outrage has not been contained to campus; the local newspaper, The Day, recently penned an editorial calling for Bergeron to resign.
The Board of Trustees, for its part, has told faculty members the president is under review; it has also promised to investigate the issues being raised in campus protests.
"We know that several critical concerns have been addressed to President Bergeron and to members of the senior administration and Alumni Board this week," Board Chair Debo P. Adegbile said in a Feb. 12 statement to campus addressing the spiraling controversy. "We want to assure you of the totality of our collective commitment to support our students, faculty, staff, and alumni in addressing these concerns in accordance with Conn's values. The Board will bring focus to the full range of concerns that have been raised and, together with President Bergeron, will recommit to effective administrative leadership and our DEI values."
Trustees have pledged "an immediate, independent, expert review of our [diversity, equity, and inclusion] commitments across the College and community, including of staffing, investment, programming, and practices that can allow us to fully achieve our community ideals."
Missteps on Diversity
Missteps on matters of race, diversity and other sensitive topics have pushed out numerous administrators at other institutions in the past. For example, in 2015 both the system president and the flagship campus's chancellor at the University of Missouri stepped down amid accusations of mishandling protests related to racism. One key incident at Mizzou involved President Tim Wolfe refusing to get out of his car to address student protestors on campus.
But in other instances, top officials have held on to their jobs after major missteps. At Purdue University Northwest, chancellor Thomas L. Keon—the campus-level equivalent of a president—mocked Asian languages in an off-the-cuff remark at a December graduation ceremony. Keon later apologized and remains in his role, despite calls for his ouster.
Experts note that offensive remarks on race don't always sink presidencies but can create or exacerbate divisions on campus that subsequently make it harder for a president to do the job.
Carlton Brown, a senior fellow and senior consultant at the Association of Governing Boards of Universities and Colleges, said that such gaffes often expose gaps in "proclamation vs. practice," prompting constituents to question a leader's commitment to DEI and forcing a glaring spotlight on the alignment of a president's actions and words.
"If there is a strong proclamation of adherence to the pursuit of diversity, equity and inclusion and then there are moves made that belie that, that is a gaffe that begins to border on the unforgivable, because some things constitute an absolute violation," Brown said.
When students, faculty and staff unite in opposition to a president, questioning their leader's commitment to DEI, that often creates an irreparable rift, he noted, adding that it is important for presidents to live as well as communicate their values.
Though campus constituents seem united in seeking Bergeron's resignation or firing, only one group has the final decision on the president's future: the Connecticut College Board of Trustees. And for now, members aren't willing to say what will happen to the embattled president, leaving the campus waiting—and students ready to protest when the semester resumes.