You have /5 articles left.
Sign up for a free account or log in.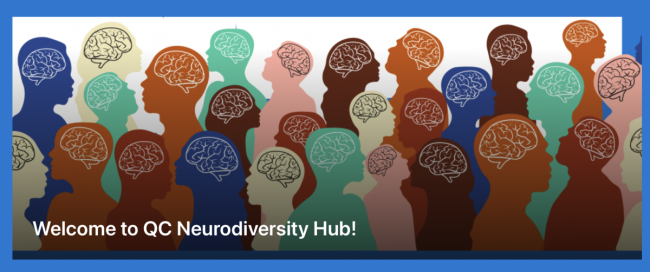 College leaders and educators are seeking ways, big and small, to support the growing number of neurodivergent students on their campuses. (Quick primer: neurodiversity is commonly associated with autism, but it concerns diagnoses such as dyslexia, dyscalculia and attention deficit disorders, as well.) At Queens College, part of the City University of New York, a faculty member has teamed up with two students—one of them neurodivergent herself—to create a virtual resource hub for supporting neurodivergent students.
Accessible content: "An online hub makes the content accessible at all times, from anywhere," says Kartika Kumari, a master's degree student in Queens College's behavioral neuroscience program and one of the hub's creators. Kumari learned she was neurodivergent just two years ago and says that she hopes the hub leads to greater "acknowledgment" of neurodiversity by faculty and staff members—what she calls "the first and the most crucial step" to supporting neurodivergent students.
How they got here: Kumari worked with Sally Izquierdo, program director for applied behavior analysis graduate programs at Queens College, along with another graduate fellow, Gloria Livai, to deliver presentations to faculty on neurodiversity, inclusivity and Universal Design for Learning last year. As part of that work, Izquierdo, Kumari and Livai also created a Microsoft Teams site for faculty members and staff. The Neurodiversity Hub was born.
What the hub includes: Resources include training links, research articles, book lists, podcast suggestions and recommended websites. An instructor checklist Izquierdo created offers tips and prompts on designing courses for inclusivity and accessibility, from general communications to syllabi to assessment. A section on executive function, asks, for example:
Have I provided an agenda ahead of each class?
Are my lectures broken up into smaller chunks?
Have I included breaks between topics?
How will students engage?
Have I included instructions and other prompts in multiple formats?
Have I offered note-taking alternatives?
Have I offered some content in different modes?
Hub members can communicate with each other on the platform through posts and chats. Currently there are several dozen users. The hub is available to those with a CUNYFirst account. Izquierdo and her team are working to promote the site, with the goal of providing more support for professors and staff members.
The best part: For Izquierdo, the coolest aspect of the hub is that she built it with a neurodivergent student. It's "important that students participate in all aspects of the development of supports," she says. "Their feedback is critical to understanding needs."
Kumari agrees. "I love that it was made with collaboration for collaboration. This is a platform for learning for everyone, including us. It is a place for everything related to neurodiversity, from instructor resources and research articles to neurodiversity events."
The need: Now more than ever, Izquierdo says, "We need to support our faculty and staff in understanding how to include students with learning differences." This is part of higher education's broader diversity, equity and inclusion mission and must be "part of our campus dialogue," she adds.
In this light, the hub "is a safe space for a collegial discussion and a place to request, find and share resources. When faculty and staff are supported, they can do a better job of supporting students."
Call to action: Beyond the hub, Izquierdo says she wishes that more higher educational professionals "were intentional in their approach to being inclusive and meeting the needs of a diverse student body, including neurodiversity." This means seeking out up-to-date resources, studying best practices and engaging with others—including students—"to get feedback on our effectiveness."
Reflecting on neurodiversity: Kumari says her diagnosis "has taught me to be more patient with myself. When it comes to studying, it has helped me understand the value in utilizing mixed modes of learning for different subjects." She recalls staying in the library past the point of exhaustion as an undergraduate but says now she knows to take breaks "and shift my focus."
We'd love to know what you or your colleagues are doing to support neurodivergent students. Share your efforts and success stories here.