You have /5 articles left.
Sign up for a free account or log in.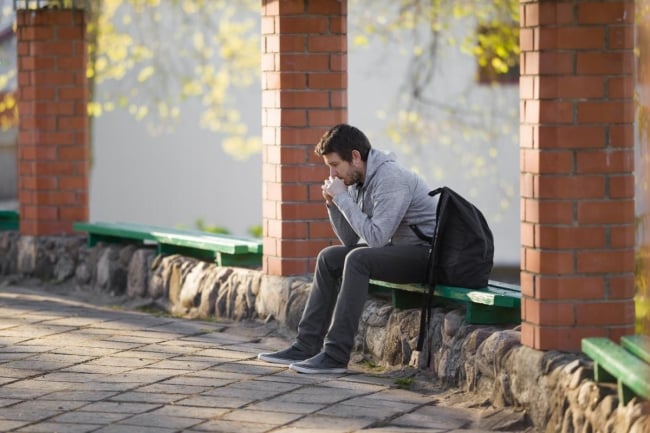 Nearly two-thirds of people who have never enrolled in higher education cite emotional stress as a key deterrent, a new report from Gallup and the Lumina Foundation finds.
It is the fourth most commonly cited reason after the cost of higher education (81 percent), inflation (77 percent) and work conflicts (69 percent). More people cited stress than a lack of interest in pursuing a degree (58 percent), feeling unprepared (54 percent), not seeing the value of higher education (51 percent) and childcare responsibilities (44 percent), among other factors.
Emotional stress is a more significant factor for women; 71 percent said it influenced their decision not to enroll, compared to 57 percent of men. Among people between 18 and 24, 77 percent cited stress, putting it on a par with concerns about inflation and their work schedules. By comparison, 60 percent of those 25 and older named stress.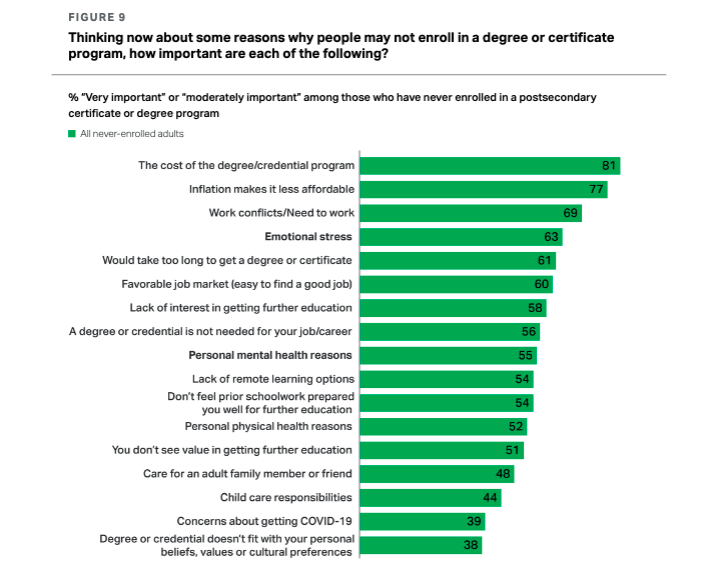 More than half of respondents—55 percent—also cited their personal mental health as an important reason why they've never enrolled in higher education.
"I think this just shows that they have multiple responsibilities," said Courtney Brown, the lead researcher on the report and vice president of impact and planning at Lumina Foundation. "They have to work. They have families. All of those things—they feel stressed out and so busy and the idea of then enrolling in college or a credentialing program on top of that is overwhelming."
The report, entitled "Stressed Out and Stopping Out: The Mental Health Crisis in Higher Education," utilized data from a survey of 12,015 individuals, including current students, students who had enrolled but then withdrew from a college or university, and those who had never attended. It is the last in a series of three studies first launched during the COVID-19 pandemic to analyze why students might be considering stopping out of college and determine how big a role the pandemic played in that decision.
"The frequency with which adults aged 18 to 24 who have never enrolled in college say emotional stress is an important reason for not doing so suggests the rising incidence of mental health issues among this age cohort may be a factor in their declining overall enrollment rates. Further research that includes adolescents' experiences with mental health issues as a potential influence on their decision to pursue postsecondary education may lead to a better understanding of the problem," the report states.
(In previous editions of the study, emotional stress and personal mental health were not included as potential reasons for choosing not to attend an institution of higher education. The top factor last year was the same as this year: cost.)
The report comes at a time when universities and colleges are facing increasingly severe mental health crises on campus and searching for ways to accommodate student needs for on-campus mental health services. To that end, researchers said advertising the resources they provide might help institutions win over individuals who cite stress as a deterrent to attending college.
"Colleges can start to promote the services they have," said Brown. "Some of them have on-site clinics and counseling services, and sometimes that's good for prospective students to know: 'I will get these services as part of being a student.' Talking about serving the whole student and putting the student first is really important to these [potential] students."
COVID's Impact
The report also solidified a worrying trend: that students are increasingly entertaining the idea of dropping or stopping out. Last fall 41 percent of students reported that they had considered withdrawing for at least one semester, compared to 37 percent last year and 34 percent the year before.
Emotional stress remains a significant reason students consider stopping out, the report found. Fifty-five percent of those who have thought about leaving school in the past six months cited stress as a reason, though that number is lower than the 63 percent who cited it last year.
While the report shows that most students are no longer thinking about stopping out as a direct result of the COVID-19 pandemic, researchers believe the residual effects of the pandemic—including a sense of isolation and the challenges of online instruction—continue to impact individuals' plans to withdraw or not enroll in higher education at all.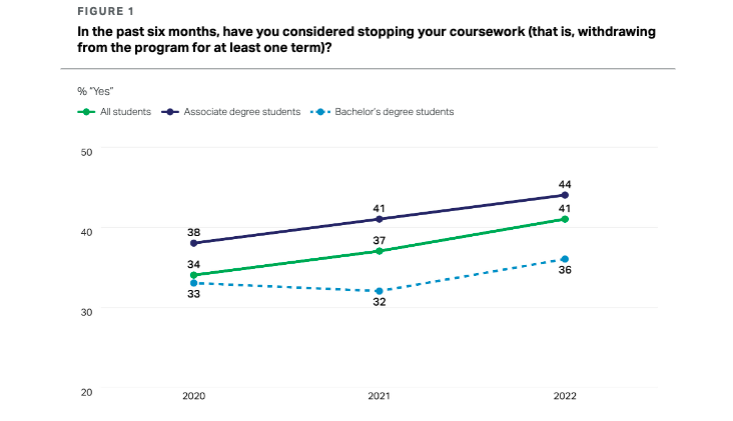 "When asked what emotional stress means to them, many students said that coursework can be overwhelming," the report said, "particularly if combined with work and caregiving responsibilities or issues in their personal relationships. Some mentioned depression and anxiety specifically. Others said concerns about the ability to pay for college brought on emotional stress."
Some experts believe this shows that the after-effects of COVID-19 are still impacting students, many of whom began their college career during the pandemic.
"The personal stressors that emerged during COVID didn't disappear the day we got back to campus," said Zoe Ragouzeos, senior associate vice president of mental health and sexual misconduct support at New York University. "Campuses nationally saw that students had not worked the muscle of interacting with each other face-to-face, so when they got back to campus … it continued to be stressful. I think that's getting better, but it will take some time."
This is not the first survey indicating that mental health struggles correlate with a student's likelihood of leaving college. A study released earlier this year by Pennsylvania State University's Center for Collegiate Mental Health, focused on students who withdrew from their institution while receiving care from the campus counseling center, showed that those who reported social anxiety, depression, financial stress and academic distress—as well as students who were identified by their therapists as having mental health struggles—dropped out at higher rates than the student population at large.
Michelle Dimino, deputy director of education for the think tank Third Way, emphasized that the study underscores a trend that was evident long before the pandemic.
"It's unfortunately not surprising to see these findings about the huge impact mental health is having on student persistence and enrollment—a mental health crisis in higher education has been building since long before the pandemic, and today's students are balancing a ton of personal stressors and often working, parenting, and caregiving while enrolled in school. Mental health affects how students cope with challenges and navigate their studies, and providing robust, accessible mental and emotional health supports is essential for colleges to meet the needs of their student bodies," she wrote in an email to Inside Higher Ed. "Doing that well can be expensive, but more colleges seem to be recognizing that campus mental health services are a necessity, not a luxury."