You have /5 articles left.
Sign up for a free account or log in.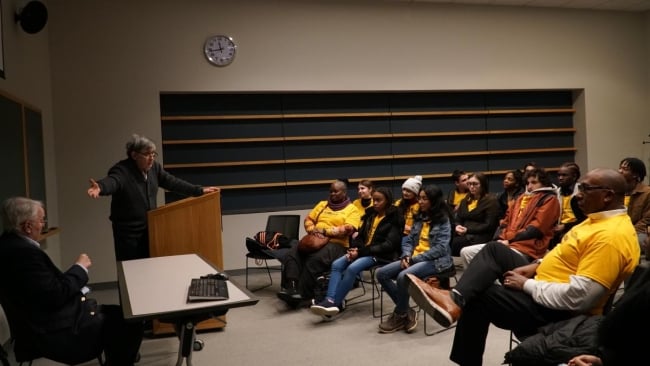 Small groups of students recently walked through a hallway of portraits at the U.S. Holocaust Memorial Museum in Washington, D.C., quietly staring up at the rows of framed faces that seemed to stare back at them.
A guide encouraged students to focus on one victim and think about whom that person might have been before they were killed in a mass shooting by Nazi forces. One student fixated on a photo of a couple. Two other students stopped to scan the room, and one pointed out the large number of young victims in the portraits.
"This is heartbreaking," he said. "Look at the children."
The next day, a student stood for a long moment in front of another portrait, this time at the Smithsonian National Museum of African American History and Culture. The photo was of Rhoda Phillips, a Black woman who had been enslaved in Nashville for over 30 years. Students milled around the museum, pausing to reflect on artifacts, from slave owners' whips and shackles to Harriet Tubman's hymnal.
The students from Adelphi University in Long Island, N.Y., visited the two Washington museums earlier this month to learn about their own histories, and each other's, as a part of an inaugural trip for Black and Jewish students. The two-day trip was emotionally packed, with multihour visits to the two museums, a meeting with a Holocaust survivor and talks by historians and other experts.
David Machlis, an associate professor of finance and economics, said he organized the trip to help students look deeper into the painful histories that help contextualize bigotry against Black Americans and Jews today. He believes students will be newly inspired to combat an "epidemic in hatred"—a rise in racist and antisemitic incidents on college campuses and elsewhere across the country.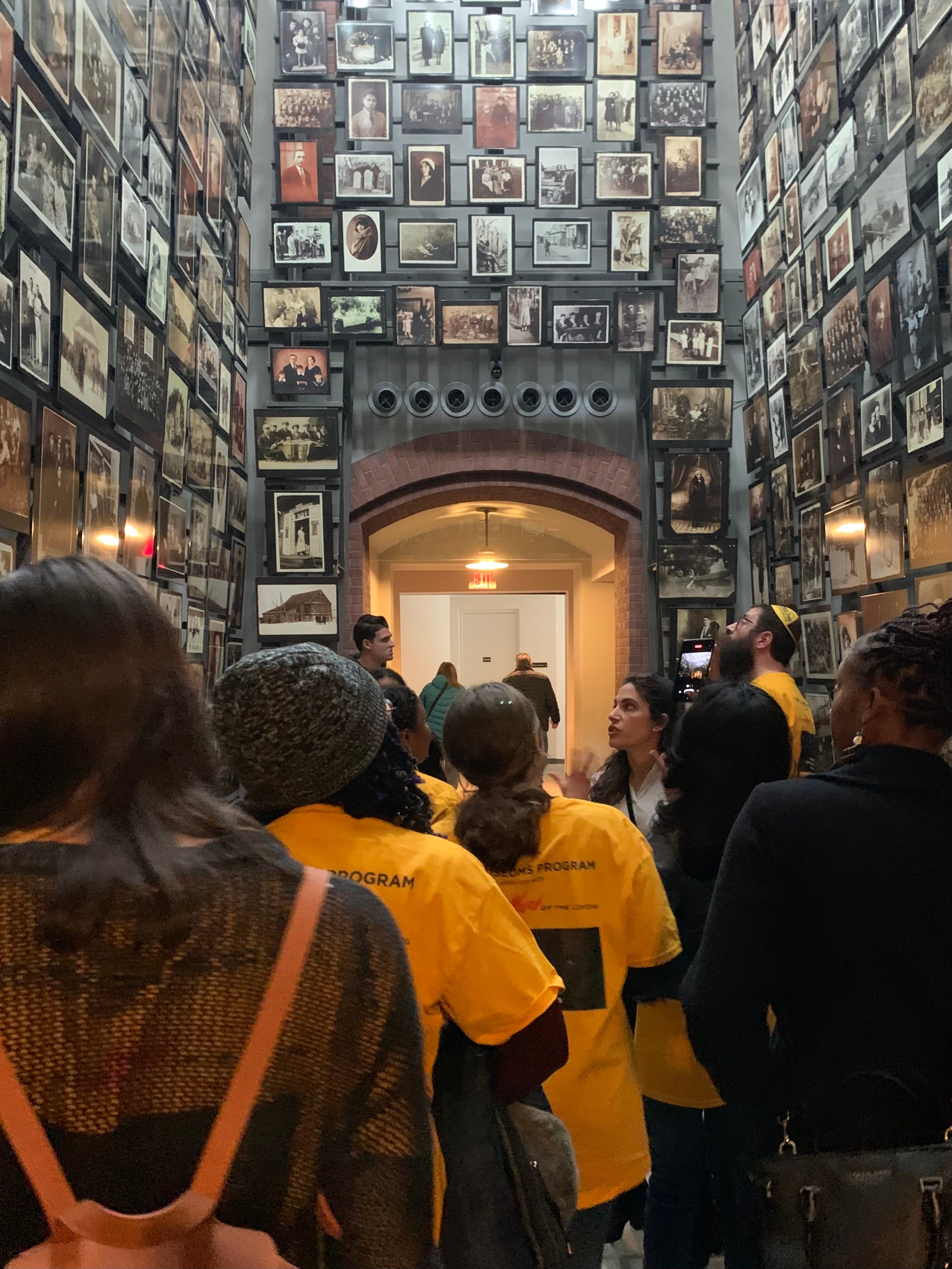 The most recent data from the Federal Bureau of Investigation shows hate crimes skyrocketed 11.6 percent nationwide between 2020 and 2021. The majority of victims, 65.4 percent, were targeted because of their race or ethnicity, and Black Americans were targeted more than any other group in the report. The latest report from the Anti-Defamation League, an organization tracking antisemitism since 1979, also found antisemitic incidents reached an all-time high in 2022, a 36 percent increase over the prior year. On college campuses, antisemitic incidents rose 41 percent.
Machlis, an octogenarian with a shock of gray hair and a thick Brooklyn accent, has no shortage of idealism about the impact his students could have on these troubling trends. He's co-founder and vice chairman of International March of the Living, an educational program that takes participants, including high school students and others, to Poland and Israel to learn about the Holocaust.
"This is the most important program I've ever developed," he said. "These are our future leaders."
"I want to motivate students to all use their platform and stand up to combat racism, intolerance and antisemitism together," he said. "Antisemitism is not just a Jewish issue, nor should combating racism be just a Black issue."
Sentwali Bakari, vice president of student affairs at Adelphi, who was part of the group that visited the Washington museums, spoke passionately about how he wants student leaders to learn new lessons about how to work collaboratively in diverse environments, how to "recognize and appreciate and value the differences and simultaneously recognize so much we share."
Adelphi is home to a fairly diverse student body that's 9 percent Black, 21 percent Hispanic, 14 percent Asian and Pacific Islander, and 46 percent white.
"Colleges and universities are not immune from what's going on in the big world," Bakari said. "Right now, we see racial strife. We see so many things that are not healthy for our country. Whether it's antisemitism or anti-Black, it's happening in the country … We can't be in a bubble."
He expects when the students see news about antisemitism or anti-Black racism, they'll now feel compelled to address it.
"This little, small trip could make a difference and spark a thirst for more research, more education, paying a little bit more attention to what's going on in the world," he said. "When they see things happening nationally, it might trigger something in them to take, at whatever level they can, their own active efforts to make a difference somehow."
Two Museums, Two Histories
The group of 18 students—plus the campus Chabad rabbi and a handful of Adelphi administrators, staff and faculty members—arrived at the Holocaust museum after a roughly five-hour bus ride. They poured out of the bus in matching yellow "Two Museums Program" T-shirts and chatted lightly as they were shepherded through security to a classroom, where they heard some introductory remarks from Machlis and a brief history lesson from a Holocaust studies scholar.
As they emerged into the first exhibit of the museum, the tone of the group shifted from giddy to somber. They continued through the museum hushed, some alone or in pairs and others in small groups.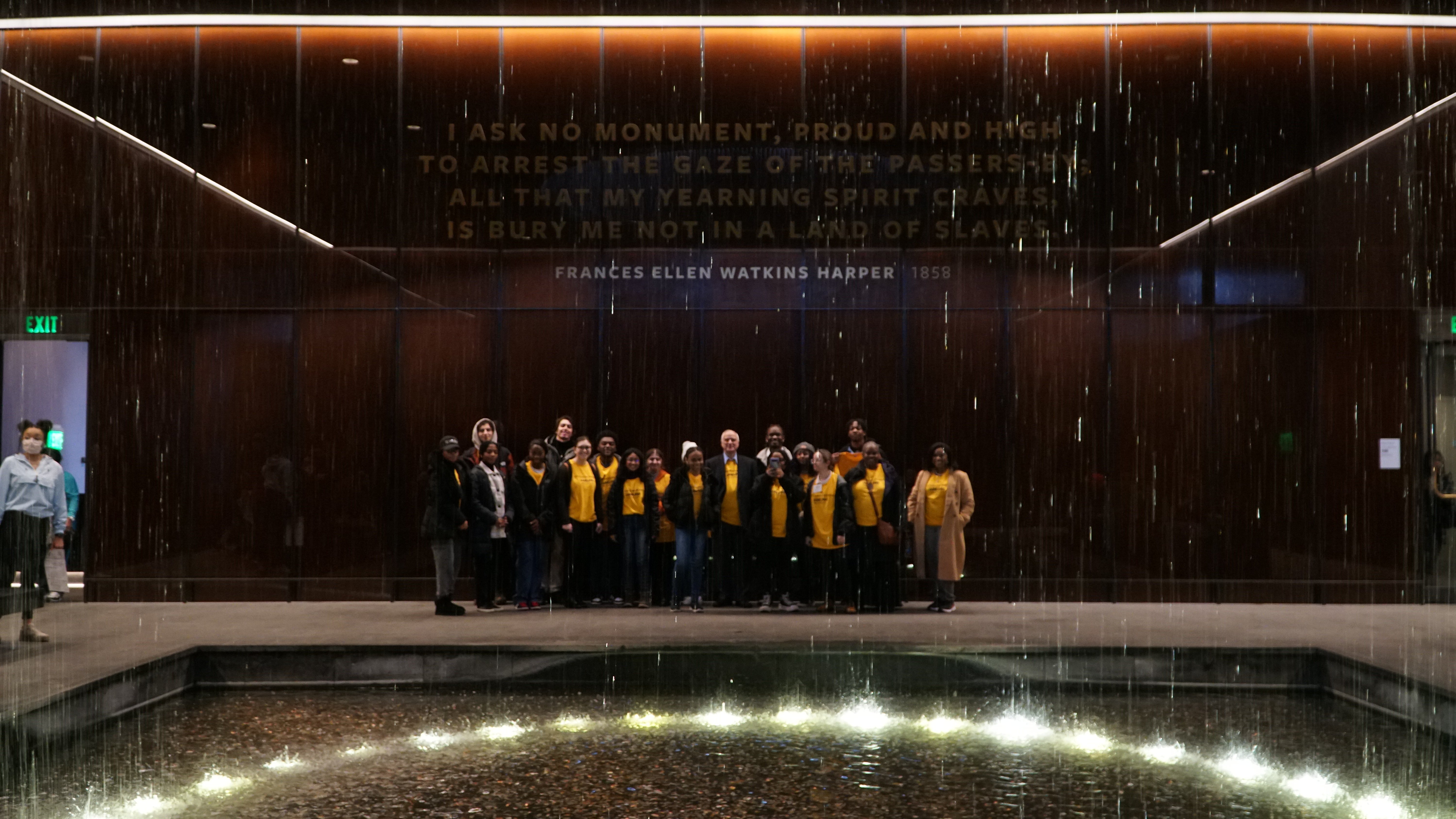 After winding their way through the exhibits for about an hour, small, impromptu group discussions sprang up. Students peppered the Holocaust educators brought in to accompany the group with questions: How did the swastika become a Nazi symbol? What did "SS" stand for? Was Judaism a religion or a race?
A Jewish freshman said he couldn't stop staring at a photo of a Jewish couple who had died. They reminded him of him and his girlfriend.
"I could see their love," said the freshman, who requested anonymity. "It was such a beautiful picture and they looked so happy … and yet they were soon about to be taken and probably separated and sent to death. It really made me sad."
But he took comfort in being with classmates and seeing them emotionally affected as well. He described standing in a group and listening to one of his peers talk about her experience in the museum. He was moved to see someone who didn't share his history discussing it in a way that was "so thoughtful and present and compassionate."
The next day, after hearing from some Adelphi administrators and history experts at their hotel, students similarly navigated their way through the African American history museum, alone or in small clusters, taking in exhibits from the onset of European colonization of Africa through the civil rights movement.
"As we were looking at different sections of the museum, we connected in a way," said Carlex Villier, a senior on the trip. "Even without speaking, we saw things together and acknowledged what happened in the past and how Black people have persevered through so many difficulties throughout history."
For Villier, the son of Haitian immigrants, an exhibit about how slaves revolted in the Haitian Revolution brought him a sense of "joy" and left him feeling "prideful."
"I feel like that's something that doesn't really get taught in school," he said.
Over the course of the trip, both Black and Jewish students were confronted with meaningful, sometimes brutal, brushes with their own histories.
Darius Jones, a sophomore, said it was emotional to see a cabin built by a formerly enslaved person who shared his last name.
"It got me thinking, was that my ancestor?" he said. "It's still on my mind right now."
He said it was "heartbreaking" to see so many videos, images and artifacts demonstrating how "evil" people could be to one another.
Several Black students described feeling stilled by the section memorializing Emmett Till, a 14-year-old beaten and lynched in 1955 for allegedly whistling at a white woman.
For some students, the most impactful moments were engaging with their peers' history.
Mickellie Wright, a freshman, said she felt emotionally "prepared" for the African American history museum because she's so familiar with Black history, but parts of the exhibits at the Holocaust museum jarred her. An image that stuck with her was a single baby shoe amid piles of shoes that once belonged to Jews sent to concentration camps.
That shoe, and the cruelty it represented, "will forever stick with me," she said.
The students were eager to share facts they learned and emotional moments they experienced—but there were also aspects of the program they would change for future years. Some suggested that more time to get to know each other before the trip would have been helpful. Bryce Ridley, a sophomore, said in the beginning of the trip, Black students and Jewish students stuck to themselves, at least at first.
"Towards the end of the trip, everyone came together," he said.
Wright and other students said they'd like to see more Black speakers featured on future trips. Sophomore Madison Clampman, a Jewish student, agreed and added that having guides at the African American history museum, like they had at the Holocaust museum, would have been beneficial.
Over all, students said the trip accomplished what they hoped—bringing the stories of the Holocaust and African American history to life in ways their textbooks did not.
"To be able to be there, and see the exhibits, and to hear these stories—it's a lot different from just reading it off of a page and having a test on it," Clampman said.
Intersecting Pasts and Futures
Black and American Jewish communities have a history of addressing injustices together, Machlis noted. Jewish communal leaders famously marched with Martin Luther King Jr. and were among the founding members of the NAACP.
Fabian Burrell, coordinator for programming and community engagement at the Center for African, Black and Caribbean Studies at Adelphi, who was part of the group of museum visitors, noted there have also been challenging moments in Black-Jewish relations. She cited, for example, the Crown Heights riots, an outbreak of racial tensions between Orthodox Jews and Black residents in Brooklyn, N.Y., in 1991 after a Hasidic man hit and killed a Black child while driving.
"What happens in one generation gets passed on to the younger one," she said of the incident. "It caused a great rift in the Black community and the Jewish community. What we wanted is for these young people, as they're coming up and they hear those stories, is to understand why things happen. It didn't just happen out of a vacuum. It happened because people don't understand each other."
Students said going to both museums made them reflect on some of the similarities between their communities. Ridley said while the histories are different, he found himself drawing parallels between Black slavery and the Holocaust: how people were discriminated against because of their race or background, taken from their homes, and separated from their families.
"I was able to draw these comparisons and … see where these groups of people are today and how this affected them as a people," Ridley said.
Lewis Gordon, who heads the philosophy department at the University of Connecticut, highlighted other ways these histories intersect. He noted that Black people living in Germany were also sent to concentration camps, and Nazi propaganda took inspiration from the writings of American eugenicists about Black and Native Americans in its messaging about Jews. He also noted Black and Jewish histories aren't necessarily separate; there are Black Jews, like himself.
Creating a "meeting ground around struggles against dehumanization is important," he said. "This is about trying to have a coalition against dehumanization and a coalition for a better project of democracy."
He noted that some politicians, such as Florida governor Ron DeSantis, are trying to make "the very history of Black people illicit or illegal" by seeking to scrub concepts such as critical race theory from public education. He also pointed to several acts of violence against synagogues in recent years.
He believes the trip is a positive step toward combating exclusion and suggested adding a Native American history component in future years to further that goal.
Students and administrators are now reflecting on how the trip might influence their activities on campus and how they engage with other students going forward. Burrell wants to go on an International March of the Living trip to Poland in the future, and she's invited Jewish students to her office to take advantage of her book collection on Black history and culture.
Jones said he bonded with students he'd never met before, and some are even talking about creating a podcast focused on Black voices at Adelphi. Many of the students said they plan to stay in touch with each other and tell other classmates about their experience.
Roodginia Guerrier, a senior, said she and other students left the museums feeling a sense of responsibility that their generation needs to "make sure history does not repeat itself."
"It's not that far in the past," Guerrier said. "That's what I really got from it. I've seen some trends going the wrong way, and I'm at the age where I'm not too young to forget. I can use my power in order to do something about it."