You have /5 articles left.
Sign up for a free account or log in.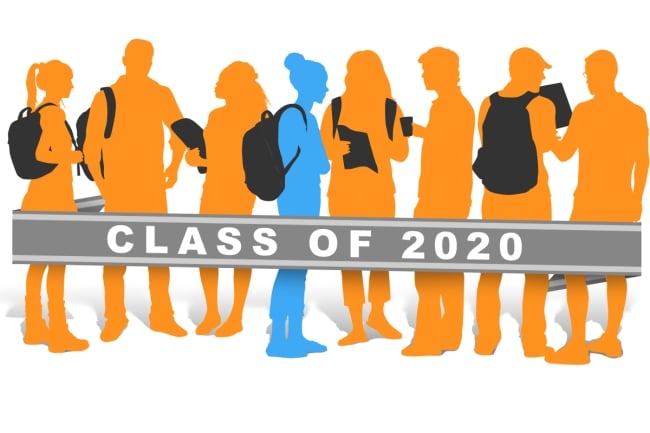 Photo illustration by Justin Morrison/Inside Higher Ed | Getty Images
When fall 2020 college enrollment numbers after the onset of the COVID-19 pandemic showed that large swaths of that year's high school graduating class had not enrolled, many college administrators assumed these graduates would eventually make their way to campuses. Others worried these students might get permanently knocked off their path to higher education.
The latter appears to be what happened, according to a report released Tuesday by the National Student Clearinghouse Research Center.
The number of students who enrolled in college immediately after graduating high school in 2020 was 53.5 percent, 6.8 percentage points fewer than in 2019. The new report finds that only 0.7 percent of 2020 graduates—an additional 5,631 students nationwide—had enrolled in college by fall 2021, and an even smaller number, 0.2 percent, enrolled for the first time in 2022.
Only about one in eight of those students who were "supposed" or expected to enter college in fall 2020 had enrolled, the report finds. The enrollment rate was even lower among students who graduated from "high poverty" high schools, where only one in 15 enrolled.
The National Student Clearinghouse's 11th annual "High School Benchmark Report" demonstrates what the organization's researchers describe as the pandemic's "enduring enrollment impacts" and reinforces the fear of many higher ed leaders that the pandemic has led to a disconnect between colleges and potential students.
"It's encouraging that the high school graduating Class of 2022 has raised its college enrollment rate compared to those of the last two years," said Doug Shapiro, executive director of the NSCRC. "The troubling part is that I think we are starting to see evidence that the high school Class of 2020 could almost be called a lost generation."
'Little Evidence of Recovery'
The data outlined in the report represent a voluntary sample of about half of the nation's high schools that participated—9,872 did so in 2020, 8,498 in 2022—in the clearinghouse's StudentTracker for High Schools. Clearinghouse researchers found "little evidence of recovery" for the Class of 2020 in the sample analyzed.
While Shapiro said the Clearinghouse center can't really know—without talking to students, families and educators—the reasons why so few college prospects eventually enrolled, he believes students were influenced by time and distance away from high school support resources that may have helped guide them to college.
"The further you get away from high school, the harder it is to kind of get back on the path of your former goals and aspirations to go to college," he said. "You no longer have the resources of your high school counselors and teachers and maybe even friends to kind of help you along on the process."
The data show that there were significant income and racial gaps in the proportion of students who enrolled.
"Students with fewer resources to begin with, it stands to reason, have an even harder time and probably have fewer pathways back to those former goals once they get blown off track by something like the pandemic," Shapiro said. "The effects of the pandemic were not just more severe for disadvantaged students in the first place, but they were also, as we're seeing today, much more long-lasting."
Among the students who did eventually enroll, they more often attended a community college (58.5 percent) rather than at a four-year institution (33.3 percent). On the other hand, nearly two-thirds of students who immediately enrolled in 2020 attended a four-year college or university.
"We can see in these data that the students that we've lost were disproportionately lower-income and more diverse students," Shapiro said. "So, higher education as a whole is losing that diversity."
Gaps Persist
The report also documents remaining gaps in overall enrollment, persistence and completion trends between high schools that serve students from wealthy families and those from low-income households, as well as high schools with large numbers of underrepresented minority students.
While more than a quarter (28.4 percent) of students from low-income, high-minority high schools who graduated in 2016 earned a credential within six years, over half (52 percent) of their peers who attended high-income, low-minority high schools did so.
And despite improved immediate college enrollment rates among 2022 high school graduates, the rate is still below pre-pandemic levels. In 2019, for example, the immediate enrollment rate for graduates of high-poverty high schools was 51.5 percent, compared to 49.9 percent in 2022; during the same time period the enrollment rate was at 72.6 percent and is now at 70.9 percent for graduates of low-poverty high schools.