You have /5 articles left.
Sign up for a free account or log in.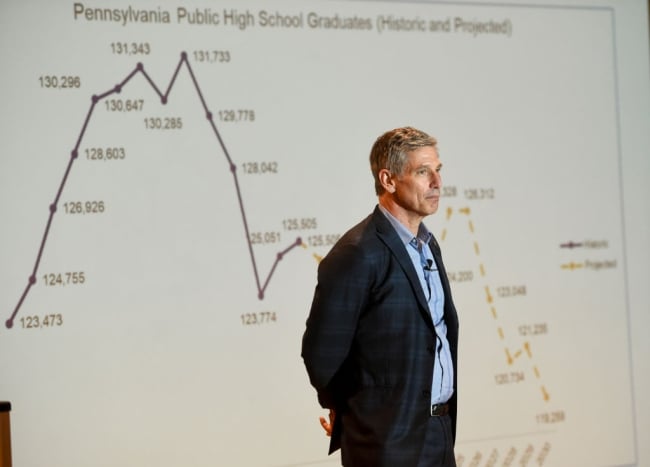 Ben Hasty/MediaNews Group/Reading Eagle via Getty Images
Pennsylvania has a numbers problem.
With nearly 250 colleges and universities, including over 40 public institutions, Pennsylvania has the fourth most higher education institutions of any state, after California, Texas and New York. It is home to four public multicampus institutions—Pennsylvania State University, the University of Pittsburgh, Temple University and the Pennsylvania State System of Higher Education (PASSHE)—in addition to Lincoln University, an HBCU, and a sprawling, decentralized network of community colleges. That's not even counting the 129 private colleges.
But while there's no shortage of suppliers, demand for higher education in the Keystone State is nowhere near what it used to be.
While the more popular campuses are stable or growing, many of the state's public institutions have seen drastic enrollment declines since 2010. Enrollment at Penn State's University Park campus is up 8 percent since 2010, and Pitt Oakland is up by 1 percent. But when the numbers at the two institutions are considered, including all of their campuses, both have suffered drops of over 30 percent, according to public data from the institutions. PASSHE's systemwide enrollment has also fallen by 30 percent in the same period.
Those enrollment declines are largely thanks to steep drops at the regional comprehensive universities, which in many cases are over 50 percent. Enrollment at Penn State Hazleton, for instance, has dropped by 64 percent since 2010; at Pitt Titusville it has fallen by 96 percent, leaving only 23 students on campus in 2022.
There are a number of usual suspects behind Pennsylvania's enrollment crisis, chief among them a general demographic decline in the state. The entire nation is facing a projected demographic cliff in 2026, but Pennsylvania is on the bleeding edge, hemorrhaging residents faster than 46 other states, according to 2022 census data.
But Andrew Koricich, executive director of the Alliance for Research on Regional Colleges, said neither explanation tells the whole story. Affordability is the crux of the state's enrollment woes, he said, not falling birth rates.
"The demographic cliff is a convenient scapegoat sometimes," he said. "It allows lawmakers and college leaders to say, 'Oh, well, it's inevitable. There's nothing we can do.'"
'Price Matters'
In 2021 Pennsylvania ranked 49th in the country in public funding for higher education per full-time student, according to the State Higher Education Executive Officers Association's higher education finance report. Pennsylvania state funding is tied to enrollment and retention outcomes, which, as has been noted, are on the decline.
As a result, the state's public institutions are also some of the most expensive in the country. The average cost of attending a state institution for a Pennsylvania resident is $26,040, nearly 70 percent more than the national average, making it the third most expensive state for public higher education, according to a recent Education Data Initiative report.
PASSHE chancellor Daniel Greenstein noted that for many Pennsylvania institutions, his own included, the demographic drop-off doesn't account for the extent of the enrollment declines. While the state's college-going demographics have fallen by a little over 5 percent, most colleges' enrollment drops have been well into the double digits.
"We're the most affordable option in Pennsylvania, but that's not a high bar. It's really expensive to go to public college in this state," Greenstein said. "Price matters a lot, and differentiating based on affordability matters now more than ever. That's something we're trying to focus on."
For Koricich, this is the crux of the problem that he says lawmakers aren't seeing clearly: less state funding means less affordable college, which in turn contributes to a vicious cycle of enrollment declines and student exodus from the state. Many of those students who might otherwise have gone to regional universities and remained in the area then also resettle after graduating, compounding existing workforce shortages.
"If you keep making college unaffordable to people, why would we be surprised that they want to leave?" he said.
Greenstein echoed those concerns, though he feels that lawmakers on both sides of the aisle are willing to help buoy higher education when tied to workforce outcomes. But he said time is of the essence, as neighboring states with more public funding offer similar educational benefits for a fraction of the price—like New York, which offers free tuition for students whose family income is under $125,000 a year.
"When states around us are acting in a very deliberate and aggressive way, you're gonna find our students leaving the state to get their education, and they don't come back," Greenstein said. "At this point we gotta boogie, because we're not too far off."
From Expansion to Consolidation
Last summer, PASSHE merged six of its campuses into two multicampus institutions in a process the system called "integration," in order to cut costs and center student success, according to Greenstein, as well as maintain the system as a driver of workforce development and social mobility in the state.
Bashar Hanna, president of Commonwealth University—which is made up of the former Lock Haven, Bloomsburg and Mansfield University campuses in the rural center and north of the state—said the integration process made a big difference. Not only did it reduce inefficiencies and expenses, he said; it also helped them make the case the case for the commonwealth to students from local school districts by allowing them to combine their resources for recruitment and student success.
Last year enrollments decreased at all three campuses, but Hanna said new student deposits for the fall are up by 8 percent this year.
"Rural Pennsylvania is not thriving … we wanted to make sure that our students were going to college locally, meaning within 75 miles of home, and then the likelihood of them staying after they graduate goes up exponentially," Hanna said. "We're not back to pre-COVID enrollment levels, but we're certainly much better off than we were a few years ago."
State lawmakers rewarded those efforts by approving PASSHE's largest budget increase ever last year, at 16 percent. That was followed by another 6 percent increase in this year's proposed budget, which is currently stalled in the General Assembly.
Other public institutions are still floundering. Penn State has been vocally lobbying for more state support, claiming that it has been comparatively underfunded for years. In September the university requested a 48 percent appropriations increase.
Lisa Maria Powers, Penn State's assistant vice president of media and executive communications, said the university has had the lowest per-student state funding of any in Pennsylvania for over half a century. According to a university analysis, Penn State is funded at $5,600 per resident student, compared to $8,275 for Temple and $9,049 for Pitt; the national per-student average for state funding was $9,327 in 2021, according to a SHEEO analysis.
PASSHE is also the only state-owned system in Pennsylvania, with a Board of Governors entirely appointed by the governor with approval from the Legislature. Penn State, Pitt and Temple describe themselves as "state-related" and have much more leeway to operate as independent bodies. The majority of their governing boards are elected by alumni.
Koricich said that helps explain why PASSHE has taken on the task of consolidation and fat-trimming while Penn State has left its sprawling network of campuses largely untouched, despite many of them experiencing much higher enrollment declines. But he is not a fan of PASSHE's integration plan. It has a bevy of critics, in fact, something Koricich realizes comes with the territory of making difficult decisions. He just doesn't think those decisions were necessary—or that they'll lead to enrollment increases.
"Now you've thrown six regional publics in front of a freight train, for what?" Koricich said. "To me, the state's willingness to just let PASSHE kind of fall on the sword is missing the fundamental problem here, which is that the flagships are just sucking up all of the oxygen."
Greenstein said the cuts associated with integration did not affect student services or popular programs.
"We did this to serve students better," he said. "Somehow, someway, this problem has to be addressed or Pennsylvania higher ed is going to be in a bad state."
Robert Gregerson, president of the University of Pittsburgh at Greensburg, is working to mitigate the effects of a 27 percent enrollment decline in the past decade. He said that while the Pitt system was too small for mergers to be a consideration there, he understood the path PASSHE was taking.
"The era of continual growth is in the rearview mirror," he said. "State institutions not only in Pennsylvania but across the Midwest and Northeast are going to have to figure out what rightsizing means for them."
Fierce Competition and 'No Referee'
Pennsylvania is one of a handful of states with no state higher education commission or governing board to oversee its public universities; each institution has a highly prized and carefully guarded autonomy.
For Koricich, that's part of the problem.
"There is no coordinating board, there is no governing board, there is no referee to say all of these different institutions in different sectors with different finances have to play nicely together," he said.
Penn State, Koricich said, has benefited the most from this oversight vacuum. With 20 campuses across the state, it is by far the largest higher education presence in Pennsylvania; PASSHE had 14 before its integration plan took effect—it now has 10—and Pitt has five. Koricich said that without state intervention, Penn State has been able to eat away at a dwindling pool of in-state students looking to attend a regional public institution, exacerbating the enrollment crisis for some of the state's most hard-hit colleges and universities.
"Some of [Penn State's campuses] are within 30 miles of PASSHE schools; some of them are right on top of community colleges. One of those places has a brand name that everyone recognizes and the others don't," he said. "[State lawmakers] have let this behemoth just sort of run roughshod over higher ed in the state, and they haven't done anything to control it."
Powers, of Penn State, pushed back on this portrayal. She said the university's branch locations are crucial to its land-grant mission, and that they serve primarily local populations of underserved students.
"Our Commonwealth Campuses have been around a long time, some nearly 100 years; and all of Penn State's campuses pre-date the formation of PASSHE. In addition, almost all of our campuses were in place well before the introduction of community colleges in Pennsylvania," Powers wrote in an email to Inside Higher Ed.
Some believe the current crisis requires more coordination between the disparate independent institutions and could lead lawmakers to explore the possibility of a central oversight body. Pennsylvania governor Josh Shapiro, a Democrat elected last year, called for a rethinking of the loose structure during a budget address in March.
"What we are doing right now isn't working," he said. "Colleges are competing with one another for a limited dollar: they're duplicating degree programs, they're driving up the cost and they're actually reducing access."
Some, like Greenstein, prefer incentives and market-based solutions to the issue; while PASSHE is consolidating campuses, he said the move may not be right for other Pennsylvania institutions.
But Gregerson said that if there were a time to experiment with statewide coordination, it's now.
"There have been conversations about that in the past which didn't produce any change. But I think we might be at a point now where folks will take it more seriously," he said. "Whether there's the political will for that, I don't know. But I think it could be helpful."