You have /5 articles left.
Sign up for a free account or log in.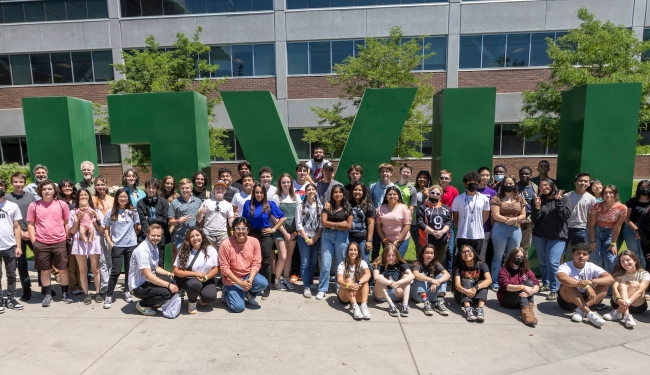 Rice University president Reginald DesRoches launched his career as a civil engineer–turned–higher ed administrator back in the early 1980s, when he joined a summer bridge program for students from underrepresented backgrounds before his freshman year at the University of California, Berkeley.
The program was made up of about 90 percent students of color, he said, and it helped him feel more at home in Berkeley's largely white engineering program. He even replicated it decades later with the Rice Emerging Scholars Program, which he said has a similar demographic makeup to the old Berkeley one.
"It gave me mentorship, it gave me a stronger basis in math and science, and it gave me a cohort of students who I felt comfortable studying with in a predominantly white institution," DesRoches said. "It made a huge difference."
Those initiatives, like many race-conscious efforts to boost equity and access in higher education, have come under increased scrutiny since the Supreme Court struck down affirmative action in admissions last month.
Many colleges, especially selective institutions, run summer scholar programs as a recruitment tool for underrepresented students, hoping to open up access to institutions that might otherwise seem out of reach and to make them feel at home on campus. Summer offerings like the one DesRoches attended, usually called bridge programs, are intended to prepare admitted students from underresourced high schools so they enter college on an even footing with their peers.
Art Coleman, managing partner and founder of EducationCounsel LLC, an education legal consulting firm, said he thinks most targeted recruitment efforts will be safe from the legal repercussions of the court's decision. But selective, scholarship-funded and application-based opportunities, including many summer programs, could be in danger.
"If you've got this very distinct line of experience or avenue for enrichment that is unique to a certain cohort, and racial status is part of the selection, I think that's vulnerable," he said.
Ann Franke, a former vice president of the United Educators insurance company who now runs her own education consulting firm, predicts that employment practices and scholarships are more likely than recruitment programs to face legal challenges. But for institutions seeking to practice caution, she recommends certain changes.
"If I were designing a program, I would look to see whether your race-conscious practice has a measurable goal other than a quota, and then I'd look really carefully at designing how participants are selected," Franke said. "Also, there was a focus in Justice Roberts's opinion on [affirmative action practices] not having a fixed end point, so I might establish a sunset date or a date for re-evaluation."
Kevin Kruger, president of the higher education student affairs administrators' association NASPA, said such programs have historically been an effective tool for boosting college access among underserved groups and could be an important way for selective institutions to increase diversity without relying on affirmative action in admissions.
"There are lots of invisible and unintentional barriers that exist for many of these young people from communities where they don't think of college as a possibility, so these programs really do create a pipeline for getting into college," he said. "My hope is that we don't eviscerate these programs out of the fear of running afoul of the decision, because they serve an important purpose."
Changing Language or Diluting Mission?
In the wake of the Supreme Court decision—and, to some extent, even in the years leading up to it, as race-based higher ed programs came under increased political scrutiny—summer programs for underrepresented groups have taken on vaguer, more inclusive language around eligibility.
Marymount University in Virginia, for instance, is marketing a new summer bridge program toward "underrepresented scholars" interested in STEM fields. Marymount engineering professor Eric Bubar, who will teach in the program, wrote in an email to Inside Higher Ed that the term could apply to "a variety of groups" and "does not exclude students from more highly represented demographics."
Utah Valley University's Latino Scientists of Tomorrow summer program is not actually strictly for Latino scientists. University spokesperson Scott Trotter wrote in an email to Inside Higher Ed that the program is "open to all students," and that while leaders recruit students from underrepresented groups, the application process "does not take race or ethnicity into account."
And the University of Chicago's Woodson Summer Scholars program, launched in 2019, is for "students who are engaged in Black/African American communities," according to the website. University spokesperson Gerald McSwiggan said the language did not change this year, but Chicago is reviewing the Supreme Court decision and "will comply with all applicable laws while continuing efforts to engage with applicants of high ability from all backgrounds in order to foster a diverse and welcoming environment."
But changes to language and focus are not always cosmetic. When California voters passed Proposition 209 in 1996, the University of California, Berkeley, had to rework many of its summer recruitment and enrichment programs for Black, Latino and other underrepresented students.
Sheila Humphreys began working at Berkeley in 1982 as the diversity director for the department of electrical engineering and computer sciences. When Prop 209 passed, banning all affirmative action in the state's public higher education systems, she said employees who had worked to ensure students of color would feel both prepared and welcome "faced daunting challenges" and had to scramble to comply with the new law through creative, holistic solutions.
"After a time wrestling with what was possible to achieve diversity goals, new approaches to admissions and outreach were developed," she said. "In outreach programs, for example, a student's own contribution to diversity"—as a societal value, not by nature of their identity—"was a new criterion for our summer research program."
Kruger said there's good reason to fight for race-specific recruitment programs. Proxies like first-generation and socioeconomic status can certainly help increase college access, he said, but when explicit references to race are removed, institutions lose an important lens on the programs' equity goals.
"You want to ensure that these young people from underrepresented communities have access even just to the idea of college," he said. "If you then take race out of it, you may also remove the dream or vision that these families might have gained, that this is something that we can do."
From the Courtroom to the Statehouse
Kruger said that when it comes to summer bridge programs for minority groups, the danger is more likely to come from a Republican attorney general or piece of state legislation—as it has for race-based scholarships in some states—than from a law firm. But that doesn't mean the threat is any less serious.
"I have talked to campuses where they have a bridge program designed to focus on, let's say, Black students, but their attorney general's liaison is advising them not to have a program that uses race as a definition, even though it may not be under the scope of the [Supreme Court] decision," he said. "You might consider it to be an overreaction, but I think it is born out of not wanting to be a target of the very powerful anti-DEI and affirmative action movement in some areas of the country."
He has also spoken with administrators who are standing by their race-conscious outreach and recruitment programs.
"Some institutions are not going to back away at all; they're going to be public about the fact that they're still offering programs for underrepresented students and they are willing to take the political heat for that," he said, adding that this tack is easier to take in blue states.
One such institution is Olin College, a small, private institution in Massachusetts that focuses on engineering. In addition to holding an in-person gathering for applicants in the spring, the college has long run a fully-funded fly-in program for interested students from underrepresented communities. Susan Hartley Brisson, Olin's director of admissions, said the program was "designed for students who are from backgrounds that have been historically excluded from engineering—Latinos, Black students, and also for women," and that it will remain so.
"I am expecting to connect with counsel, and obviously if they say, 'You can't do this any longer,' we'll have to make changes on the fly," she said. "But it seems as though recruitment won't be impacted, and we can still recruit towards specific racial groups."