You have /5 articles left.
Sign up for a free account or log in.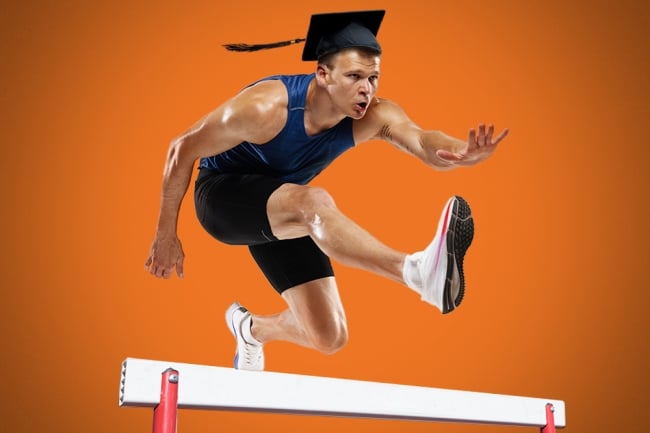 Photo illustration by Justin Morrison/Inside Higher Ed | Getty Images | Rawpixel
Three-year bachelor's degrees are coming to Brigham Young University–Idaho and affiliated Ensign College next year, following approval of the truncated programs by an accrediting body.
By eliminating electives, BYU-Idaho will bring five three-year programs online in April: applied business management, family and human services, software development, applied health, and professional studies. Ensign will offer two such programs: communication and information technology. Both institutions are owned by the Church of Jesus Christ of Latter-day Saints and operated by the Church Educational System.
The Northwest Commission on Colleges and Universities approved the seven programs—each of which requires between 90 and 94 credit hours instead of the standard 120—at its June meeting and sent a formal approval letter late last month.
Now BYU-Idaho and Ensign College are advancing a rare concept in the higher education world. The two institutions are the first among a dozen participants in a three-year degree pilot program to win accreditor approval, sparking hope for other colleges that intend to bring similar proposals before their respective accreditors at some point in the future.
From Concept to (Virtual) Classroom
Interest in three-year bachelor's degrees has existed in some form since at least 2009, when Newsweek ran a cover story focused on the idea. The story featured Robert Zemsky, longtime University of Pennsylvania professor and architect of the idea. But despite some initial hype, the degree never took off; Zemsky told Inside Higher Ed in April that accreditors were resistant.
But Zemsky never gave up on the idea. He later partnered with Lori Carrell, chancellor of the University of Minnesota at Rochester, and recruited various colleges to develop a pilot in which each designed its own three-year degree program. BYU-Idaho and Ensign College will become the first to take the program from concept to classroom next year.
While many colleges market three-year degrees, such offerings usually involve condensing the timeline rather than shrinking the number of credit hours. Most bachelor's degrees still require 120 credit hours, with rare exceptions, including a handful of programs available at Western Governors University (also accredited by NWCCU) that range between 97 and 110 credit hours.
BYU-Idaho and Ensign College have been considering three-year degrees for years.
Boyd Baggett, director of institutional effectiveness and accreditation at BYU-Idaho, said he has been following the conversation since 2009. When he read about recent efforts to launch a three-year degree, he reached out to Zemsky and Carrell, "and it was a perfect match," he said.
Brian Ashton, president of BYU-Pathway Worldwide—which oversees online education offerings at BYU-Idaho and Ensign College—said that three-year degrees hold great potential. Students enrolled in the colleges that BYU-Pathway oversees are spread across 180-plus countries and tend to be working adults, often low income, with an average age of 33, Ashton said.
BYU-Pathway students earn certificates as they progress through their coursework, officials explained, which often helps them get jobs before they graduate. And as students acquire skills, they meet their learning outcomes well before hitting 120 hours.
In many programs, Baggett noted, students get the education they need in 90 credit hours.
"Then we found ourselves in this awkward situation of saying, 'All right, you've completed everything that's required for the degree, except you need another 30 credits roughly of whatever classes you want.' And it seems so disingenuous, I think, to say that to this working father or working mother that's trying to take care of their families and put food on the table," Baggett said.
Condensing the length of the program saves students time and money. As Ashton noted, 30 hours can make the difference between a student finishing a degree or not.
Broader Implications
Earlier this year, representatives from a dozen colleges convened at Georgetown University to discuss their shared interest and individual efforts in launching three-year bachelor's degrees.
The sessions, led by Zemsky and Carrell, featured updates on their efforts as well as broad discussions on program design and challenges. Since 2009, one of the most persistent obstacles has been how accreditors might view three-year degrees. And among the pilot group that met this spring, only one institution, New England College, had brought forth a proposal to its accreditor—which the New England Commission of Higher Education shot down.
NECHE had considered approval under its policy on innovation but ultimately determined that "graduates of 100-credit baccalaureate programs would not receive equivalent benefit" to those earning a 120-credit degree, according to a proposal summary shared with Inside Higher Ed.
Undeterred by that pilot's denial, BYU-Idaho and Ensign submitted a proposal to NWCCU in April. After multiple rounds of questions, the accrediting body approved the programs at its June meeting and officially informed the colleges of the decision last month.
NWCCU president Sonny Ramaswamy said his organization has been following the conversation around three-year degrees closely as the concept has gained momentum. Initially, the accreditor was worried about approving a "watered-down" degree, Ramaswamy said. But NWCCU was relieved to find elements of the electives maintained in the three-year bachelor's degree programs, even if the credit hours associated with such classes were cut.
Ramaswamy also said he did a deep dive into the origins of the 120-credit hour degree and found that it was rooted largely in the number of work hours required for faculty members. He also noted the commonality of three-year college degrees in the United Kingdom and elsewhere.
Finally, after multiple rounds of questions, the organization approved the proposal, which emphasized measuring progress by learning outcomes—not a minimum number of credit hours.
Carrell told Inside Higher Ed that the approval of three-year bachelor's degrees at BYU-Idaho and Ensign College is a major step forward for the movement. She and Zemsky are co-authoring a book on the subject and working with the pilot institutions, but she noted that they have not dictated the design; each institution is progressing at its own pace and building a program that suits its institutional needs and ambitions.
After the setback with New England College, the first approval is a positive sign, she said. Each accreditor upholds its own established standards, but she's hopeful others will follow suit.
The key, said Carrell, is for colleges to be able to prove that students can learn the skills they need in three years through well-designed programs that ensure the learning outcomes required for a successful future.
"In the end, that's what all of us care about. I hope that would be of interest to other accreditors and state agencies and anyone involved in the approval process. Let's talk about how students are learning and how we're going to demonstrate that learning is sufficient for a college degree," Carrell said.