You have /5 articles left.
Sign up for a free account or log in.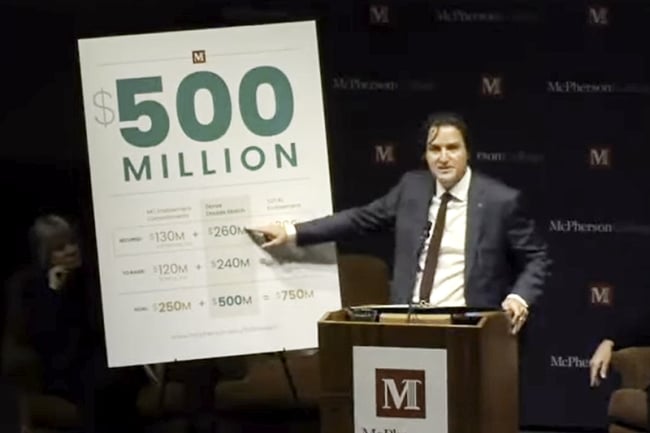 McPherson College/YouTube
An anonymous donor has propelled a small, obscure college in Kansas into the billion-dollar endowment club alongside wealthy and well-known institutions such as Harvard, the University of Texas at Austin, and Yale.
McPherson College, which had a modest endowment of $53.4 million a year ago, now boasts an endowment valued at $1.59 billion. It has proven that it is possible for a college's financial status to change drastically in less than a year, though a jump of this magnitude is both unusual and highly unlikely for a college of its size and reputation. At the close of fiscal year 2022, McPherson's endowment ranked 581st out of all U.S. colleges and universities, according to a report by the National Association of College and University Business Officers.
Last month, Michael Schneider, McPherson's president, announced the college had surpassed the ambitious $1 billion endowment goal he set years ago. While Schneider said McPherson was in a stable financial position already—which is what motivated some of its biggest donors to invest—this new access to such a large endowment will allow the college to sustain and grow its operations indefinitely.
The mystery donor with deep pockets agreed to double each dollar, up to $500 million, that the college raised as part of the $1 billion goal. That meant the college needed $250 million in outside pledges to reach that goal. By the end of June, it had secured $342 million, much of it in the form of estate gifts, according to the Kansas Reflector. The big donor pledged an additional $500 million estate gift on top of the money already raised.
A news release from McPherson estimates the total will give the college, which is expecting 800 full-time students this year, access to $1.59 billion in the years to come, giving it one of the largest per-student endowments of any small private college in the country. (Note: This paragraph has been updated to correctly describe how McPherson's endowment compares to other colleges.)
"We're fortunate, we're grateful, but I don't know if I would describe it as lucky," Schneider said. "I set off with a very bold goal to build a $1 billion endowment. A lot of people laughed at me at first, but no one is laughing now."
Schneider, a 1996 McPherson alumnus who's led the college since 2009, said he never expected a donor would step up in such a big way, but believes his consistent focus on making donors "feel like stakeholders" paid off.
Those stakeholders included alumni, parents of students, and former faculty. California philanthropists Melanie and Richard Lundquist were also involved in the effort; they kick-started the $500 million match with a total commitment of $50 million, according to a campus spokesperson.
He added that the key to this success involved developing a clear vision for how donations would be used. In McPherson's case, that included expanding its existing commitment to reducing student debt (the college's Student Debt Project—matches 25 cents for every dollar a student spends on their education), investing in its automotive restoration degree program and addressing gaps in rural health care by growing the college's relatively new Health Science program.
Once news of the $500 million match from the anonymous donor became public, it motivated hundreds of other people to also donate and helped the college reach the $1 billion goal by this summer.
'Matches work'
"The research shows matches work, and this is a dramatic example of that," said Bill Stanczykiewicz, an associate professor at the Indiana University Lilly Family School of Philanthropy. "When you fundraise and you can make a case for support by running impactful programs and services that make a difference, you're going to meet people who can give at their highest levels of generosity," whether that's $25, $2,500 or a billion.
What happened at McPherson, he added, "is not typical, but certainly shows what's possible."
Stanczykiewicz said McPherson's strategy of articulating a bold vision for spending and investing a big endowment is essential to any college's ability to attract donors. At a time when many small colleges are looking to ease the financial burdens of a national enrollment decline and avoid closure, (McPherson officials say enrollment actually grew from 706 in 2019 to 800 this year) the college's success can offer hope to other similarly sized colleges. But it probably won't come without focused dedication.
"The danger is when colleges just wait for this to happen," Stanczykiewicz said. "You can't just sit in your office and expect the MacKenzie Scotts of the world to knock on the door." Scott, a philanthropist and the ex-wife of Amazon founder, Jeff Bezos, has donated more than $6 billion to dozens of higher education institutions and non-profits over the past several years.
Stanczykiewicz added that a gift the size of the one McPherson received can have two potential effects: It can discourage potential small donors from giving because they think their donation will not make a difference. Or, it can encourage other donors to also contribute.
The latter is what has happened, albeit on a much smaller scale, in the four years since Cape Cod Community College in Massachusetts received $5 million from local philanthropist Maureen Wilkens—the biggest single gift it has ever received. That money went toward constructing a new science building, which opened in 2022. The foundation had a capital campaign goal of $10 million (the $5 million donation in 2019 met half of it), which it is now close to achieving.
"A gift of that size sent a message to other donors that this is a worthwhile organization and thing to support," Kathy McNamara, CEO of the college's educational foundation, said. "For example, a foundation located here on the Cape that I wasn't really familiar with sent us out-of-the-blue $250,000 for this capital campaign. I know it was because Mrs. Wilkens validated this effort with her big gift."
Like many community colleges, Cape Cod's enrollment is riding what its spokesperson Patrick Stone called a "roller coaster." But the new science building, which also offers professional development and learning opportunities for K-12 teachers and students, is one way to attract potential students in the area.
"These young people come to see this spectacular building that stands out on campus," McNamara said. "It's introducing them to the idea of community college at an early age. They get to see in real life that they could do that here and save a lot of money, stay close to home and spend money on additional education later."