You have /5 articles left.
Sign up for a free account or log in.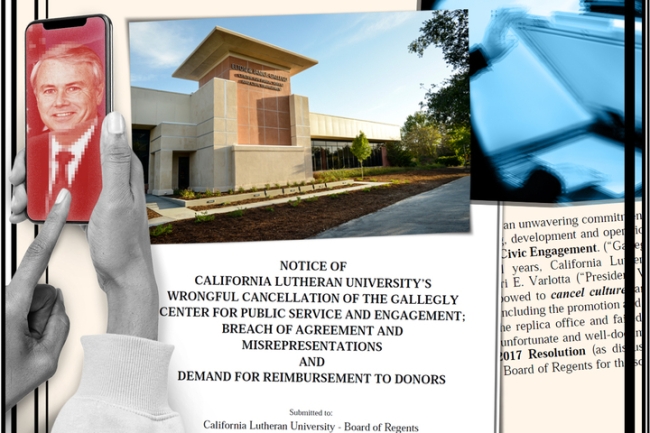 Photo illustration by Justin Morrison/Inside Higher Ed | Rawpixel | U.S. House of Representatives
More than 450 cubic feet of material related to former congressman Elton Gallegly's 26 years in office are available for in-person research at the Elton and Janice Gallegly Center for Public Service and Civic Engagement at California Lutheran University. The 356 boxes in the collection contain correspondence, testimonies, bills and other materials that illuminate Gallegly's political career.
When Gallegly, a Republican who represented Ventura County from 1987 to 2013, signed a gift agreement in 2017 giving the university its first major archival collection, he was under the impression the collection would be digitized. However, none of it is available for browsing online.
And over the past six years, numerous students and faculty members have raised questions about how well Gallegly's political record fits with the school's mission as a Hispanic-serving institution, according to legal documents. In 2020, a group of faculty and staff members sent a letter to university leaders characterizing the center as a "racist space" that "further serves to reinforce the oppression of marginalized voices on our campus" and calling for its removal.
The center is still open, but now Gallegly is knee-deep in litigating a lawsuit he filed against the university in 2021. It alleges a breach of contract and fiduciary duties over the nearly $1 million he helped the university raise for his public service center. Donors were told their money would support a fellowship, a speaker series and a digitally accessible archive of his political records, but none of those things are happening right now.
Gallegly, who is seeking an unspecified amount in damages, declined to discuss the case as it prepares for trial next year.
"The center isn't reaching its potential because the university has undermined its potential at every stage of its relationship with Elton Gallegly," said Charles Slyngstad, Gallegly's lawyer. "He just wants his money back and damages for the harm it's caused to his reputation and his wallet."
The donors who supported the project also want their money back, alleging the university misrepresented the terms of how the center and its archive would operate.
The donors also say those perceived misrepresentations are evidence that California Lutheran "bowed to cancel culture."
The college, which had not responded to the donor demand letter as of Friday, refutes all of these accusations.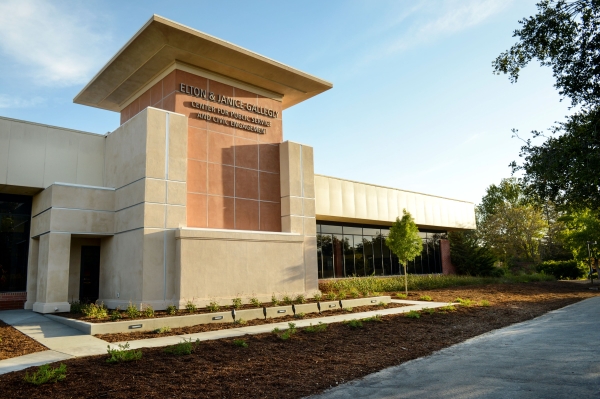 "It is crystal clear that the current CLU executive staff has orchestrated and engaged in a behind-the-scenes effort to CANCEL Congressman Gallegly, obliterating his record of service, his invaluable papers, possessions and public service legacy," reads a letter the donors sent to the university on Aug. 31 demanding refunds and a full accounting of how their money has been spent.
The assertion that things aren't happening the way Gallegly and his supporters envisioned because the university disagrees with his political ideologies "is a fabrication that is coming from Mr. Gallegly and his allies," said Matt Ward, California Lutheran's vice president of enrollment management and student success.
"Never has the university been deterred from fundraising and being committed to the Gallegly Center. We remain committed to all aspects of the Gallegly Center," Ward said. He said the university has honored its written agreements with Gallegly, and if aspects of his namesake project are not moving forward as originally planned, it's because all the money the university raised for the project "has been spent."
The recent donor demand letter, he said, "represents another step in a campaign to make this a very public kind of display of Gallegly's complaint rather than letting the legal process play out."
In the meantime, both sides agree that the dispute between Gallegly and the university is a cautionary tale about college fundraising.
Wooing the Congressman
Gallegly's relationship with California Lutheran started on much friendlier terms more than a decade ago.
Rumors were swirling in 2011 about his possible retirement from Congress, and multiple institutions in the Ventura County area were considering approaching him about donating his political papers, according to Gallegly's complaint.
"We didn't have a school of public policy at Cal Lutheran, so we thought this would fit well with our school of management," said Stephen Wheatley, then CLU's vice president for advancement, who retired in 2018.
But Wheatley said in early talks with Gallegly about possibly establishing a center named after him at the university, "he insisted it not be a school of public policy because he felt a school of public policy would be too partisan." He wanted a public service focus instead.
"We worked really hard to try to woo the congressman," Wheatley said, recalling traveling to D.C. in the summer of 2012 to discuss details of the proposal at Gallegly's office. According to a deposition Wheatley gave in 2022, after that trip, "we were still putting together what our vision might be for the center."
Wheatley was also working to connect with local powerbrokers, such as Mike Bradbury, retired district attorney for Ventura County; Chuck Jelloin, CEO of a business development firm and a CLU consultant; "and others that I knew had the congressman's ear, to say, you know, 'Could you help steer him in our direction? We would be interested.'"
Before Gallegly finally signed the agreement with the Christian college—the religious affiliation allegedly appealed to him and his wife—Wheatley assured him he wouldn't have to do any fundraising himself.
Gallegly had either just completed "fundraising or made a commitment to fundraise for his name at the Reagan Library," Wheatley testified, referring to the "Peace Through Strength" exhibit gallery at the Ronald Reagan Presidential Library. The exhibit gallery is dedicated to Gallegly.
By December 2012, Gallegly had decided he was ready to deposit his papers, records and some furniture—he'd also discussed setting up a replica of his congressional office once the center was built—and other items of interest with California Lutheran, with an understanding "that we were going to develop the Elton and Janice Gallegly Center for Public Service and Civic Engagement," Wheatley testified.
In that deposition, Wheatley laid out the four components of the center the university had discussed with Gallegly before signing the agreement:
A fellowship valued at roughly $30,000 to support California Lutheran undergraduates interested in public service in obtaining a master's degree in public policy and administration on an accelerated timeline.
A speaker series "that would bring well-recognized individuals to the campus to speak to students, faculty, staff, and donors," in hopes of helping the university "in future fundraising endeavors and rais[ing] the visibility of the institution at the same point," Wheatley testified.
The creation of a building to house the public service center, which included the replica office and a research space.
A digital archive of Gallegly's papers. "We wanted individuals to access his papers and records from literally any place in the world" because Gallegly "had a unique front-row seat to some of the nation's most significant events during that period of time," Wheatley testified.
'Short' Written Agreements
But the terms of the final deposit agreement, which Gallegly signed on Dec. 27, 2012, did not perfectly reflect the details of those verbal agreements he supposedly had with California Lutheran's fundraising team.
"These agreements were rather short, and they made a lot of assumptions because the parties had been doing a lot of talking about what it would be," said Slyngstad, Gallegly's lawyer. "The agreements were drafted entirely by the university's lawyer. Congressman Gallegly trusted the university—he didn't have a lawyer. I'd imagine if the congressman had a lawyer, the agreement would have been longer."
The agreement made no mention of digitizing any archival records. Instead, it simply allowed California Lutheran to take possession of Gallegly's office furniture and records; the university agreed to "arrange, preserve, and catalog said paper and related materials according to generally accepted principles of archival administration and practice."
And although prior conversations with Gallegly may have included talk of making those records accessible from "any place in the world," the agreement he ended up signing specified that his collection would be open only to the university library's "primary clientele" and to "other qualified individuals using the materials for serious scholarly purposes."
The agreement also outlined a $3 million fundraising goal "as an endowment to fund the operations of the Gallegly Center" and said Gallegly would "join CLU in seeking donations." Although the university had originally told him he would not have to do any fundraising, Wheatley told Inside Higher Ed that after several months of trying to raise money, he and his staff realized that most of the people they were talking to didn't have a prior relationship with the university but were instead supporters of Gallegly.
"They all said the same thing: 'If the congressman wants us to get involved, he'll let us know,'" Wheatley recalled. "We had to go back to the congressman and say, 'I'm sorry, but if this is going to fly, you're going to have to get involved in the fundraising for this project.' He wasn't happy about it, but he said, 'This is important.'"
Gallegly and his wife, Janice, jumped into the fundraising campaign and according to Wheatley raised roughly 85 percent of the total donations. Some of that included $110,215 Gallegly legally directed from a surplus of campaign cash, Raw Story reported.
California Lutheran estimates that it raised just under $1 million for the Gallegly Center and its projects, or about a third of its original $3 million endowment goal.
Early on in the fundraising campaign, most of the money went toward funding the fellowship program.
University 'Fronted' Money
But according to Ward, the California Lutheran vice president who helped administer the fellowship, the donor money wasn't yet available when the program launched in 2013.
"We fronted at least two if not more Gallegly Fellows with institutional dollars in good faith to get the program up and running," Ward said, noting that the university wasn't contractually obligated to do so. That's just one example, he said, "that would suggest a high level of commitment to making this happen."
The university has since awarded more than 10 fellowships. Until recently, the Ronald Reagan Presidential Foundation and Institute had allowed the university to call it the Reagan-Gallegly Fellowship.
In 2022, John Heubusch, then executive director of the Reagan foundation, told the Simi Valley Acorn that it was severing ties with the university because "it has failed to live up to the promises it made to Gallegly" and "As a result, they simply don't deserve an affiliation with the name of our 40th president as well."
The memorandum of understanding that allowed the university to use Reagan's name expired in early 2023. And while the fellowship itself was supposed to carry on regardless of its name, a lack of funding put it on pause in 2022.
"I would love to have money to support student scholarships to be engaged in policy work. That's why we got into this partnership with Mr. Gallegly," Ward said. "We can't do that anymore, and our ability to do that is being harmed by the disparagement of the institution. There's a lot of irony with that."
One advertised aspect of the Gallegly project on which the university undeniably followed through was building the physical space for the public service center.
Several years into the fundraising campaign, the university started planning to build the center, which was estimated to cost no more than $580,000. By September of 2017, $498,750 in cash had been raised in addition to in-kind construction donations.
The California Lutheran University Board of Regents approved a resolution the following month to start building the roughly 1,500-square-foot center, attached to the university's library.
But construction of the center didn't come without opposition.
Political Objections
"There seemed to be widespread support. The university embraced it. It wasn't until we actually dedicated the building that we had our first protest," said Glen Becerra, who served on the Board of Regents until 2018. "There was a Board of Regents meeting around the same time that a group of faculty came and expressed their displeasure with the Gallegly Center being placed on campus."
Soon after the board approved the project, students launched an online petition calling for a delay in building the center, in part because it "serves as a monument to Mr. Gallegly's service, one in which he targeted the identities shared by many of our students, people of color, particularly Hispanics, the LGBTQ community, and immigrants to this country."
The Simi Valley Acorn published an article about the backlash in December 2017.
"When we look at Gallegly's political career and his associated actions, the issues of concern to me are not policy issues," mathematics professor Christopher Brown said. Instead they "are ethical, issues about how we treat undocumented persons, about our engagement with other cultures, and about how we treat underrepresented persons in our community."
According to an article published in The Ventura County Star months before the opposition to the center's construction started, Gallegly, who chaired a bipartisan immigration reform task force, was one of the "most persistent voices on illegal immigration" in Congress. The article quoted Gallegly saying in 2017, "We have tens, if not hundreds, of thousands of convicted felons on the street who are certainly not contributing to society," and "Get the criminal aliens out. They need to be deported."
Becerra said he believed opposition to the Gallegly Center stemmed from his affiliation with the Republican Party.
"If this would have been the local Democratic congresswoman's papers, they wouldn't have said a thing," said Becerra, who said he is a close personal friend of Gallegly. "But because Elton had an R next to his name, that was all it took for them to not want his papers at the university."
Construction moved forward, and the center opened in May of 2018. Condoleezza Rice, former U.S. secretary of state, spoke at the opening ceremony.
But according to Ward, California Lutheran's enrollment VP, "donations and ticket sales did not cover the costs of the event," so "the university had to contribute its own funds to cover outstanding expenses." (Ward said a confidentiality agreement prevents disclosure of the exact cost of Rice's speaking engagement.)
Despite fundraising literature that advertised an "annual distinguished speakers forum," Rice has been the only speaker at the center to date.
Once the space was built, focus turned to properly archiving Gallegly's enormous collection. The university contracted with an archives specialist to process the collection, which ended up taking about three years and costing roughly $100,000 to complete.
One fundraising brochure printed sometime after the center opened said the space, now attached to the university's library, would "serve as a hub for the Public Service Fellows as well as a repository for Gallegly's congressional archives." California Lutheran, it continued, "will be archiving and digitizing the relevant documents to make them accessible to scholars, researchers, faculty and students."
However, the only mention of digitization in the 2017 gift agreement made between Gallegly and the university was a line giving the university license to "digitize the archival collection or use any technological substitutes the CLU library deems appropriate to preserve and provide access to the archival collection."
No Digital Archive
While the archival materials were in process, a replica of Gallegly's congressional office was on display in the same space that now houses the archive and research room. Although an executive summary attached to the board's 2017 resolution does mention the replica office, the gift agreement Gallegly signed does not require the university to maintain one.
Nonetheless, Gallegly and his supporters were upset when the university placed the loaned furniture in storage to make room for the archival materials in 2022.
Lori Varlotta, who took over as president of the university in September 2020, told The Ventura County Star that although Gallegly wanted both the replica office and the archive, "the space doesn't allow for both," and "we believe the archives, particularly given their potential as a research tool, will serve the university's purpose to educate more than the office."
She noted that at an earlier point in the conception of the center, there had been discussion of digitizing the archives, which would have created space for the replica office. Once the university found out digitizing the collection would cost around $330,000, it opted to keep the archive physical.
That message was apparently not adequately communicated to Gallegly or the people who donated money for his public service center. Donor pamphlets still included blurbs about a speaker series, fellowship program and an archive project focused on the "preservation, digitization and accessibility of" Gallegly's political papers.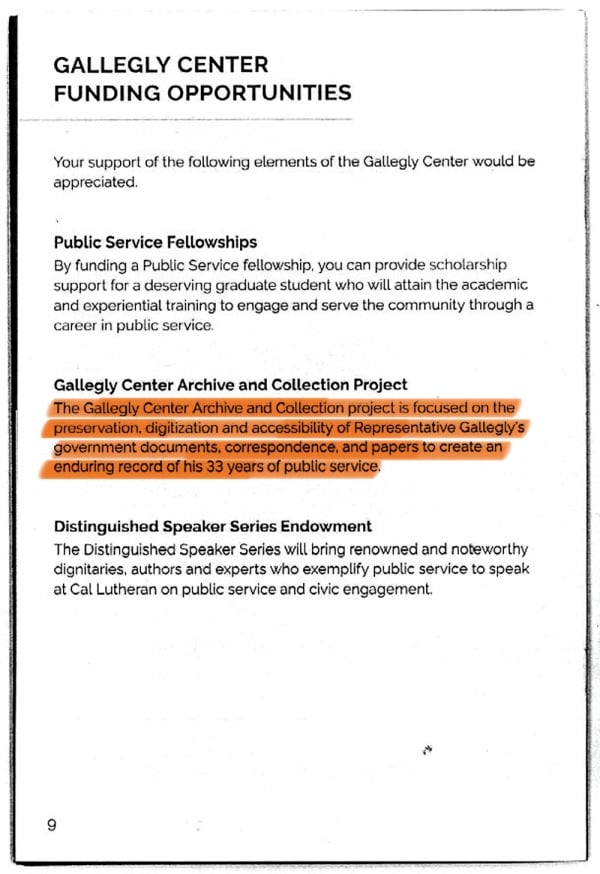 According to Slyngstad, Gallegly's lawyer, Gallegly approached donors who had long supported his political campaigns and "got them to open their purses and wallets to raise the money to build the center for purposes described in the pamphlet."
But when the physical archive announced its grand opening in May of this year (it was closed during the summer for library construction), it didn't meet those expectations.
"It's become nothing but a warehouse for boxes of his documents, which have been put into acid-free folders and acid-free separators, but they're not searchable. All they've got to search these papers is a finding guide," said Slyngstad. "Everyone understood them to be digitized searchable records available over the internet. And the university hasn't done that."
As a result, the "university is missing the opportunity that those archives provide to researchers and other persons who may want to know about the various things the congressman was involved in," Slyngstad said.
But according to experts, only being able to access all or most of the material in a physical reading room, like the setup at the Gallegly Center, is how most serious scholarly archives work—even in 2023.
Danielle Emerling, former chair of the Society of American Archivists' congressional papers section, said it's unusual for an archive to digitize the entire contents of a collection, especially one of Gallegly's volume.
"I can't think of any member's papers that are completely digitized," Emerling, an archivist at West Virginia University, said. "There are lots of really valuable collections that don't become digitized."
She said digitization work "is not just scanning papers and putting them online." To make archival material searchable on the internet, each document has to be assigned metadata (which makes it searchable) before it is uploaded to a database. It could take 30 minutes or more to digitize, code and upload a single document, and the Gallegly papers contain thousands of pieces, she said.
Rachel Smiley, director of California Lutheran's library, said that with eight full-time employees running the entire university library, the library doesn't have the staff time or financial resources to devote to digitizing the Gallegly records.
"I can definitely understand that frustration. We may be used to having things digitally at a moment's notice, but a lot goes into digitizing archival collections," Smiley said.
She said the papers still have historical and educational worth despite not being online.
"Whether it's physical or digital, the interaction of the archive is valuable and having this information is valuable and it's a benefit to our community," Smiley said. "This is CLU's first archival collection. We're really excited to get students interested in archival research with primary sources."
Fundraising Lessons
While California Lutheran maintains that it was never obligated to digitize the archives, Gallegly's supporters have suggested—in local news articles and now in the donor demand letter—that putting the replica office in storage and not digitizing his papers are evidence of a politically motivated effort against a Republican politician.
"One is left to infer that this is a behind-the-scenes—but very intentional effort—to wipeout [sic] or cancel the public service contributions and history of a highly respected former member of Congress," the donor demand letter states. The letter cites disparaging comments a handful of faculty made about Gallegly and his public service center during a Zoom meeting in May 2020, including one call to "burn" the center "down to ground and start over" and another to "occupy" the space.
It's true that some faculty members and students have made negative comments about Gallegly's political career and the presence of his public service center over the past several years. But university officials told Inside Higher Ed those voices don't represent the institution's position about Gallegly or the center.
"It is germane to any kind of center or public display of a politician that there might be some dissenting voices about their policy record," said Ward, the enrollment VP. "But that is part of being in an academic community that acknowledges, honors, respects and encourages debate and critical inquiry from all ideological perspectives and approaches to policy."
Ward said the university is confident it will win the court case Gallegly has begun against it. Regardless of the legal outcome, the debacle has offered a valuable lesson for the institution to consider in its future fundraising efforts.
"This has been such a distraction," Ward said. "As we enter into relationships with donors who seek to have their namesake associated with a program or building or whatever it may be, we need to be very careful that we articulate our mission in a way that they understand."
Bill Stanczykiewicz, an associate professor at the Indiana University Lilly Family School of Philanthropy, said it's unlikely that naming university buildings after politicians will fall out of vogue anytime soon. Internal opposition to those decisions isn't likely to go away, either.
"These are very accomplished, well-researched individuals who are very accustomed to being able to share their input on campus matters," he said of faculty dissent.
Pushback or not, institutions must be careful about what they include, and leave out, of written agreements with donors.
"It's up to each individual university to determine how this aligns with their public mission, organizational values and how they feel it will be perceived by the broader public," Stanczykiewicz said. "All of that needs to be articulated in a well-written gift-acceptance policy before the fundraising even begins."