You have /5 articles left.
Sign up for a free account or log in.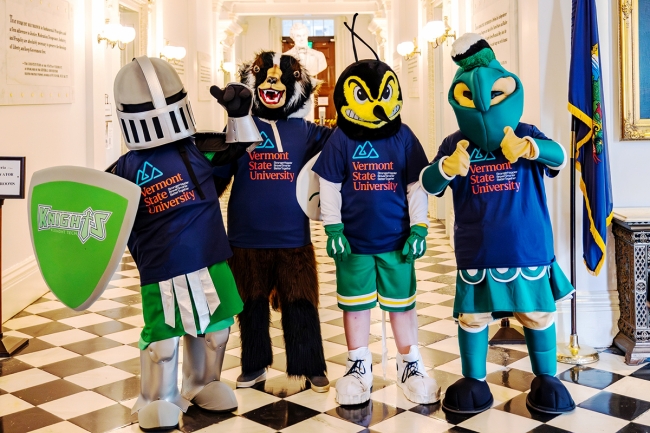 Students arriving on the former campuses of Northern Vermont University, Castleton University and Vermont Technical College for the start of classes last week were greeted with banners, T-shirts and pennants bearing a different name: Vermont State University, accompanied by the slogan "We Are One."
It was also the first day of classes for the newly unified VTSU, a consolidation of three four-year institutions in the Vermont State Colleges System that was formally born this summer after two-plus years of planning. System leaders hope the bold transformation will boost rapidly declining enrollment, whittle down a $25 million deficit and stave off college closures that just a few years ago seemed inevitable.
But VTSU's inaugural class is not a picture of swift recovery: new student enrollments are down by 15 percent this year across all three campuses, and overall enrollment dropped by 6 percent.
Mike Smith, VTSU's interim president since April, said the enrollment drop is in line with the university's projections. The merger was an experiment, he said, and officials expect it to take a while for the results to become clear. But he was confident that with time, the gambit would pay off—not only in savings but in renewed interest from Vermont college-goers. He also said he was aiming to reduce the systemwide deficit to $11 million in two years, and that he and his leadership team were planning to release a strategic plan in November—the first in the system's history.
"This is a transition year … We budgeted for a dip, and we seem to be right on the money," he said. "I expect us to start climbing out of this hole in earnest next year."
It's an optimistic prediction for VTSU, now the only four-year institution in the Vermont State Colleges System. The university is inheriting the daunting obstacles that faced its component campuses, chief among them a steep, years-long enrollment decline brought on by demographic shifts and exacerbated by the COVID-19 pandemic. VTSU leaders are also contending with the difficulties of operating in rural areas with declining populations, as well as the new challenge of managing three separate institutions—comprising five campuses—strewn over 100 miles as a single institution.
"It makes for a lot of driving," Smith said.
Robert Zemsky, founding director of the Institute for Research on Higher Education at the University of Pennsylvania, said mergers in public systems don't typically address the core problems that struggling institutions face. He fears that consolidation efforts like VSU's are misguided attempts to preserve campuses that, in the end, may be sliding inevitably toward closure.
"Squeezing down ain't the answer … the bottom line is, there are no simple answers," he said. "Some of these colleges are just going to have to close, and trying to hold on to places where students aren't likely to go isn't going to lead to anything interesting. Somebody should learn to say that out loud."
Ricardo Azziz, director of the Center for Higher Education Mergers and Acquisitions, said mergers can be an effective and necessary tactic for public colleges in a bind, but he cautioned that consolidation is one tool among many for sustainable restructuring—not a panacea in itself.
"The impact on enrollment is not easy to predict; often, it can drop temporarily, and in today's challenging environment it does not surprise me that Vermont's enrollment is down as a whole," he said. "But that doesn't mean the merger was a bad idea. Mergers are not necessarily solutions for enrollment challenges; their real power is in sustainability and in the re-energizing of the institution."
A Messy Merger
Azziz, who is also a principal at the Strategic Partnerships in Higher Education consulting group, led the merger that resulted in Augusta University, formerly known as Georgia Regents University, in 2012, and was the institution's founding president. He said there are seven factors in the early days of a merger that will pave the way for its success, the most important of which are "leadership, disciplined execution and communication."
VTSU's path has been marred by speed bumps in all three areas.
First, there was the proposal that started it all in April 2020—from then Vermont State Colleges system chancellor Jeb Spaulding—recommending that the three financially challenged campuses be shuttered or vastly reduced as the pandemic dealt what looked like a fatal strike. Blowback to that suggestion eventually led to Spaulding's resignation; a report released later that year recommended that the colleges should be combined under one accreditor and leadership team, with increased funding.
Then this spring, Parwinder Grewal, VTSU's first president, who had overseen most of the consolidation process, resigned abruptly following controversy over his proposal to convert the university's libraries into "all-digital" collections and remove sports teams at Northern Vermont's Johnson campus from the NCAA. He served for barely over a year.
"This doesn't necessarily bode poorly for VSU, but it does mean that current leadership really needs to have an operational vision," Azziz said.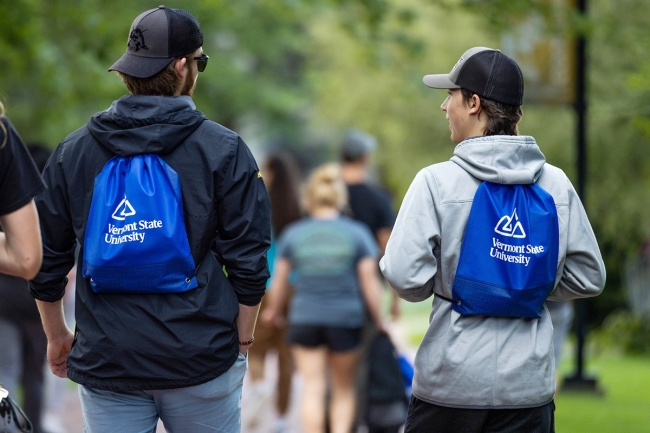 Smith said he understands the importance of steering the battered ship on a steady course, and he hopes that the official opening of the university puts the "distractions" of Grewal's rocky tenure firmly in the past.
"We are going to have to do a lot of hard work as we move forward," he said. "But I truly believe that if we do this work, and we follow a path that we've laid out, we can be successful here."
Consolidation Over Closure
Mergers between public institutions are still fairly rare. They more typically occur in the realm of private colleges, usually when a larger institution swallows up a struggling smaller one—Northeastern University's subsumption of Mills College, for instance.
The most apt comparison to VTSU is the Pennsylvania State System of Higher Education, which merged six campuses into two new institutions last summer after years of double-digit enrollment declines and financial problems. Though Pennsylvania's population is much larger than Vermont's, the Keystone State has a similar demographic problem, suffering from a significant outmigration of students and falling birth rates.
PASSHE's consolidation gamble also failed to produce clear enrollment results in its first year. But Bashar Hanna, president of Commonwealth University, one of the two consolidated PASSHE institutions, said the tide is starting to turn. This fall, in welcoming its second class, the university saw a 10 percent jump in first-time enrollment and a nearly 25 percent increase in graduate student enrollment.
"The demographics are certainly stacked against rural public universities … but investing in local students has paid off," Hanna said. "One year does not a trend make, but we are very excited."
Hanna believes that consolidations like PASSHE's are set to become a trend among foundering public institutions. Unlike many private colleges, regional public universities are often vital to their regions, Hanna said, and keeping them open should be a priority.
"We've barely hit the tip of the iceberg with consolidations and partnerships, I think," he said. "I can't see us being able to avoid it."
For Smith, VTSU was a way to fulfill the colleges' obligations to serve the residents of Vermont's often-overlooked rural areas that host them without forcing them to compete with one another.
"We had to stop cannibalizing each other," Smith said. "Sooner or later, we were going to pick each other off."
(This story has been updated to correct the abbreviation of Vermont State University to VTSU.)