You have /5 articles left.
Sign up for a free account or log in.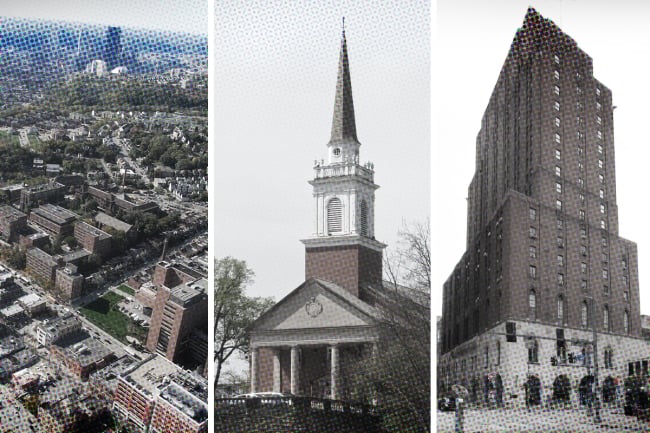 Photo illustration by Justin Morrison/Inside Higher Ed | Carlow University | Wikimedia Commons
A proposed Pennsylvania consortium appears to be in question even before a study on the idea has been completed.
Last month local NPR station WESA reported that five private colleges in the Keystone State are participating in a study on forming a nonprofit consortium to share certain administrative services; another 12 institutions reportedly expressed interest in a collaborative arrangement. Consultants with the Hill Group, which is leading the study on the potential consortium, confirmed to Inside Higher Ed that 17 institutions had expressed interest but declined to name them all.
Now, weeks later, some colleges cited by WESA tell Inside Higher Ed they are not pursuing a consortium—despite participating in the study to explore the benefits of such an agreement. Several others did not respond to a request for comment.
Some institutions indicated that they were interested in certain benefits outlined in the proposal, while other elements did not align with their goals. The disconnect underscores the challenges of establishing shared services agreements in a higher education landscape increasingly battered by market headwinds and stagnant national enrollment trends.
Concerns Over Job Cuts
WESA reported that Chatham University, Carlow University, Point Park University, Robert Morris University and Washington & Jefferson College, all in the Pittsburgh area, had participated in the consortium study; of the other 12 that WESA reported had expressed interest, the radio station named six: Allegheny College, La Roche University, Seton Hill University, Thiel College, Waynesburg University and Westminster College.
According to a document shared by The Hill Group, consultants are exploring the consolidation of such areas as administration, finances, IT, procurement and risk management. Paul Hennigan, the consultant leading the study, pointed to potential cost savings in purchasing software and procuring other supplies in bulk. The Hill Group expects that establishing a staffed nonprofit consortium office would allow colleges to save money on personnel.
But, following WESA coverage, some institutions have spurned the idea—even before they know how feasible it would be. Others are waiting for more data from the study before they make the call.
Officials at both Robert Morris University and Washington & Jefferson College told Inside Higher Ed they will not move forward with the proposal.
"We are no longer involved in the consortium," said Robert Morris spokesperson Brian Edwards. "It became clear to us at a certain point that our aims and those of the consortium weren't aligned, and not in any way reflective of our original intent. So we and some of the other institutions that participated in the initial study actually withdrew from the consortium."
Edwards added that RMU was initially interested due to the "potential to leverage the collective buying power of our institutions to save on some software products," but backed away when it became clear that the plan would include cutting staff, which the university doesn't want to do.
Washington & Jefferson has also cooled on the idea for similar reasons.
"Washington & Jefferson College has determined that our institution will not participate in the consortium moving forward," spokesperson Keli Henderson said by email. "We determined that our interests and those highlighted in the recent article are not aligned."
She added that while the college was interested in exploring "ways to create efficiencies through such strategies as collectively negotiated purchasing agreements with vendors" and "pleased that the study showed how we might benefit from pooled purchasing power," officials disagreed "with the consultants' ideas for consolidating operations that would result in employee layoffs."
Point Park University is in wait-and-see mode on the potential consortium.
"At this time, we have not seen the final results of the study and none of the schools are committed to ultimately being a part of any consortium," spokesperson Lou Corsaro told Inside Higher Ed via email. "Speaking for us, Point Park would have to wait and see those results before determining whether we would move forward."
Chatham University is in a similar position.
"Chatham is participating in the procurement/purchasing initiative of the consortium," spokesperson Bill Campbell said by email. "The consortium is still in the planning phase for this initiative, so I do not have a lot of specifics to share as they are still in discussions."
Carlow University did not respond to multiple requests for comment.
Of the 12 colleges that expressed interest but were not study participants, 11 did not provide comment despite multiple requests by Inside Higher Ed, leaving their individual statuses unclear. Only Allegheny College confirmed continued interest in the consortium proposal.
A Study in Progress
In a brief and guarded interview, Hennigan—a former president of Point Park—declined to answer questions about how many colleges have backed away from the consortium proposal or their reasons for doing so. He also declined to discuss his communications with the colleges.
But he disputed claims that job cuts are part of the proposal.
"That's not accurate," he said. "Consultants have made no recommendations in that regard."
Asked to elaborate, Hennigan declined. Throughout the conversation, he emphasized that the study was in progress.
According to the document shared by The Hill Group, the study is in the third of four phases. The first phase focused on determining possible areas of collaboration for the five study participants; in phase two, consultants solicited interest from other institutions; and the third phase—which is expected to be completed in January—is centered around developing a business plan. The last phase is designated for a multi-year implementation process.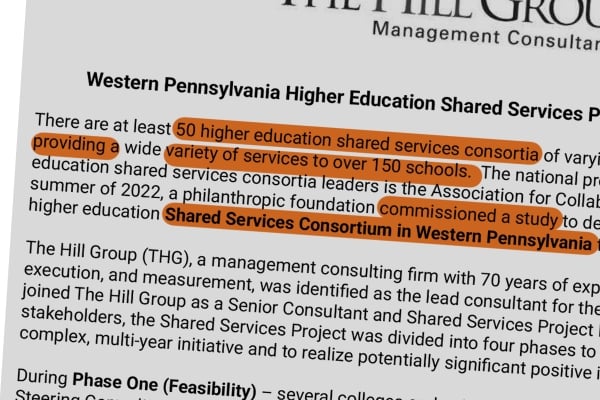 Pursuing Partnerships
Consortiums in higher education are neither rare nor a new idea.
"There are at least 50 higher ed shared services consortiums across the country," Hennigan noted. A network to support such efforts, the Association for Collaborative Leadership (ACL), has been around since 1968. The roots of some well-known partnerships go back more than 100 years; the Five College Consortium (comprised of Amherst College, Hampshire College, Mount Holyoke College, Smith College and the University of Massachusetts Amherst) was formally established in 1968 but traces the origins of its collaborative efforts to 1914.
How such arrangements work varies. Some are focused on collective purchasing power to keep costs down, while others, including the Five Colleges Consortium, emphasize shared academic offerings that allow students enrolled at one institution to take courses at a partner campus.
"There's a wide array of models of consortia, which gives a great deal of flexibility," said Sarah Pfatteicher, executive director of the Five Colleges Consortium and vice president of ACL.
But Pfatteicher noted that despite the potential, reaching such arrangements can be difficult.
"Consortia are not magic bullets. If the primary driver is savings, I'm not entirely sure that's a good reason, or the only reason why one should consider a collaboration. It's a lot of work to collaborate, it's a lot of work to coordinate even around something like procurements," she said.
She also stressed the importance of reaching a clear agreement when pursuing such efforts.
"My main message for campuses considering forming a consortium or collaborating, is that it's important to be clear upfront about what the driver is for that. Are you coming together to save money? Because that will result in a particular array of structures and decision-making to support that," Pfatteicher explained. "If you're coming together so that you can complement one another and broaden the array of programming you can offer that's a very different mission."