You have /5 articles left.
Sign up for a free account or log in.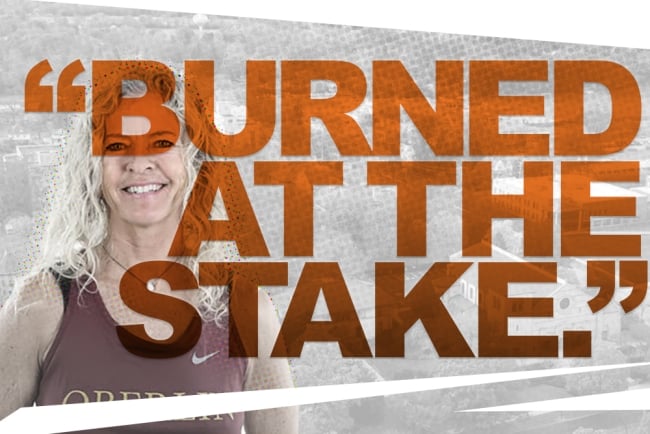 Photo illustration by Justin Morrison/Inside Higher Ed | Oberlin College
The head women's lacrosse coach at Oberlin College in Ohio was removed from her position this week, more than a year and a half after she posted her personal views on social media criticizing the participation of transgender athletes in women's sports.
The news of Kim Russell's reassignment to a different position in the athletics department follows her release late last month of a mini-documentary explaining her side of the story, through the Independent Women's Forum, or IWF, a national conservative organization.
The documentary includes audio clips of lacrosse players and university officials, which were recorded by Russell during what she called "disciplinary meetings" following her social media post. An Oberlin spokesperson says the other individuals involved were not aware that recordings were being made.
Russell, a former college athlete herself, had been working as a coach at the small liberal arts college for five years before being reassigned this week to a newly created position as an employee wellness project manager. The new job does not involve interaction with students.
Russell's controversial comments were originally posted in March 2022. She reshared on her Instagram story another user's post that questioned transgender swimmer Lia Thomas's win at the 2022 NCAA championships and added her own comment.
"What do you believe? I can't be quiet on this … I've spent my life playing sports, starting & coaching sports programs for girls & women," Russell wrote.
Russell described her treatment by Oberlin officials and the reaction on campus following the posting as being excessively harsh.
"I was not just chastised," Russell said in an interview with the IWF. "I was burned at the stake. I was stoned. I was basically told I was a horrible person, and it was heartbreaking, really."
"I have been taken out of the role of coach, which is what I've done for 27 years," Russell said in an interview with Fox News this week. "I've been a PE teacher, a coach and a teacher of programs of wellness, yoga, all sorts of things, kickboxing … and [been] asked to take a role as employee wellness program manager, which would have no contact with students and be creating things—which is paperwork."
Despite the pushback and "demand" for an apology by university athletic department officials following her post, according to the IWF and the documentary, Russell continued to lead the lacrosse team through the remainder of the 2022 season and all of this past spring.
Oberlin College said in a statement via email that the decision to reassign Russell to a new role pertains to a "breach of trust rather than any views she has expressed."
"Russell posted about trans athletes on social media 18 months ago, in March 2022. She coached an entire season after that. But when she recorded her student-athletes without their knowledge or consent, then shared those recordings with the media, she violated their trust in an irreparable way," the statement said. "This breach of trust—not her posts, feelings, or beliefs about trans athletes—is why she has been removed from her coaching duties."
(It is legal in Ohio to record an in-person conversation if one of the parties in the conversation, in this case Russell, has consented to being recorded.)
Reflecting a National Debate
Discussions over whether transgender women, those who were assigned male at birth, should be allowed to participate in women's sports have become a lightning rod for conservative criticism. It has also been a highly debated and polarizing state and federal policy issue.
The Biden administration is currently rewriting Title IX rules to allow individual athletes to decide which team and/or locker room suits their gender identity. Under Title IX, which prohibits sex-based discrimination in education facilities and programs that receive federal funding, all public schools, colleges and universities that receive such funding would have to comply. When the proposed language and requirements of the new rules were first released in April, they received more than 132,000 public comments. The final rules were supposed to be issued in May but have been delayed until October, another deadline the department doesn't appear likely to meet.
Chain of Events
The Oberlin controversy began back in March 2022, when University of Pennsylvania swimmer Lia Thomas became the first transgender athlete to win an event at a Division I NCAA championship. Russell took to Instagram to weigh in on the news, reposting a headline that facetiously congratulated the silver medalist, Emma Weyant, for being the "the real woman who won" the event. (Note: This paragraph was revised to correct the headline referenced in Russell's Instagram post.)
A student athlete on Russell's team saw the post and reported it to the athletic director. Russell said she was subsequently instructed to come to the director's office for the first in a series of "disciplinary meetings," which she recorded, according to the IWF.
"It's acceptable to have your own opinions, but when they go against Oberlin College's beliefs, it's a problem for your employment," Creg Jantz, senior associate director of athletics, told Russell in one of the meetings.
"Unfortunately, you fall into a category of people that are filled with hate in the world," Natalie Winkelfoos, associate vice president for athletics, said in another.
Winkelfoos "demanded" that Russell write a letter of apology to her team and the department, according to the IWF. Russell said, "The rest of the season was the most difficult one she has ever coached," and that her character and coaching were attacked by some members of the team and some officials in the athletics department.
Andrea Simakis, an Oberlin College spokesperson, confirmed that there were a series of meetings between Russell, athletic department administrators, the team and human resources department representatives following the initial post. However, Simakis would not provide further details about what those meetings entailed. She also would not confirm that college officials had requested a formal apology.
Russell insists she didn't break any of the college's rules by posting her comments and that she was simply exercising her free speech rights.
"When I took that to the college with a letter from my attorney, I said, 'If I am breaking university policy, please tell me what that policy is. Please do so in writing and, if you're going to fire me for breaking that policy, please do it now,'" Russell said in her interview with Fox.
Russell said in an email sent via the IWF that she delayed coming forward publicly with her story until recently because she was "still angry and hurt" in the months following the original post, adding that she "didn't want to speak out from that place."
She said she is using paid time off and "taking time to make an informed decision regarding the new role."
Split Responses
Opinions about Russell's action and the university's reaction are mixed and reflect the strong feelings people have about trans athletes playing college sports.
Travers, a sociology professor at Simon Fraser University who uses a single name, said Russell's belief that transgender athletes "unfairly erase" the hard work of cisgender female athletes is a "myth" used to "provoke" and "propagate" a sense of public "moral panic."
"For a coach at a college like Oberlin to make such an antitrans and ignorant statement is deeply disturbing," Travers said. "If someone won the gold medal, you never say that the silver and bronze medalists, or any other competitors, had their hard work unfairly erased by being beaten. It's particularly transphobic."
But the professor—who studied transgender participation in sports, even before their own transition—praised Oberlin's response.
"It's very heartening to see that institutions like Oberlin College are refusing to go along with it," they said. "They're taking a stand in support of transgender girls and women and transgender people more broadly."
Donna Lopiano, a member of the Women's Sports Policy Work Group, a bipartisan group of former elite athletes and sports administrators, said Russell's position "is correct" and that the coach's social media post is "something that freedom of speech should protect."
"Women have immutable physiological chemistry and structural physical attributes that … if you had a team for which men and women compete, it would not allow them a fair chance to make that team," said Lopiano, who is also president of a sports consulting firm. "Men are bigger and stronger, and all the things that science says. So Congress created an exception to sex discrimination law."
"We encourage any accommodations for males who identify as transgender so long as those accommodations do not diminish females' opportunities, scholarships, or prize money, nor females' right to fair, safe, separate sports experiences," the advocacy group's website reads.
The Foundation for Individual Rights and Expression, a campus civil liberties watchdog group, said that coaches have "fewer expressive rights when speaking pursuant to their employment" and that unlike students and faculty, staff can be required not to discuss certain issues.
"That said, colleges all over the country are going to be seeing a lot of debate on this issue this semester and should be facilitating discussion around the variety of views people hold, rather than censoring one side," said Alex Morey, FIRE's director of campus rights advocacy. "Oberlin says it's 'committed to maintaining an environment where open, vigorous debate and speech can occur.' I don't think anyone looking at this situation would believe that."
While private colleges like Oberlin have more authority to limit speech, "it's bad for free speech culture," Morey added.
"There are certain issues at some colleges today that are put off-limits for debate even when reasonable people hold differing views worthy of genuine discussion," she said. "Oberlin may have the legal authority to oust a coach with a view they dislike, but they should think long and hard about the speech-chilling message that kind of move sends."