You have /5 articles left.
Sign up for a free account or log in.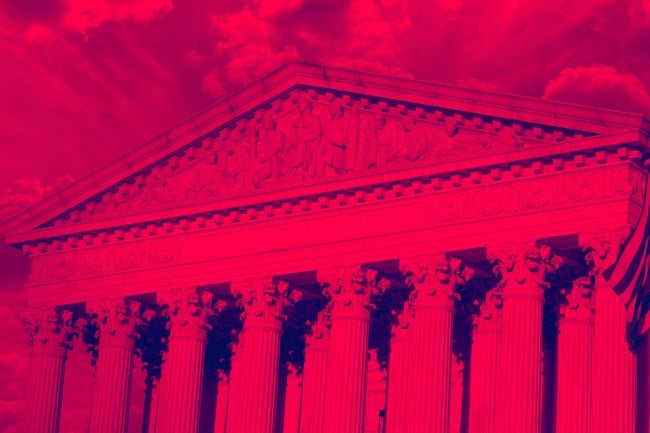 Douglas Rissing/iStock/Getty Images Plus
Scores of college presidents released public statements disagreeing with the U.S. Supreme Court's June decision on affirmative action, in a case that involved Harvard University and the University of North Carolina at Chapel Hill but had implications for all of higher education.
A new survey of college and university presidents from Inside Higher Ed and Hanover Research reveals the scope of that disagreement: more than two-thirds (68 percent) of the survey's 136 respondents oppose the court's curbing of race-conscious admissions, nearly half (46 percent) of them strongly.
Just 17 percent of the presidents in the survey, supported by Lumina Foundation, somewhat or strongly support the court's decision. An additional 15 percent of presidents are neutral.
Similarly, just three in 10 respondents somewhat or strongly agree that that the decision reflects a realistic sense of race in the U.S. today. Nearly six in 10 (57 percent) strongly or somewhat disagree that it does. The remainder neither agree nor disagree.
Differences in perspective emerge by region: presidents from the South are significantly more likely than those in the Midwest to agree that the court's decision reflects a realistic sense of race today, at 41 percent versus 17 percent, respectively.
More on the Survey
Inside Higher Ed's "The Supreme Court and Affirmative Action: A Survey of College Presidents" was conducted in conjunction with Hanover Research in August and September. The survey included 136 presidents from public and private nonprofit institutions, with a margin of error of 8 percent. A copy of the free report can be downloaded here.
On Thursday, Nov. 16, at 2 p.m. Eastern, Inside Higher Ed will present a free webcast to discuss the results of the survey. Please register here.
This Inside Higher Ed survey was made possible by support from the Lumina Foundation.
As for how the decision will affect higher education, the majority of presidents (59 percent) believes it will result in fewer underrepresented minority students being admitted to competitive institutions. But in something of a mixed message, an even larger share (86 percent) feels as though their own institution will maintain its current level of diversity under the decision. Very few—4 percent—believe their institution will not maintain its current level of diversity.
Just 7 percent of presidents say the court's decision will result in changes to their institution's own admissions policies, with presidents from private nonprofit institutions more likely than those from publics to say their policies will change (14 percent versus 1 percent, respectively). The majority (60 percent) of this subgroup says they're prepared for such changes.
Presidents' views on the affirmative action decision are strikingly similar to college and university admissions officers', as captured last month in Inside Higher Ed's annual survey of these officers. In that survey, 64 percent of respondents said they disagreed with the court's decision, while just 17 percent agreed.
Like presidents, admissions officers were mostly united that the court's ruling was bad news for higher education as a whole, but they were unlikely to say the decision would impact diversity at their own institutions. Just 15 percent of admissions officers said the ruling would lead to changes in their institution's admissions policies, for instance.
What accounts for the daylight between presidents' overall pessimism about the end of affirmative action and optimism about their own institutions' ability to maintain current levels of diversity? Patricia McGuire, president of Trinity Washington University, who reviewed the survey's results for Inside Higher Ed, said many colleges and universities didn't practice affirmative action to achieve diversity anyway. Trinity, for instance, deliberately started recruiting students of color in the 1980s, when its longtime applicant base of middle-class white women declined severely, and it has since become a "successful, proud" predominantly Black- and Hispanic-serving institution.
"Enrollment necessity makes a virtue of diversity," McGuire said.
At the same time, she continued, many more "elite or elite-aspiring" colleges and universities know that selectivity in admissions "translates to dollars and prestige." Affirmative action as a policy and legal expectation gave selective institutions with the wealth and capacity to enroll many more lower-income students of color "cover" to do so. Now the court has taken away that "tool," some of those institutions "may not be overly eager to come up with an alternative."
Very few presidents in the new survey (4 percent) say they're considering a plan to admit significantly more transfer students in response to the court's decision. Just 7 percent are extremely optimistic that interviews or essay questions—which have been cited as workarounds to the court's decision, including in the decision itself—will help institutions achieve diversity in the new legal environment. But many more presidents are either slightly (32 percent) or moderately (40 percent) optimistic about these solutions. Just one in five is not at all optimistic.
McGuire said it's shortsighted in terms of diversity and general enrollment concerns not to aim for a more robust flow of students from community colleges now, and she rejected as a version of the "the Hunger Games" the expectation that applicants should leverage their racial identities in admissions essays.
Too Soon to Tell?
Peter McDonough, vice president and general counsel at the American Council on Education, which represents about 1,700 colleges and universities, said he was most struck that more presidents in the survey didn't say it's too soon to tell how their institutions will be affected.
"Certainly schools that have a long and deep history of taking race into account in some respect in their admissions processes at the undergraduate level will have been trying to figure out what the near- and long-term ramifications of the decision are, and where their policies and practices may need to be refined and maybe even changed rather significantly," he said. "But chances are that even for institutions that are not highly selective and that do not have holistic admissions that took race into account, there could be places embedded within their institution where race had been taken into account."
An education graduate program that serves a local area in need of more Black male educators might have considered applicants' race in this context, for instance, McDonough explained. "I suspect if presidents thought about it that way, they might not have been so quick to be certain that the decision is unlikely to have an effect on admissions and also on financial aid."
Some institutions are forming working groups to digest and interpret the court's decision, McDonough said, guessing that six to 12 months was a more realistic time frame for understanding it in full at all levels of an institution.
Colleges and universities are now also dealing with big questions related to the perception that they may be less inclusive places for students of color, he added.
Per McDonough's point on financial aid, more than half of presidents in the survey say their institution does not offer financial aid that has, until now, been awarded on the basis of race or ethnicity. Some 37 percent say their institution does have this type of aid. Of this group, about half (54 percent) do not anticipate ending that program, while more than a quarter (28 percent) are unsure whether they will end it. Presidents from private nonprofit institutions are significantly more likely than those from public institutions to say their institution has offered this kind of aid, at 47 percent versus 28 percent, respectively. Those from the Midwest (50 percent) are significantly more likely than those from the West (22 percent) to indicate that their institution had this kind of financial aid, as well.
Other findings from the survey:
Presidents are split on whether they would favor their state adopting a program to admit all high school students in the top 10 percent of their class to public institutions in the state. About a third of presidents (35 percent) would favor this, while more than a quarter (29 percent) would not. An additional 21 percent of presidents say their state already has such a plan. By region, presidents from the South (27 percent) and West (44 percent) are significantly more likely than those in the Midwest (8 percent) and Northeast (8 percent) to report that their state already has a percentage plan.
Presidents are almost evenly split as to whether Harvard and UNC Chapel Hill offered a good defense of affirmative action in the case. A third say they did, about another third (30 percent) say they did not and the rest aren't sure.
Just 18 percent of presidents think that higher education as a whole planned properly for this court case. The remainder are divided between thinking it didn't plan properly (41 percent) and being unsure (40 percent). (These are average estimates.) Presidents in the Northeast (42 percent) are significantly more likely than those from the Midwest (11 percent), South (11 percent) and West (7 percent) to indicate that higher education institutions planned properly for the case.
McDonough, of ACE, said that institutions now have an opportunity to re-examine past admissions practices and perhaps find ways to improve their effectiveness with respect to institutional diversity, equity and inclusion goals—something of a "lemons to lemonade" situation.
Several colleges and universities have announced that they're formally ending legacy admissions in the wake of the court's decision on affirmative action. The president of one such institution, Michael Roth of Wesleyan University, reviewed the new survey findings and told Inside Higher Ed that considering race in admissions was never about what box students checked. Instead, he said, "our decision to admit a student is based on diverse facets of the individual's history, talent and potential. Applicants' achievements and promises are carefully considered in the context of their respective schools, communities and personal circumstances."
Roth shared some of what Wesleyan is doing to recruit a diverse applicant pool:
Pursuing geographical diversity within the U.S., continuing to invest in recruiting students from around the country, beyond the coasts and in big cities.
Creating an annual scholarship program to recruit and support a group of undergraduates from Africa.
Redoubling efforts to recruit veterans, building on work with the Warrior Scholar Project to encourage the development of a pipeline of veterans interested in liberal arts colleges and universities.
Strengthening outreach to community-based organizations, college access programs and Title I high schools, or those in which at least 75 percent of the student population has been designated as economically disadvantaged.
Enhancing community college recruiting, building a channel of graduates interested in liberal arts colleges and universities.
Solidifying the university's Center for Prison Education, ensuring the sustainability of the degree program for incarcerated people.
Increasing financial aid support, including by meeting the full demonstrated need of all matriculants and replacing required loans with grants for all financial aid recipients, while making the university's three-year program more visible and developing more free credit-bearing courses delivered online or in a hybrid mode.
Still, Roth didn't describe what presidents—and all of higher education—are facing in rosy terms.
"The pessimism reflected in your survey about the country at large stems from the loss of the tool of affirmative action. In large states where this has happened before, we have seen a decline in the numbers of Black and brown students applying to universities. We fear this will happen again. The optimism each president has about his or her own school stems from our hopes that our particular new policies of recruiting will bring in the applications from minoritized groups. This may be wishful thinking—an occupational hazard for university presidents."