You have /5 articles left.
Sign up for a free account or log in.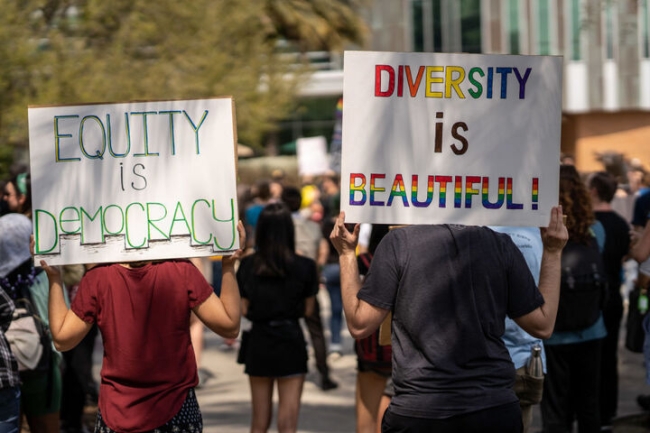 Thomas Simonetti for The Washington Post via Getty Images
Caught in the crossfire of a culture war, sitting college presidents are often reluctant to speak out on legislative proposals that threaten tenure, academic freedom and diversity, equity, and inclusion efforts on their campuses. Now a new initiative from the free expression group PEN America is offering them reinforcements in the form of former college leaders willing to take a stand on threats to such campus issues.
The initiative, announced last week, brings together a roster of more than 100 former presidents and chancellors who have led a variety of colleges across the U.S. Dubbed the Champions of Higher Education, the group includes those known for leadership and longevity in higher education—like Freeman Hrabowski, who served as president of the University of Maryland Baltimore County for 30 years—and others who became national figures due to political controversy thrust upon them, such as Patricia Okker, who was ousted as president of New College of Florida amid changes driven by Republican governor Ron DeSantis.
Threats to Academic Freedom
In announcing the group, PEN America pointed to numerous concerns across higher education, including curricular restrictions on such topics as race, sex, gender identity and American history.
Statehouses across the country have targeted higher education this year, with Republican lawmakers seeking to limit what can be taught and proposing to shutter diversity, equity and inclusion offices. In Florida, HB 999 exemplifies the kind of reforms designed to bring sweeping changes to higher ed; it aims to defund diversity, equity and inclusion programs and restrict curricula by eliminating majors and minors in subjects focused on race and gender.
As the dramatic reforms proposed in HB 999 advance through Florida's Legislature, public college presidents in the state have remained silent, offering little pushback. None of Florida's 40 public college presidents agreed to discuss the proposed reforms with Inside Higher Ed last month, declining to comment or ignoring the request—even when offered anonymity.
PEN America hopes to fill that void in the Sunshine State and elsewhere by rallying higher education experts who can leverage their significant expertise and political connections to push back on issues the group considers harmful to higher education. Participants plan to influence politics via op-eds and speaking engagements, as well as by using their existing relationships with lawmakers and others to push back on what PEN America describes as "censorious legislation" threatening intellectual freedom.
Florida is hardly alone in pushing legislation to crack down on DEI; more than a dozen state legislatures are looking to limit diversity, equity and inclusion efforts across the U.S. in various ways. It's a matter Education Secretary Miguel Cardona raised in a recent speech.
"I know it's challenging, I can imagine, for the presidents in some of these states. It's going to be very difficult to speak up … We want to support you. We want to be there for you and know that the Department of Education has your back," Cardona said last week at the American Council on Education's annual meeting. He added that the challenge "ahead of us with these attacks on DEI are greater than the challenge of reopening schools during [the coronavirus] pandemic because at least back then we were all united."
In addition to DEI, tenure has also been a frequent target of Republican lawmakers across the nation. Legislators have taken action to undermine tenure in Florida, Georgia, Texas and various other states, including North Dakota, where a bill to allow presidents at two state institutions to fire tenured faculty without a faculty committee review or the right to appeal narrowly failed.
Speaking on a panel at the ACE annual meeting, Jeremy Young—senior manager of free expression and education at PEN America—noted the impact one Champion of Higher Education had on the proposed legislation in North Dakota by testifying against the bill, which failed by one vote. Young credited Larry Isaak, who served as chancellor of the North Dakota University System from 1994 to 2003, with raising concerns about how undermining tenure may harm accreditation.
Young suggested that Isaak's testimony swayed legislators to vote down the bill, demonstrating the kind of impact that PEN America hopes the group will have on issues of academic freedom.
The Ex-Presidents Push Back
In his remarks to the North Dakota Legislature, Isaak leaned on his deep knowledge of the system's history and state education laws. In addition to the accreditation argument, he argued that the bill may have been unconstitutional in North Dakota, which established its State Board of Higher Education in response to gubernatorial interference with public colleges in 1938.
"It's always been a belief of mine that the heavy hand of government does not belong in the classroom," Isaak told Inside Higher Ed, noting that the PEN America group appealed to him because he believes it can be a force protecting institutions "from extreme partisan political views."
Isaak—who specified he is nonpartisan—is also particularly concerned about how history is being taught as states attempt to crack down on so-called divisive concepts, which often means restricting lessons in an effort to shroud the darker moments of the American past.
A similar concern prompted Okker to join after she was pushed out of the New College of Florida by conservative trustees DeSantis appointed in a self-declared "hostile takeover," which was designed to convert NCF into a conservative, Christian "Hillsdale of the South." Now, with Okker out, the trustees are forging ahead with their effort to remake NCF.
"My experience at New College has certainly raised political issues, but I'm an educator, not a politician," said Okker, who largely declined to discuss her January ouster as NCF president. But given her concerns, Okker felt compelled to add her voice to the PEN America initiative.
"As an educator, I'm concerned about the campaigns across the country to limit what students can read and study on college campuses," Okker told Inside Higher Ed. "I truly believe that free expression on college campuses is central not only to the success of American universities—which are the envy of many countries around the world—but also American democracy."
She added that attacks on free expression can come from across the political spectrum.
David Warren, a former president of Ohio Wesleyan University who headed the National Association of Independent Colleges and Universities from 1993 to 2019, also became involved with the PEN America initiative because of concerns about threats to academic freedom.
Warren referenced a 1957 Supreme Court opinion by Justice Felix Frankfurter, which noted the four freedoms essential to a university: "to determine for itself on academic grounds who may teach, what may be taught, how it shall be taught, and who may be admitted to study," Frankfurter wrote. Now, Warren said, those freedoms "are at risk."
Warren suggested that sitting college presidents are in an unenviable position, pulled between demands to defend academic freedom and the potential for political retaliation if they do. He said college leaders could see budget cuts at their institution or be fired for standing up to powerful politicians, which makes them hesitant to speak up on such matters.
"If one or both of those things happen—the loss of money or the loss of the president—the mission of the institution is up for grabs. It's the loss of the ability to influence an institution's mission through the curriculum, through all of the activities in which the institution is involved, so I understand why my colleagues in state institutions are reluctant to speak up," Warren said.
But if sitting presidents are unwilling or unable to speak up, participants in the PEN America initiative aim to wield their collective influence to speak in their absence, shaping the public discourse. And with higher education a frequent political target, there's no shortage of work to go around.