You have /5 articles left.
Sign up for a free account or log in.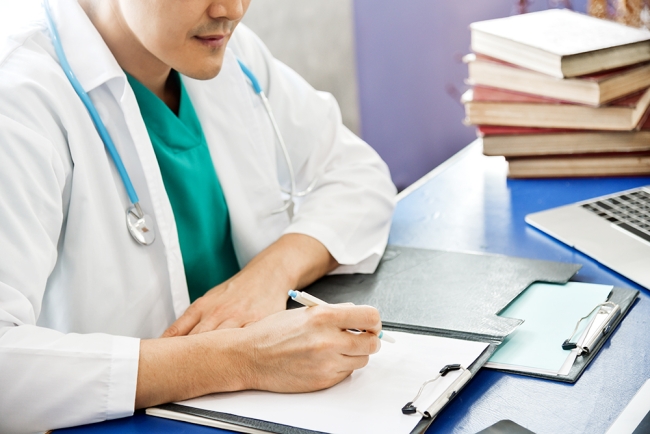 When the National Board of Medical Examiners and the Federation of State Medical Boards changed the process for grading a section of the U.S. Medical Licensing Exam, they hoped it would decrease student stress and reduce the emphasis on scores in the decision process for residency placement.
But a year and a half after the transition, some medical school students and faculty are unsure if the change was effective and are concerned that it may have amplified inequities among students.
The reform, which went into effect in January 2022, shifted the first of three exams required for a medical license from a traditional numerical scoring to a pass-fail model.
The exam, USMLE Step 1, is a grueling eight-hour assessment of students' knowledge of basic medical sciences, including anatomy, biochemistry, immunology and pharmacology. It is typically taken at the end of the second year of medical school. The high-stakes exam was known for inducing high levels of stress in students because it was used as a primary evaluation metric for medical residency placements.
The NBME and the FSMB, co-sponsors of the exam, said the switch to pass-fail aimed to "address concerns about Step 1 scores impacting student well-being," "reduce the overemphasis" on exam results and promote a more holistic residency selection process.
However, many students and medical school faculty now say that removing scores has simply shifted stress to the second exam and put additional pressure on students to differentiate themselves through research and extracurricular opportunities, which will take time away from their studies and amplify pre-existing inequalities in medical education.
"I think most people agree with the concept and think that it's a step in the right direction, which I also agree with," said Natasha Topolski, a sixth-year student pursuing an M.D. and Ph.D. at McGovern Medical School in Houston. "But still being stressed in that period is a very real thing … Step 1 isn't the root of the problem. It's a symptom."
Student Stress Remains
Topolski, who is also chair of the American Medical Association's Medical Student Section, said her stress levels were still high when she took the exam last year under the pass-fail model.
"If you fail, residency programs know. You're allowed to retake it, but they know and that's this black mark," Topolski said, noting that numerical scores provided students a chance to show improvement on the second exam. "They just see that I failed and then I passed eventually … I think that's where a lot of the anxiety still comes from."
Topolski said she's heard many peers say the stress "just gets pushed to Step 2," which is still scored and is now expected to be used as an evaluation metric for residency placements.
Abbigayle Willgruber-Rawls, a fourth-year medical student at the University of Kentucky College of Medicine–Bowling Green, intends to apply for an ear, nose and throat residency this fall. But she pushed her Step 2 test date back from June to August to have more time to study because she's worried her score won't be high enough to get accepted into the highly competitive specialty.
"It really puts a lot of pressure on different aspects of medical education that maybe we wouldn't have stressed so much about initially if we had that numeric Step 1 score," she said.
A study published in Medical Science Educator in February indicated many students are still feeling stressed despite the change to pass-fail.
The study was conducted by medical residents at the Georgetown University School of Medicine and compared the stress levels of students there who took the first portion of the exam both before and after the transition to pass-fail. Results showed that although exam-specific stress rates for pass-fail students were significantly lower than their scored peers during the first two years of medical school, the difference "disappeared" when students reached the "dedicated study period" in the months immediately before the exam.
Faculty Expresses New Concerns
Medical school faculty members and administrators are also concerned. In a recent survey of about 250 medical school officials conducted by TrueLearn, a third-party USMLE test-preparation company, only about 39 percent said they believed the switch would lessen test takers' stress levels. However, about 56 percent of respondents expressed concerns that students would spend less time preparing for the exam as a result of the shift to a pass-fail model.
Dr. Rance McClain, who was dean at the Arkansas Colleges of Osteopathic Medicine until June, agreed that the change to pass-fail shifted students' stress to the second part of the exam. Unlike Step 1, for which students are typically granted several months of "unhindered" time to study, he noted that Step 2 is often taken during students' fourth-year clinical rotations.
"Now they put a lot more pressure on themselves for Step 2, when they don't have that time and ability to study the way they now think they should," he said. "We're very concerned about our students taking away valuable clinical learning experiences trying to go back and study."
Medical school officials are also concerned that as students look for new ways to differentiate themselves from peers in residency applications, more emphasis will be placed on factors such as research experience and extracurricular involvement. They worry this will amplify pre-existing inequities in the residency placement process, making it harder for students who are not attending elite institutions to be accepted into their top-choice programs.
"Students from these disadvantaged backgrounds, who may not have access to others who are physicians or scientists, they may not have those opportunities to volunteer and shadow or have research opportunities to really help embellish their résumés as they're applying for these residency programs," said Dr. Yolanda Lawson, president of the National Medical Association, an organization that represents African American physicians.
Dr. Jonathan Waters, a professor of anesthesiology and biomedical engineering at the University of Pittsburgh School of Medicine, has been "heavily involved" in selecting residents and fellows in the past. He believes research is more about who you know than what you know and that it isn't the same caliber "screening tool" as a USMLE score.
"Various professors have different expectations for medical students and the roles that they play in research … you can be a nice guy and have a professor take good care of you," Dr. Waters said. "I don't see it as making up for the rigor of having to study for an exam with the pressure that goes along with it."
Mark Speicher, a senior vice president at the American Association of Colleges of Osteopathic Medicine, voiced similar concerns. He said research and extracurricular opportunities can be harder to access at rural, regional institutions and osteopathic medical schools, which are sometimes viewed as less rigorous. Students of color and first-generation students may also face barriers.
"There is some basis to think that the USMLE was not equitable across all demographic groups, but at least it was a known target," Speicher said. "If I'm a first-generation college student, I knew how to prepare for the USMLE. But how am I supposed to get a research opportunity that ends with a publication?"
Associations Wait to Judge
The USMLE, and the boards that oversee it, acknowledged some of the concerns in a statement more than a year before the change went into effect, but they moved forward with it anyway.
Joe Knickrehm, a USMLE spokesperson, said in an email that the decision was made "after nearly two years of careful evaluation" and it "is only one action that can help improve this process."
He implied that it was up to medical schools to address student stress.
"We encourage other organizations in undergraduate and graduate medical education to identify solutions to optimize the transition from medical school to residency," he wrote.
The American Association of Medical Colleges declined to comment on the impact of the change. Other medical associations, including the National Resident Matching Program and the American Medical Association, acknowledged concerns but said it was too early to fully assess the scenario.
The American Medical Association described the numerical score as "detrimental" and said it "created a parallel curriculum to prepare for the exam," which "distracted medical students from developing teamwork and communication skills." The association also noted that the first cohort in which a majority of students took the exam under the pass-fail model will be applying for residencies this fall, after which the full impact of the exam on students' acceptance to residency programs could be better gauged.
"There is concern voiced by the community about how these changes the determination of who programs want to invite for interviews and select for residency programs" Donna Lamb, president and CEO of the National Resident Matching Program, said in an email. However, "Anecdotal input is somewhat limiting, and so I consider it cautiously."
"This is a new process that the National Board of Medical Examiners and others are working to better understand," she said.