You have /5 articles left.
Sign up for a free account or log in.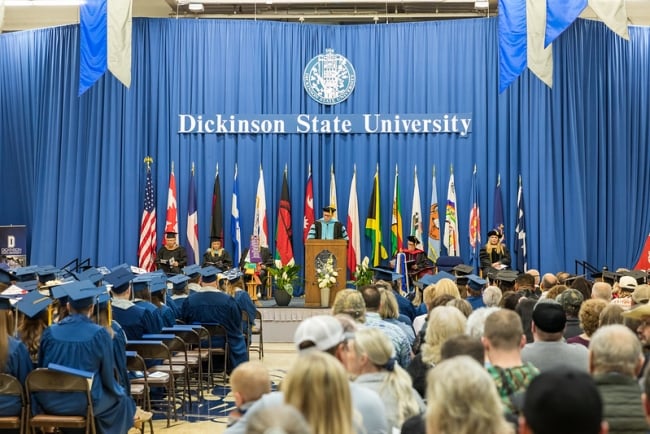 Dickinson State University/Flickr
Dickinson State University's president announced Wednesday that he's moving forward with asking for the North Dakota State Board of Higher Education's blessing to cut several degree programs. But he's sparing multiple other offerings that were on the chopping block.
In all, President Steve Easton said the cuts will result in five tenured faculty members losing their positions as of about this time next year. He also said one or two administrative assistants will be laid off.
Further, one non-tenure-track faculty member is resigning Dec. 31, while a tenured professor is resigning in May, he said.
Easton had told the Dickinson State Faculty Senate in an Aug. 9 email that he was considering cutting multiple undergraduate degrees, citing inflation's impact on the university's expenses. On Wednesday, after feedback from faculty members and others, he announced he would seek the state board's approval to cut the following degrees: communication, music, math, math education, theater, political science and information analytics.
But he also announced he wouldn't move forward with cutting the following: English, English education, music education, chemistry, chemistry education, computer technology management—he said faculty members suggested cutting information analytics instead—and environmental science.
He said 44 students have either a primary or secondary major in one of the programs planned to be discontinued.
"We are pleased that the number isn't higher than that, although it's, of course, hard for everyone to have a decision like this," he said.
He said 20 of the affected students are seniors, who will be able to earn the degrees before the programs' discontinuance, while the university isn't yet sure how many of the 24 others will be able to, at least at Dickinson State. He said the university is working on teach-out plans.
Dickinson State has fewer than 1,500 students.
Pete Leno, the Faculty Senate president, didn't return requests for comment Wednesday.
Eric Grabowsky, a tenured associate professor of communication at Dickinson State, is the faculty member resigning in May. He submitted his resignation last week.
Grabowsky said he's an "enemies list person" and wanted to leave the university on his own terms. Earlier this year, he spoke to multiple media outlets in opposition to state-level legislation Easton supported that would've let Easton and the Bismarck State College president fire tenured faculty members based on those presidents' own reviews, with no possibility of appeal. The legislation failed.
Grabowsky also said that, "bigger picture," the university's direction "doesn't look good" and that direction "is no longer a fit for me."
"People in the community and beyond need to start asking more tough questions of DSU and the university system—what's happening, what's going on," he said.