You have /5 articles left.
Sign up for a free account or log in.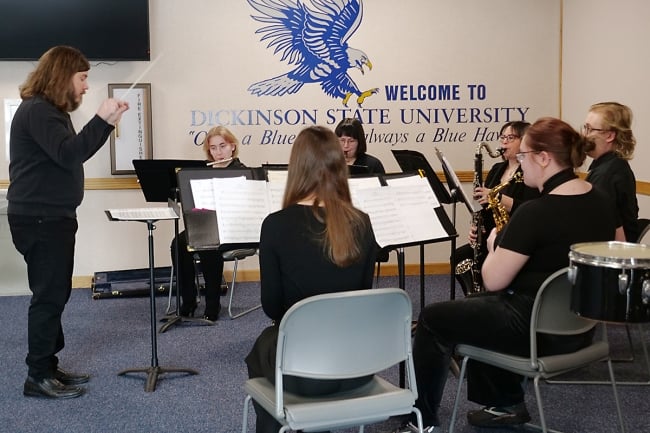 Dickinson State University
West Virginia University's position and degree slashing captured national attention this month because the level of cuts was unusual for a flagship university.
The WVU board voted last Friday to eliminate more than 140 faculty jobs, and, this week, administrators asked their Morgantown Libraries academic support unit to plan for cutting "up to $800,000," nearly 6 percent of the budget. The libraries dean said in a statement, "We have a lot of work to do in a short time."
Now there's another, lesser known university that appears poised to do what WVU was just criticized for: move quickly to cut common academic programs, using that as an excuse to lay off tenured faculty members without declaring financial exigency.
North Dakota's Dickinson State University is one of many smaller universities mulling program cuts with less national scrutiny. Steve Easton, the president, is considering eliminating some mainstream degrees from the institution, which enrolls fewer than 1,500 students.
Easton told the Faculty Senate in an email Aug. 9 that he was considering cutting undergraduate degrees in English, math, political science, communication, music, theater, chemistry, environmental science and computer technology management, including the teaching tracks for those subjects, such as math education. Left would be degrees in history, biology, elementary education, computer science and other areas.
"I never thought it would be this severe," said Eric Grabowsky, a tenured associate professor of communication at Dickinson State. "We knew there would be restructuring … I personally did not think that it would be this severe. I mean, this is a pretty heavy announcement."
Easton said he plans to tell faculty members Wednesday which programs will be cut and, if their jobs won't be renewed, give required 12-month notices for those with tenure. A North Dakota University System spokeswoman said any full program eliminations further require the state board's approval.
Dickinson State's Faculty Senate, in a document Easton said he received last Friday, urged him to preserve the secondary-level teacher education programs and other offerings and cast doubt that the cuts could result in the roughly $1 million savings he's estimating from inflation.
In 2020, Easton pushed cuts that, according to his email last month to the Faculty Senate, "affected essentially every portion of DSU's budget, with one major exception: tenured faculty lines."
The Senate wrote, "The 2020 reductions were the product of months of detailed deliberations," and asked, "Why does the current situation not deserve the same level of thoughtful analysis, with time for broad input?"
Cutting enough positions to save $1 million in expected inflation annually, the Senate wrote, is impossible given "Our campus-wide need to continue providing general education courses and courses that serve other departments."
Further, the Senate argued, there already is a lack of faculty members. "DSU had a crisis at the beginning of the semester, struggling to find professors to teach all scheduled courses in multiple departments," it wrote. "Most of these courses were covered at the last minute by adjuncts teaching online asynchronous courses … Some students have ended up with almost entirely online asynchronous schedules, leaving them plenty of time to consider whether there is any point to being physically at DSU."
Like WVU leaders, Easton stressed that Dickinson State isn't in a budget crisis but is trying to prevent one in the future.
"This is not a financial exigency," he told Inside Higher Ed Thursday. "This is an effort to take a significant step to reduce the possibility that Dickinson State might face extreme circumstances if it does not take this step now or sometime soon. But we are not in a financial exigency."
"It is irresponsible for those charged with the leadership of an institution to wait until a financial exigency is present to make the decisions, the tough decisions, that need to be made to rightsize the institution," he said.
While Easton has mentioned the $1 million expected inflation figure, he said he's avoided providing a targeted savings amount. When asked how many positions he intends to cut, he said, "There is no specific target and I do not know—that is a decision that has not yet been made."
A Failed Bill to Diminish Tenure
Earlier this year, Easton expressed opposition to common tenure protections. He said that he drafted a version of a "Tenure With Responsibilities" bill for North Dakota's House majority leader.
The bill the majority leader introduced would've let Easton and the Bismarck State College president fire tenured faculty members based on those presidents' own reviews, with no possibility of appeal.
An amended version of the Tenure with Responsibilities Act passed the North Dakota House of Representatives, but the state Senate narrowly rejected it. Grabowsky, the professor of communication, spoke out against the legislation to multiple media outlets. Now, his program is among those on the chopping block.
"There's a retaliatory aspect to this, in my view, coupled with certainly a narrow vision of what it means to be a university," he said Thursday.
Easton said Grabowsky is entitled to hold any view he wishes, "but he is wrong."
"This is an effort, within the rules that have existed for some time, to address financial realities that a responsible leader should address," Easton said.
"In my judgment," Grabowsky said, "President Easton is following the letter but not the spirit of [university] policy, with the time frame being so tight." He said enrollment does matter, "and these conversations need ample time to make what are very serious decisions."
A table Easton provided showed that, counting double majors, there were, as of Aug. 23, 104 students majoring in the programs he's considering eliminating. There are 13 in communication and digital communication combined, according to the table. Grabowsky said those are different tracks of a single bachelor's degree, but he has a different, lower number for the total majors combined: eight.
Easton provided enrollment numbers for the other programs up for elimination: 21 undergraduates majoring in English/English education, 17 in music/music education, 15 in math/math education, nine in chemistry/chemistry education, eight in computer technology management, and seven each in theater, political science and environmental science.
Michael DeCesare, senior program officer in the American Association of University Professors' Department of Academic Freedom, Tenure and Governance, said the AAUP has received complaints from Dickinson State faculty members.
"We saw a spate of this in the wake of the pandemic," DeCesare said of institutions moving to lay off tenured faculty members with similar rationales.
Things then seemed to quiet down, DeCesare said, but there have been the recent cases, such as at West Virginia University, Emporia State University in Kansas and now Dickinson State.
"I hope there's not an uptick again," he said, "but there are certainly some current and recent cases of concern."