You have /5 articles left.
Sign up for a free account or log in.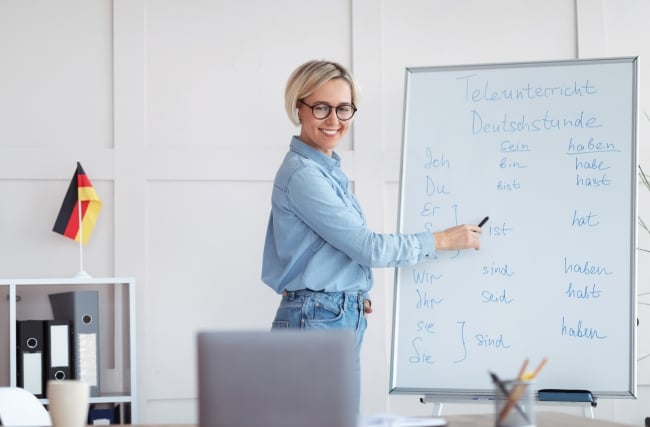 Prostock-Studio/iStock/Getty Images Plus
Enrollment in courses in languages other than English plummeted an unprecedented 16.6 percent between fall 2016 and fall 2021, the Modern Language Association's latest census found—a roughly 236,000-student drop that diminished head count in these classes to about what it was in 1998.
The association, which released its latest report Wednesday, has collected this census on an uneven basis since 1958. It's been conducted every three or four years since 1995, and the pandemic contributed to the five-year gap this round.
While the COVID-19 crisis lowered enrollments generally, the new report notes that the overall number of students in U.S. colleges and universities only fell 8 percent between 2016 and 2021. While those aren't directly comparable figures, the drop in enrollment in non-English-language classes was over twice as much—and the 2021 decline in language-taking continues a pre-pandemic trend.
"Following the historic peak in enrollments in 2009, language enrollments have been in a sustained decline, with three consecutive censuses showing significant losses," the document says. "The total percentage drop between 2009 and 2021 is 29.3%. Before this major downturn, there had been sustained growth."
The association says it's still investigating the causes of the downturn, but Paula Krebs, the executive director, placed much of the blame on funding. The Great Recession was still ongoing in 2009, when the decline began.
"The big economic crisis hit and the government stopped funding a lot of things that it used to fund, including the humanities," Krebs said. "The Department of Education funding that used to fund this actual survey went away."
She said the department's support for the census has resumed, one of the increases in government funding that are only now being seen. But it's not just dollars that concern her.
"I do worry about the national rhetoric that focuses entirely on higher education as job training, and this drop in language enrollments is part of that," she said.
The overall decline obscures differing trajectories for different languages, including a relative rise in Asian languages while historically popular European and Romance languages wither.
"In 1974," the report notes, "the five most commonly taught languages were all European in origin; in 2021, only three were."
K-Pop in Kansas
Five European languages lost around a fifth of their enrollment from 2016 to 2021: French lost the most, followed by Portuguese, Latin, Italian and Spanish.
Of the 15 languages with the most enrollments in 2021, only three saw increases: American Sign Language (ASL), Korean and biblical Hebrew.
That last phenomenon may be an "artifact of data collection," the report says. "Biblical Hebrew is usually taught in religion departments rather than language departments, and some enrollments may have been bypassed in data collection in the past," it says. "We have increasingly given more attention to nonlanguage departments that may house languages."
ASL is also taught in nonlanguage programs, such as speech pathology, special education and social work, which may partly account for its higher numbers.
Korean, which became the 10th-highest-enrollment language in 2021, stands out for its growth: up 38.3 percent from 2016, to surpass 19,000 students.
"It grew by 5,334 enrollments, which no other language accomplished in 2021," the report says. "It has also been remarkably consistent in its growth—it has not shown a decrease in enrollments since 1974."
Ji-Yeon Lee, an assistant teaching professor who leads the Korean language program at the University of Kansas, provided Inside Higher Ed enrollment figures showing Korean course enrollment there has doubled in a decade. She credited quality instructors and support from her institution, which she said has increased access to introductory Korean and is currently among only 20 U.S. universities to offer students up to five years in the language.
But she also credited culture, saying the popularity of Korean pop music (K-Pop) and Korean drama programs "boosts lots of interest among the students."
Krebs, the MLA chief, said the possibility of culture driving Korean's enrollment increases "gives me hope" for other languages. She said students want to understand the culture producing "media that they love."
"We in higher ed need to make more opportunities for students to understand the connection between multilingualism and fun," she said.
As in 2016, Spanish remained the most studied language in 2021. The over 580,000 students in Spanish classes represented nearly half of the 1,180,000 total students enrolled in languages other than English. Even so, Spanish enrollments decreased 18 percent from five years ago.
French remained No. 2, with 135,000 enrollees, but that was down 23 percent from 2016. And German, which had been No. 3 back in 2009, plummeted the most out of any of the top languages, losing a third of its enrollments to rest at under 54,000. It's now been overtaken by ASL, which ticked up less than a percent to enroll 108,000, and Japanese, which declined, but only by 4.6 percent, to enroll 66,000. The slow growth for ASL was abnormal. (This paragraph has been corrected to indicate that German was the No. 3 language in 2009.)
"ASL enrollments were not reported until 1990," the report says, but the language grew from 1,600 enrollments in 1990 to 108,000 in 2021, "an increase of 6,635.3%"
Disappearing Languages
West Virginia University shocked academe this fall when the flagship research university eliminated all of its foreign language degree offerings. But smaller institutions have also made news for axing language programs.
The MLA's new census adds nationwide data atop such anecdotes. The association said it reached out to 2,679 U.S. postsecondary institutions, excluding for-profit institutions. A spokeswoman said they've been excluded since 2013 because of historical difficulty in getting them to respond.
The MLA contacted institutions from its "own database of institutions that offer languages other than English. The report says 2,455 ultimately participated in the survey, an over 90 percent response rate, providing information on 258 languages taught. One-third of the responses came from two-year colleges.
The report defines a language "program" as simply offering instruction in a language, so it doesn't measure demotions or promotions for languages. So, the census doesn't show whether a university, for example, added a major in a language atop an existing minor, or cut a major and minor and only preserved elective courses.
Looking at "programs" in this sense, there was a net decrease of only one between 2009 and 2013. But 651 disappeared between then and 2016 and 961 between 2016 and 2021.
Compared to 2016, there were 172 fewer institutions teaching German in 2021, 164 fewer teaching French, 105 fewer teaching Chinese and 80 fewer teaching Arabic.
Among the top 15 languages other than ASL and Korean, "there was no increase at any level in the number of institutions teaching these languages in 2021, with the exception of Chinese/Mandarin," the report says. (This paragraph has been updated to reflect that ASL and Korean also had increases.)
Also, 20 Indigenous American languages taught in 2013 or 2016 weren't in 2021, the report says.
Latin offerings have held on, despite enrollments falling 40 percent since 2009.
Ancient Greek and biblical Hebrew were each taught at only one two-year institution in 2021, down from a handful years ago. Krebs decried the general picture regarding community colleges; since 2016, enrollments declined 24.2 percent at two-year institutions compared to 14.7 percent at four-year ones.
"If students can't study a language in community college, they will never get mastery of a language, because by the time they transfer they're juniors already," she said. She said she's worried about the message sent to those students and those in places such as West Virginia.
The message: "'This stuff is for elite people who might get jobs overseas or something,' and it just could not be further from the truth," she said.
Lisa Di Bartolomeo, a WVU teaching professor of Russian studies, is losing her job in May. WVU leaders had cited low enrollments in her and others' programs.
"I personally anticipated, selfishly, at least some additional interest in studying Russian when Russia launched a full-scale invasion of Ukraine," she said. But, she said, "I think in some ways maybe what we're seeing is in part a reaction to Russian imperialism and a rejection of Russian as a language of that imperialism."
However, she said, WVU could have revitalized the language with small investment, and she hopes other universities "wouldn't be as shortsighted."
"I think that what we see every day in the world emphasizes the importance of cultural education and cultural understanding," she said, "in a way that the United States and its institutions of higher learning cannot afford to ignore."