You have /5 articles left.
Sign up for a free account or log in.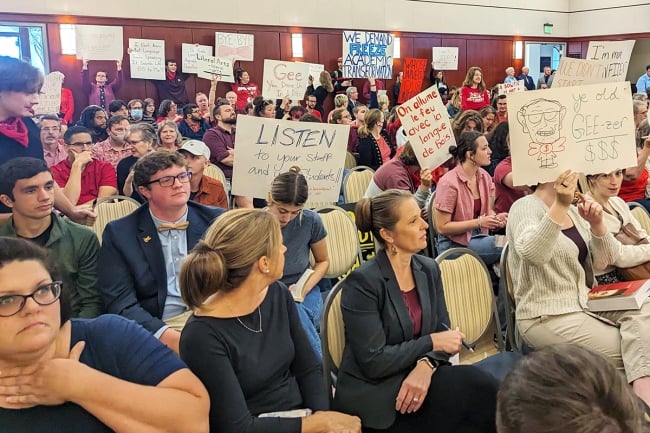 Ryan Quinn/Inside Higher Ed
It's been a month since West Virginia University's Board of Governors rebuffed students' and faculty members' pleas not to slash academic programs and positions.
Last week, Provost Maryanne Reed told the Faculty Senate that the 143 positions the board approved axing would only result in 69 people receiving layoff notices. But, she said, that's because "there were a significant number of faculty that voluntarily retired or resigned."
"I realize that is of little solace for those faculty members who will be losing their positions," Reed said. "I recognize this is going to be very difficult on those individuals and their families. I think we all know people who will be impacted."
WVU's enrollment has dropped 10 percent since 2015, far worse than the national average and unusual particularly for a flagship university. University officials, projecting a further plunge over the coming decade, said they might need to cut $75 million from the budget and targeted low-enrollment majors, alongside pursuing reductions outside the faculty ranks.
But the 28 eliminated academic programs included, among other things, all foreign language degrees and the only math graduate degrees at the institution, which is classified as an R-1 ("very high research activity") institution and offered the poor state's only math Ph.D. program.
Reed gave her remarks as WVU was sending layoff notices to individual professors, making the universitywide number of terminations even more personal. April Kaull, a WVU spokeswoman, said the notification process continues this week.
WVU's timeline for the layoffs, posted online, said the notifications would be sent to individual faculty members "by Oct. 16 (week of)." But a termination notice provided to one faculty member says these "notifications began on Sept. 18, 2023, and last through Oct. 31, 2023, with the vast majority of individuals being informed by or before Oct. 16, 2023, that their position is being eliminated."
After the board's vote, faculty members learned that eight additional untenured colleagues in the John Chambers College of Business and Economics wouldn't have their contracts renewed after May—cuts that go beyond the 143 that the university and national media fixated on.
Kaull said those cuts were a Chambers College decision and the college provided notice of nonrenewal to these untenured employees ahead of the usual early-spring time frame. But she also noted that when colleges make their own budget management decisions, it "ultimately contributes to the university's overall budget."
It is unclear when West Virginia's cuts will end. "While WVU always must look for ways to ensure we are operating as efficiently and cost-effectively as possible, there are no plans for any additional large-scale reductions beyond fall 2023," says an online FAQ that Kaull pointed to. Inside Higher Ed requested an interview Monday, but Kaull instead provided emailed information.
Professors have been sharing details about the layoff notices individually on X, mirroring how they broke the news in early August of just how many positions and degree offerings the university was planning to eliminate.
"WVU math faced a tough day yesterday as we learned of 16 people being cut as part of 'Academic Transformation,'" Ela Celikbas, an assistant math professor, posted Oct. 11. "Out of these, 10 faculty are 'volunteered' to leave, and six were riffed," meaning laid off as part of a reduction in force.
Celikbas, who didn't return requests for comment Monday, wrote, "We don't know if there will be more cuts. I didn't receive an email—so I guess I'm not riffed. Yet, my feelings are far from cheerful. It was a sleepless night, contemplating the unfortunate loss. One of the tenure-track faculty who will be riffed was in their fifth year—just like me—with hopes of going to tenure next year. I had the privilege of being part of the hiring process of some of the newer faculty members who volunteered to leave WVU."
Rose Casey, an assistant English professor, posted Oct. 3 on X, "Update: my job is safe, and I'm relieved. But that's only because *eight* people in English have retired or resigned early. Eight. I grieve, genuinely, over losing these colleagues. And as our chair has told our dean, many of those who remain are on the market. We will be a husk."
But Lisa Di Bartolomeo, a teaching professor of Russian studies in WVU's world languages, literatures and linguistics department, wasn't spared. Her department is losing all its degree offerings, may additionally lose all its minor offerings and may fully cease to exist.
She posted the outfits she and a colleague wore to their firing meetings—Di Bartolomeo chose black heels covered in spikes.
"And just like that, my beloved job at my alma mater will officially end on May 9, 2024," wrote Di Bartolomeo, who was once a Board of Governors member and adviser to WVU's president. "The meeting took 11 minutes, 22 seconds. #WVUmistake #academicdecimation."
"It's been a pretty awful time for my colleagues and me," she told Inside Higher Ed Monday.
"My story, my experience isn't any more difficult or special than anybody else's story," she said, "but I think that the one thing that connects all of us who are being fired or being voluntold to retire before they're ready is that we care about this place and we care about our students and that those concerns are not being considered."
Di Bartolomeo said she recognizes there are financial issues, "But this wholesale gutting of an institution is not the way to address those concerns."
Exhausting Appeals
WVU is offering tenured, tenure-track, teaching-track and service-track faculty members who are laid off severance packages of 12 weeks of their base salary, starting after May 9. But accepting these packages includes a caveat.
"Any severance agreement shall contain a statement indicating that the faculty member releases all claims against the university," board policy states. That includes legal and state grievance claims.
Certain faculty members, including those with tenure, have the right to "due process hearings," the university says on its website.
The website says faculty members can "request a due process hearing with a provost's office representative and dean's office representative to present any information as to why they should not be subject to the reduction in force. More information regarding the due process appeal process will be provided in the reduction in force document given to individual faculty members."
Di Bartolomeo provided hers. The appeals process it describes doesn't mirror American Association of University Professors guidelines.
The WVU termination letter labels the due process hearing not as hearing but as a "meeting" and an "Opportunity to be Heard." It says, "If you would like to discuss this intended reduction in force and termination of your faculty appointment/employment and to present any information that you feel may influence this decision, a meeting has been scheduled." Di Bartolomeo's is later this month.
The AAUP has said that, under its recommended policies, universities can terminate tenured faculty members "under extraordinary circumstances because of a demonstrably bona fide financial exigency," defined as "a severe financial crisis that fundamentally compromises the academic integrity of the institution" and can't be solved in another way.
The association says faculty members should have input on whether a financial exigency exists, and that there should be due process, including a hearing before a faculty committee, for professors proposed to be laid off as a result.
But WVU has denied that it's in a financial crisis, and its due process hearing information makes no mention of faculty involvement—beyond the faculty member losing their job getting a chance to speak. Di Bartolomeo's letter says her due process meeting will last half an hour, on Zoom.
AAUP sent WVU a letter Sept. 14 objecting to how the university was handling the process.
"We must reiterate that tenure is inseparable from the due-process protections, such as those set forth in [AAUP] Regulation 4c, that define it," the letter said. "Absent such protections, tenure, and by extension academic freedom, cannot be said to exist at West Virginia University. Please be advised that the AAUP would view with grave concern any terminations of tenured faculty appointments for financial reasons that are effected in a manner inconsistent with the aforementioned standards."
An AAUP spokesman said the organization hasn't received a response.
Di Bartolomeo's letter from WVU says, "On or before your last working day, you will be required to return any keys, parking passes, PCards [purchasing cards] and other university property that has been issued to you."
She said she's heard that professors who have been with the university over 10 years can at least apply for the honorary emeritus title.
"So many of us, our entire identities are wrapped up in the fact that we're professors," she said. She called emeritus status "at least a token way to hold on to that."