You have /5 articles left.
Sign up for a free account or log in.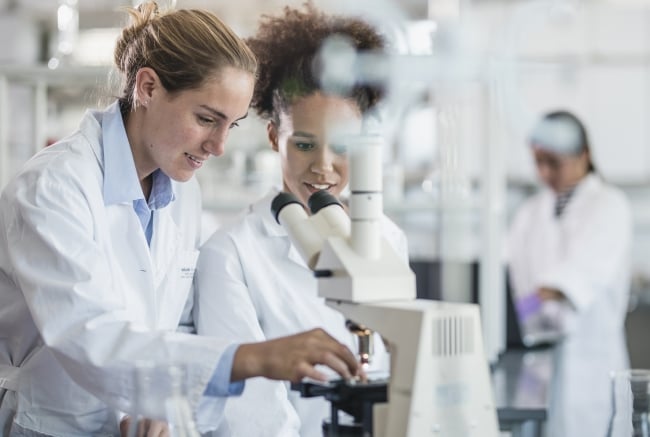 Claims of widespread gender bias in tenure-track hiring, grant funding and journal acceptances in the academic sciences are not supported by the data, a new study finds.
The paper published in Psychological Science in the Public Interest looked at two decades of research regarding biases that tenure-track women have faced since 2000. In the end, the authors determined tenure-track women in science, technology, engineering or math were at parity with men in tenure-track positions in the same fields when it comes to grant funding, journal acceptances and recommendation letters.
Letter to the Editor
A reader has submitted
a letter in response to this
article. You can read the
letter here, and view all
of our letters to the editor
here.
Women did have an advantage in the hiring process for the tenure-track jobs, though the evidence did show a bias against women in teaching evaluations and salaries. The salary gap, according to the report, was concerning but smaller than the oft-quoted statistic that women in STEM fields make 82 cents for every dollar that men earn. On average, the gap was 9 cents on the dollar, although the gap shrank to less than 4 cents when controlling for experience, type of institution and productivity, among other factors.
"We're getting really close to an equitable landscape," said Wendy Williams, a professor in the department of human development at Cornell University and an author of the paper. "We've come 90 percent of the way, and so what stands between us and that is not an insurmountable task anymore. It's really important for young women in college who are considering going to grad school and women in grad school who are considering becoming professors."
Williams said the discourse about sexism in higher education can discourage some women from choosing a career in the academy.
Williams co-wrote the paper with Stephen Ceci, a professor of developmental psychology at Cornell, and Shulamit Kahn, an associate professor of economics at Boston University. The paper was "an adversarial collaboration," bringing together researchers with different viewpoints. Williams and Ceci have written often to rebut frequent talking points on gender bias in STEM, while Kahn has a history of revealing gender inequities in her field.
The trio spent the last five years reviewing hundreds of studies published from 2000 to 2020 about gender bias in STEM, looking specifically at empirical evidence related to claims of gender bias in tenure-track hiring, grant funding, teaching ratings, journal acceptances, salaries, recommendation letters and journal productivity. They focused on women with a doctoral degree in STEM and who are interested in tenure-track academic careers in science. (Many people with a Ph.D. in STEM aren't looking for a job in academe.)
"Even when limiting ourselves to a consideration of STEM tenure-track jobs, there are nevertheless many contexts in which women may face barriers to success in entering and succeeding in these jobs," they wrote in the report, which is peppered with similar caveats.
A spokeswoman for the Association of Women in Science, which works to address gender bias in higher education, said she hadn't read the report yet. The American Association of University Women did not respond to a request for comment on the paper. Both groups have maintained that there is gender bias in science.
Ceci acknowledged that there were many topics that the trio didn't take on, such as tenure and promotion, and other systemic factors that could affect a women's career trajectory.
Kahn said she was surprised at the equality they found in hiring, grant funding and journal acceptances.
"This emphasis on looking exclusively for gender bias in all aspects of science academia is actually doing a disservice to women and to science, perpetuating myths that the weight of the evidence doesn't support," Kahn wrote in a summary.
Kahn said in an interview that she hoped that the paper would lead institutions and higher education to realize that they're looking at the wrong thing. Rather they should be addressing why the careers of men and women develop differently, she said.
"It's the system of tenure and postdocs," she said. "That's the problem."
Similarly, Ceci said the report shows that institutions are putting money where it's not needed, such as the trainings aimed at rooting out bias on hiring committees. He and Williams questioned if the trainings are needed given that women are receiving an advantage in the hiring process.
"It's important to get a grip on what's going on today and not what was going on in 1985," Williams said, adding that institutions should be able to acknowledge when efforts to address gender disparities in certain areas have worked.
Beyond the specific findings in their report, the trio chided other researchers in their paper for what they see as taking evidence out of context and called on the research community to do better.
"We all have to do a better job of verifying facts," the report says. "Despite our finding of little bias against women in four of the domains we examined (and a pro-female bias in tenure-track hiring), many scholars and advocates appear to believe, state, and write otherwise … In support of their beliefs, the authors selectively cited congruent evidence and ignored contrary findings, which they may hold to a higher standard of evidence because of their prior beliefs."