You have /5 articles left.
Sign up for a free account or log in.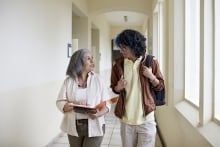 Women are likelier than men to leave the professoriate at all stages of their careers—and workplace climate, not work-life balance, is the biggest reason they leave, a new study finds.
"The dominant incongruences for women arise from workplace climate, including dysfunctional leadership, feelings of not belonging to the department or university, harassment and discrimination," concluded the study published this month in Science Advances. "Such incongruences highlight the way departmental and institutional policies and norms tend to reflect, accommodate and reinforce the traditional overrepresentation of white men from more privileged backgrounds, thereby driving gendered attrition over a career and inducing a substantial, asymmetric loss of overall talent and scholarship."
Women make up 44 percent of tenure-track faculty members and 36 percent of full professors, according to the American Association of University Women. While a combination of factors contributes to that underrepresentation, the new research illustrates how institutional culture plays a role.
To reach their conclusions, researchers used an employment census of 245,270 tenure-track and tenured professors active in their roles between 2011 and 2020, across 111 academic fields at 391 Ph.D.-granting institutions. The research team also analyzed 10,071 responses to a survey about faculty attrition it received from former and current tenure-track professors.
"We wanted to do a systematic study across career age, institution, and field, investigating whether women and men leave academia at different rates, and for different reasons," Katie Spoon, the paper's lead author and a Ph.D. student in the University of Colorado at Boulder's computer science department, said in an email. "It's really hard to identify faculty who have left academia, so a lot of studies have had to look at a very specific population—the literature is very deep, but narrow, focused mostly on assistant professors, STEM fields, and higher-prestige institutions. As a result, there are a lot of different conclusions, depending on what population was looked at."
Push and Pull
Researchers surveyed both former and current faculty members about whether they felt "pushed" out of their academic jobs or "pulled" to a better opportunity elsewhere. The results showed that gender, more than institutional prestige or field (STEM versus non-STEM), was the strongest predictor of feeling pushed.
While faculty members at every point in their careers were more likely to say they felt pushed out rather than pulled to a more attractive job, women—in both STEM and non-STEM fields—had 44 percent higher odds than men of reporting feeling pushed and 39 percent fewer odds of reporting feeling pulled.
Researchers asked those respondents to select one of three categories of stressors that made them feel pushed out: professional reasons, work-life balance or workplace climate. Women were more likely (43 percent) to cite workplace climate, which researchers defined as concerns "related to the way an academic feels around their colleagues, including dysfunctional departmental culture or leadership, harassment, or feeling like they do not belong or fit in their department."
The study did not find that faculty members of color were more or less likely to report feeling pushed or pulled than their white peers of the same sex. The authors acknowledged, however, that "because women of color have been historically excluded from academic positions, academia remains disproportionately white, and our analyses statistically reflect the experiences of white women."
While 34 percent of men also cited workplace climate as a push factor, they most commonly reported (40 percent) professional reasons, which the study defined as "obtaining research funding, salary, and poor administrative support," for their departures.
Beyond Work-Life Balance
According to the research team's findings, women who had already been promoted to full professor were more likely than their peers of other ranks to quit, and they were 19 percent more likely to leave than their male peers.
Female assistant professors were 6 percent more likely than men to leave, and female associate professors were 10 percent more likely to leave. At the same time, female assistant professors were 7 percent less likely to get a promotion than their male counterparts were, and female associate professors were 12 percent less likely than men to get promoted to full professor.
"These findings indicate that gendered attrition among faculty must be driven by more than career-family incongruences for women, which are expected to be greater early in a faculty career," the study said. "And yet we observe large effects for late-career women faculty and only modest, if any, effects among early-career women."
For women in non-STEM fields, those disparities were higher at every level. The report found that 89 percent of female full professors in non-STEM fields were at institutions with higher-than-average risk of leaving, compared to 23 percent of female full professors in STEM fields.
The prestige of an institution also contributes to the likelihood of a female professor to leave. Over all, a professor working for a lower-prestige institution was between 2.5 and 3.3 times more likely to leave academe than a professor at a higher-prestige institution. And female professors working for a lower-prestige institution were even more likely than men to leave.
The study did not offer an explanation for why field or prestige may influence faculty attrition, but Spoon said she hopes future work can investigate those effects more directly.
In the meantime, even if a department or institution appears to have female and male professors leaving at a similar rate, their reasons for leaving "can be very gendered," Spoon said.
"We found that even for fields where retention rates are the same for women and men, women felt pushed out at higher rates than men, and men felt pulled toward better opportunities, such as higher-paying jobs in industry," she said.
"STEM departments or higher-prestige institutions might look at the retention rates alone and then feel like they can opt out if there is no visible gender gap in retention rates, but our findings suggest that every department has a responsibility to deeply investigate what is going on underneath those rates."