You have /5 articles left.
Sign up for a free account or log in.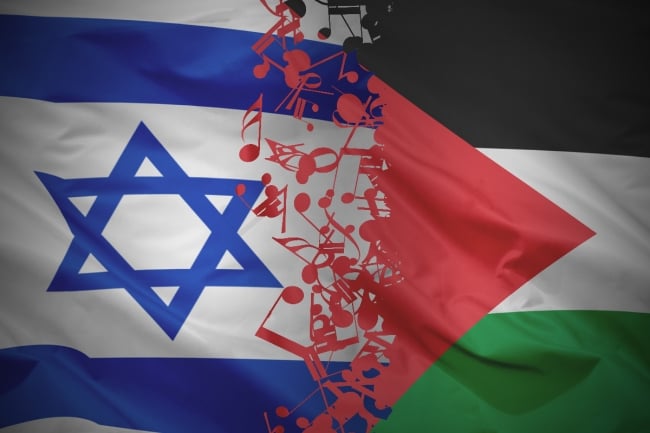 Photo illustration by Justin Morrison/Inside Higher Ed | Getty Images
The Society for Ethnomusicology defines its field as "the study of music in its social and cultural contexts." Now, culture, context and the Israel-Hamas war are central to a controversy in the organization.
On Saturday, Indigenous scholars, including graduate students, gave the keynote lecture called "Listen, Watch Your Step" at the society's annual meeting in Ottawa. It was a "performative" lecture, including sound, images and movement, rather than a speech from a podium. The scholars and students centered Indigenous North American academics' experiences. "This performative lecture explores the range of experiences Indigenous and racialized scholars have when we walk into rooms not made to hold or support our epistemologies," read a description in the program book.
But according to two professors who attended the event, the lecture included a brief display of a controversial slogan in the Middle East conflict: "From the river to the sea."
Often followed or preceded by "Palestine will be free"—the professors said it was followed in this case by "Free Palestine"—the phrase has been condemned as calling for Israel's erasure because it can be read as advocating for Palestinian control of the land from the Jordan River to the Mediterranean Sea, across Israel's current territory. Pro-Palestinian students have chanted it in protests, both before and after the Oct. 7 Hamas attack on Israel.
David McDonald, one of the attendees, said he's studied Palestinian literature and music for more than 20 years and that the slogan "is used by everyone; it is one of the most common literary tropes found in song lyrics and poetry." But he said that "among Palestinian activists—and the 20 years that I've spent working with them—it has never meant an advocacy for destroying Israel."
McDonald, chair of the folklore and ethnomusicology department at Indiana University at Bloomington, estimated that more than 200 people attended the event. He said the presentation screen went black and displayed the controversial slogan for less than five seconds, then transitioned to similarly brief slides reading "Free Palestine" and "End Israeli Apartheid."
He and another attending professor, who wished to remain anonymous, said many people applauded the Palestine-related slides. The anonymous professor said "From the River to the Sea" rolled onto the screen using a PowerPoint-type effect, though she didn't know what presentation program was actually used, and that it lingered for maybe 10 seconds.
The presentation quickly moved on from the Middle East. But McDonald, who said he was seated in the second row, said that after the lecture, four or five scholars of Jewish culture and music approached Tomie Hahn, past president of the society and professor emeritus at New York's Rensselaer Polytechnic Institute, saying they were troubled by the slides and that a colleague was very upset.
That colleague eventually came up and "started berating" Hahn, McDonald said, waving her finger in Hahn's face in a "threatening way" and saying, "You need to educate yourself."
"They were making very clear connections that putting those messages on the screen somehow endangered Jews, that it was a phrase, 'From the river to the sea,' a phrase that was adopted by Hamas," McDonald said.
Hahn and Melvin L. Butler, the society's current president, emailed a statement to members Monday and forwarded it to Inside Higher Ed upon request. It criticizes the use of an unspecified slogan in the lecture—and also what allegedly happened to Indigenous graduate student presenters after it was over.
"A significant number of our membership, including several of the performers themselves [emphasis in original], have expressed tremendous outrage that the event's presumed focal point was blurred by an unexpected interpolation of visual and sonic references to the Israeli-Palestinian conflict and by what came across as a facile conflation of two distinct geopolitical and historical phenomena," their joint statement said.
"To those who are understandably still reeling from the October 7 massacre of Israelis by Hamas, along with the subsequent war resulting in the deaths of thousands of Palestinian and Israeli civilians and soldiers, it was traumatizing to read a slogan that Hamas has adopted as a rallying cry for the destruction of the Jewish State," the statement said. "SEM condemns all forms of hate and deeply apologizes for the anguish caused by this statement within its meeting."
At the same time, the statement goes on to say, "Some of the Indigenous graduate student-presenters were subjected to verbal attacks from at least one senior scholar. There was also at least one other incident in which a senior scholar verbally attacked a graduate student. This form of professional misconduct is never justified. Such hostility is in violation of SEM's anti-harassment policy, and we deeply regret that it occurred."
Inside Higher Ed asked Hahn and Butler for more information Tuesday and Wednesday, but Butler, a musicology associate professor at the University of Miami, responded in an email that "We will be making no further comments or sending any additional material."
Lost Focus
Neither McDonald nor the anonymous professor in attendance said they witnessed the "verbal attacks" on the grad students. Inside Higher Ed reached out to the students and other academics listed in the program and abstracts books for the lecture, but none agreed to be interviewed, nor did they share further information, beyond one sending a statement after this article published. "Please keep me out of it," one person contacted said.
According to McDonald, "only one member of the group was responsible for the slides."
The society president and past president's statement has itself generated controversy. McDonald said he's heard opposition to the fact that those leaders made a "very clear distinction between the experiences of Indigenous scholars and the Israeli-Palestinian conflict," when many Indigenous scholars see their struggle as the same as the Palestinians' "in the sense that Palestinians are also fighting against a colonial theft of their land, a settler-colonial state that is pushing them ever further and further away from their ancestral lands." He said he's also heard concerns that the word "conflict" doesn't capture how lopsided Israeli power is against Palestinians.
The anonymous professor said she supports the Palestinian cause but also has "deep compassion for the victims of the Oct. 7 pogrom."
"I do find it hard to reduce all of that down to a comfortable slogan, I guess I would say," she said, "and I was surprised to see it flash up suddenly in the middle of something."
The joint statement from the society's leaders said there will be further conversation. "Let us not allow ourselves to pit marginalized groups against each other within SEM. We can and will do better," they wrote. "In the upcoming weeks and months, the SEM board will engage in a process of listening and dialogue with its Council, Sections, Special Interest Groups and membership. Taking good care of ourselves requires that we have this conversation, that we learn from this experience and use it as fuel for growth."
McDonald said, "It's really quite disappointing, because this particular incident took away all of the focus" from where it should've been: the scholars' experiences. "It's a shame that all this happened, and I really hope we figure out a way through it," he said.
After this article published, Trevor Reed, an Arizona State University law professor who was one of the two professors who organized the lecture, emailed Inside Higher Ed a "Statement of Apology from 'Listen, Watch Your Step' Collaborators."
The statement said that, in preparation for the lecture, "we spent months in rich, thought-provoking meetings listening to one another's experiences and reimagining what SEM could be. Each word spoken in the 90-minute presentation you witnessed was carefully and thoughtfully authored, then shared with our collective and subject to thorough (and at times humbling) commentary."
But the statement said there was a late addition. "A remarkable film demonstrating how generative AI perceives the field of Ethnomusicology, juxtaposed against the scrolled, troubling words of ethnomusicology's luminaries, was contributed by a member of the collective in the hours before the event," the statement said. "It concluded with a call for solidarity with Palestine, made without the consent of other collaborators."
"We offer our unconditional apology for the harm caused by the use of this slogan in our presentation," the statement said, without saying what the slogan was. "We acknowledge that seeing the slogan, followed by the spontaneous eruption of applause of the SEM audience, caused hurt and fear of a kind scholars in the Society for Ethnomusicology should not be subjected to. No one in our collective, including the author of the film, had prior knowledge of the affects these words carry for the harmed individuals. Our collective espouses a broad diversity of views, and not all support the inclusion of those words."
"We likewise condemn the abusive treatment of two of our collaborators," the statement said. "Those in pain must be allowed to speak, but no person should be insulted, belittled, entrapped, or threatened because of their views, nor held in contempt for the views expressed by another."
It called on the SEM Council, an elected advisory body, "to investigate and implement restorative mechanisms that will both keep these vulnerable scholars safe and repair the harms inflicted."
This story has been updated to include a statement from an organizer of the lecture.