You have /5 articles left.
Sign up for a free account or log in.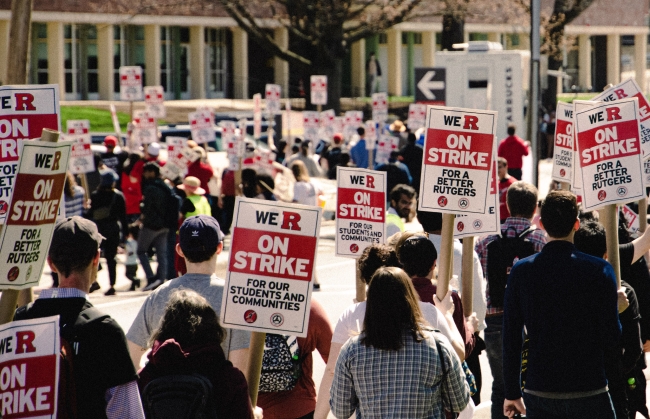 The weeklong triple-union strike at Rutgers University is pausing today after bargainers reached "framework" deals containing significant raises Friday night.
More negotiating must be done before these frameworks become tentative agreements, and union members then must vote on those. And the health-care faculty union doesn't even have a framework deal—Dr. Catherine Monteleone, that organization's president, said it's continuing to negotiate but suspending striking Monday "in solidarity with the other unions."
"We're not settling until they get their core issues addressed," said Amy Higer, president of the separate part-time lecturers' union.
But the university system, the lecturers' union and the full-time faculty union—which also represents graduate student workers, postdoctoral associates and counselors—have said the frameworks include significant gains for workers. And the contracts would be retroactive to July 1, providing "substantial retroactive salary payments," the university said.
"For our union," Higer said, "we got much more than we thought we could."
New Jersey Governor Phil Murphy, a Democrat, had called representatives of the unions and the Rutgers administration to Trenton when the strike began last Monday.
"After five days of intensive dialogue and negotiations in my office, I am pleased to share that the Rutgers University and union bargaining committees have come to an agreement," Murphy announced in a 1 a.m. news release Saturday.
"This fair and amicable conclusion respects the interests of many different stakeholders, upholds New Jersey's values and puts an end to a standoff that was disruptive to our educators and students alike," he said. "I thank our mediators and representatives from all sides for their hard work and I look forward to the tens of thousands of students across the New Brunswick, Newark and Camden campuses resuming their world-class educations on Monday."
Rutgers has more than 67,600 students.
University president Jonathan Holloway said in another early Saturday statement that graduate student workers' 10-month salaries would increase to "$40,000 over the course of the contract." Their union had said it was pushing for $37,000.
As of July 1, 2021, according to the university, full-time teaching assistant and graduate assistant starting salaries were paid only about $30,160 for a full academic year appointment and $34,000 for a full calendar year appointment.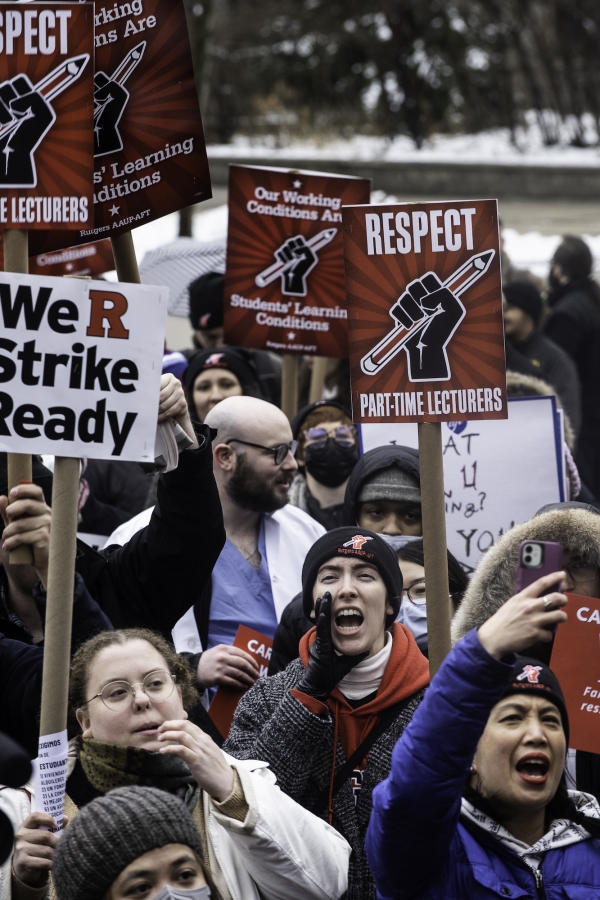 "The agreement provides substantial enhancements in wages as well as a commitment to multi-year university support for our teaching assistants and graduate assistants," Holloway said.
Full-time faculty members and counselors will see "at least 14 percent" across-the-board salary increases by July 1, 2025, and postdoctoral associates and fellows will see a 28 percent minimum salary increase over the four-year contract period, Holloway said. Their union said it was seeking close to $70,000 for these postdocs; the 28 percent raise would bring them to about $64,000.
Higer had said the part-time lecturers' union wanted pay "to be commensurate with the full-time, non-tenure-track faculty," who teach the same courses but are represented by the full-time faculty union.
She said that meant being paid at a rate of about $10,000 per three-credit hour course, not $5,800. On Saturday, she said the framework would increase base pay to $8,330 by the fourth and final year of the contract, and part-time lecturers who have taught more credits or have taught for longer will receive more.
"It's a very significant raise," she said.
"Some of us are definitely going to be at that $10,000 number to start," she said.
Also, Higer said the framework will move part-time lecturers away from only semester-long appointments and toward longer-term job guarantees. For instance, teaching two courses in the fall and two in the spring for two consecutive years would grant them a full-year contract.
"That's the transformational breakthrough we were fighting for," she said.
Dr. Monteleone said significant issues remain for the health-care faculty union. It has been trying to merge with the full-time faculty union—all three unions are affiliated with the American Association of University Professors and the American Federation of Teachers.
"The rest of the university has family leave," she said, "and to not give the hardworking biomedical faculty family leave is just unbelievable."
She also wants a union contract that provides medical faculty protected time from having to do clinical duties so they can perform their other teaching and scholarship tasks.
"We want to teach the next generation of physicians and health-care professionals," she said. "That's why we're here instead of in private practice."
While she said her union's strike never included stopping "essential" work, such as patient care, she said there was "a wonderful and some ways unexpected outpouring of support from the biomedical faculty."
"That's something we haven't seen from researchers, physicians, and it shows the level of frustration with the administration," she said.
Illinois
Faculty members at Eastern Illinois University voted to suspend their strike as of Friday morning, according to their union, University Professionals of Illinois.
However, the offer was not endorsed by the union's bargaining team, because "the administration did not offer union members a chance to do work that was missed during the strike." This type of provision is "a common piece of end-of-strike agreements," the union said.
A vote on the agreement will take place this week.
A strike at Chicago State University will also end today, after the two sides reached a tentative agreement, The Chicago Sun-Times reported. No details will be released until the faculty vote on the agreement.
A faculty strike continues at Governors State University.