You have /5 articles left.
Sign up for a free account or log in.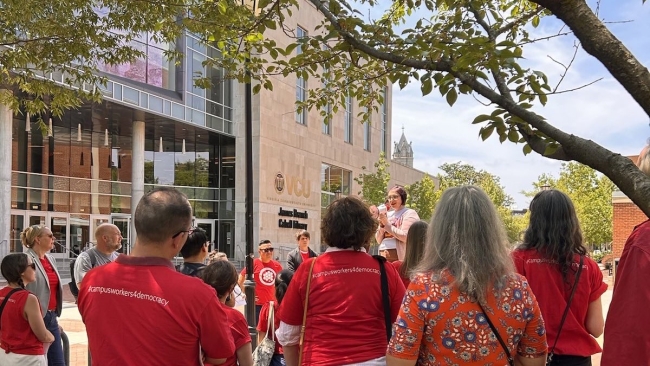 Non-tenure-track Virginia Commonwealth University faculty, who are already bracing for significant layoffs in at least one department, got more bad news last week.
The university, citing its finances, won't be offering new three-year contracts during next month's contract cycle. A dean shared this in an email starting with "Happy Friday, Everyone."
University officials confirmed it to Inside Higher Ed Wednesday. William Nelson, the university's senior vice provost for academic administration and operations, said three out of every five faculty members at the institution are "term" faculty, who are on these contracts instead of being tenured or on the tenure track.
"We will honor all three-year contracts that are currently in force," Nelson said. "As soon as the budget situation changes, we will move back to offering faculty members who are eligible and meet the criteria three-year contracts."
He said faculty members must be issued specific, one-year "terminal" contracts before they lose their jobs, so those who get actual one-year contracts for next academic year would effectively have at least two years of employment even if the university then doesn't renew the one-year contract.
Ryan Cales, who's in his 12th year teaching in the university's Focused Inquiry Department, said, "This will make term faculty even more precarious and their positions more precarious, leaving them to be more easily fired, which will consequently increase teaching loads" for other faculty members.
"I think that it's just further indication that administration sees teaching faculty as disposable and don't value, actually, the teaching portion of our positions and the benefits that students see from a dedicated teaching faculty," Cales said.
"They're just saying that, 'Look, we no longer want to give you security to be here because we don't value you,'" he said.
Nelson noted three-year contracts commit the university to funding them.
"Based on the picture right now, we are not sure we will be in a position to honor three-year contracts," Nelson said.
The Focused Inquiry faculty members and the university's arm of the United Campus Workers union, which organizes workers despite a lack of collective bargaining rights in the state, have already been protesting the university's plan to possibly lay off a significant percentage of their department, which teaches new students core skills in classes with no more than 19 students each.
The dean who sent the email—Constance Relihan, whose University College includes the department—wrote that 10 to 12 of her faculty members will likely "receive terminal contracts."
But Nelson said he thinks the plan is for up to 15. He and other university officials didn't provide Wednesday the planned universitywide position cuts for next academic year, noting that Virginia has yet to pass a state budget.
"You could call me at the end of June when we get our state budget," said Karol Kain Gray, the university's senior vice president and chief financial officer. She said there are three budget scenarios currently proposed.
"It's not just on the academic side," she said of the proposed cuts, "it's also on the administrative side; we've also started downsizing our workforce in HR, auxiliaries and many other units."
Nelson said, "I want to acknowledge the significant contribution that Focused Inquiry has made and continues to make to our students."
"But there are some other alternatives that I can speak to," he said. "We currently offer a three-course Focused Inquiry program, and we are in the minority in that space; the majority of the country offers two-semester inquiry programs."
He also said there's "additional teaching capacity" for other faculty members to teach Focused Inquiry courses.
"So what we are doing now based on the situation is bringing our community together and saying, 'Help us figure out what we need to look like,'" he said.
"It needs to evolve," he said of the Focused Inquiry program.
The university's Faculty Senate passed a resolution last week opposing the proposed cuts to the Focused Inquiry Department. It said 95 percent of voting members backed the resolution.
"The Faculty Senate understands the need for increased student enrollment and student retention, so we strongly encourage the administration to continue the three course Focused Inquiry sequence at its consistently low course caps, keeping the number of full-time faculty to support student success," the resolution says. "The long term consequence of any reductions will have a negative impact on the university's ability to 'grow out' of our current budget issue."