You have /5 articles left.
Sign up for a free account or log in.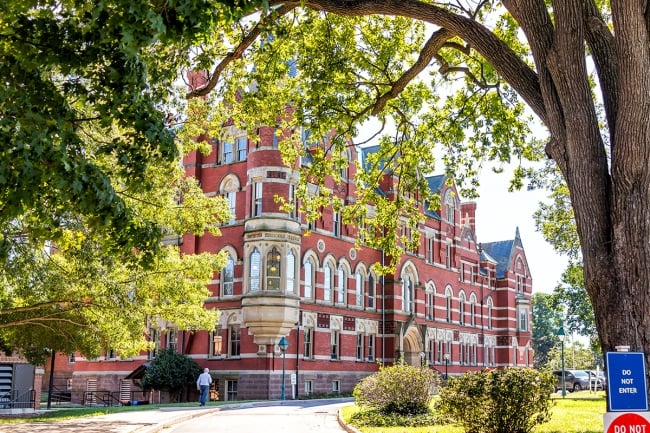 iStock Editorial/Getty Images
Gallaudet University has increased its spending on administrator salaries while faculty members have seen merit raises just once in 14 years—all while students and professors don't have a fully functioning library and other resources. That's the bleak scenario at the historic Deaf-centered institution in Washington, D.C., according to its chapter of the American Association of University Professors.
"While there has been a consistent message from the administration that we are not in a good place financially … the administrators have consistently gotten raises," said Dani Hunt, the chapter's vice president and a tenured associate professor in the department of interpretation and translation.
"What we want to see is a focus on academics, not administration," Hunt said, echoing a slogan her group approved this month for a campaign to increase faculty pay. She said, "We're unique and niche enough that it's very hard to replace faculty who leave, and yet we're losing faculty left and right."
But the leaders of Gallaudet's faculty governance body, called the University Faculty, provided a different assessment of salaries Wednesday, saying there have been some "significant" pay increases for faculty members since 2018.
"Faculty leadership recognizes the lack of consistent, yearly pay increases … and we will continue to strongly advocate for them," they wrote. "However, Gallaudet faculty governance leaders have been instrumental in every significant pay increase since 2018. During that time, faculty received merit increases in 2018 and 2019; our non-tenure track faculty received pay adjustments in 2020 and 2021; and in 2021 nearly all associate professors received a pay adjustment. Faculty also received general pay increases in 2020 and 2021. Since 2020, 68 faculty have received a pay adjustment through the faculty salary review process."
A university spokesman sent these faculty leaders' statement to Inside Higher Ed late Wednesday afternoon. William T. Ennis III, the faculty chair, confirmed that he and Brian H. Greenwald, the faculty vice chair, wrote it, but Ennis didn't provide further comment on salaries or the AAUP's other concerns, including the administrators' pay.
The Gallaudet AAUP's website says cost of living adjustments (COLAs) and merit raises were given every year from 2000 to 2009, with the exception of only a COLA in 2003 and only a merit increase in 2009. Things changed after that year, in the wake of the Great Recession.
Both types of raises disappeared in 2010, according to the AAUP's data. COLAs returned in 2014 but, since then, they've been sporadic—and there has been only one merit increase, in 2018.
The most recent data from the national AAUP—both from its own pay survey and its collection of U.S. Education Department data—shows Gallaudet ranking behind other major D.C.-area institutions in average faculty salaries for all faculty ranks combined.
The latest numbers from the Education Department, from fall 2021, showed Gallaudet's average faculty salary at $86,600, trailing those of Howard, American, George Washington and Georgetown Universities. The latest national AAUP data, from fall 2022, put Gallaudet's average salary at $101,700—still lower than the same four other D.C. institutions.
"Average salaries at other institutions in the Washington metropolitan area are important, but we also need to compare ourselves with schools of similar size, enrollment, etc.," Khadijat Rashid, Gallaudet's provost, said in an emailed statement late Wednesday afternoon. "We have an excellent benefits and retirement package including pensions, in great part because we participate in the federal health and retirement systems."
Gallaudet is a federally chartered private institution. It had 1,300 students last fall.
Rashid said an Ernst & Young study "showed that Gallaudet is positioned above the market median plus a 10 percent premium across all ranks." Inside Higher Ed requested that study, but the university didn't provide it.
Salaries aren't the AAUP's only concern. Hunt said the university is plagued by a lack of other student and faculty resources, including doctoral student stipends, research money and a proper library.
Getting Their Own Audit
Gallaudet's library building has been closed for three years, Hunt said, due to structural issues. The library is now in another building; Hunt said it doesn't let people check out books, though a university spokesman disputed that.
Rashid, the provost, confirmed that the former library building "is in serious disrepair and needs extensive renovation, or to be replaced altogether."
"The library's staffing remains intact," Rashid wrote in her email. "While most of its holdings are off-site, we have a robust online presence, and we are able to get our own materials and those of the Washington Research Library Consortium quickly. We will be addressing a new library as part of our five-year campus design plan."
Hunt also said there are reduced stipends for doctoral students and a lack of research funding. "We're trying to be an academic institution, we're pushing for more research, but we're getting limits on research funding and it feels like we're having to beg for scraps," she said.
Rashid pushed back on these assertions.
"Stipends for graduate students in most cases are based on external support," she wrote. "The university itself is not cutting stipends. We offer aid to all students who demonstrate financial need."
Regarding research, she wrote, "We have seen a very significant increase in federal, corporate and foundation research dollars in the last three years."
Regarding administrative pay increases, the AAUP has pointed out a large recent raise for the president, Roberta J. Cordano. An IRS form filed this year, for the federal fiscal year that ended in September 2022, shows that Cordano received $889,100 in compensation, up from $594,000 in the prior year.
The university didn't directly comment on that raise, beyond Rashid writing that the "president is hired, evaluated and compensated by the university's Board of Trustees."
Gallaudet's AAUP chapter, which formed in 2021, launched a pay-raise campaign this fall, sending out news releases and posting budget breakdowns online to make its case that the administration has enough money to pay faculty members more. Unlike many other AAUP branches, the Gallaudet chapter isn't a union, so official collective bargaining isn't part of the dispute.
The chapter didn't accept the university's financial figures, Hunt said, so it crowdfunded the hiring of Howard Bunsis, the former head of the national AAUP's union arm, to audit the university's finances.
Bunsis, an Eastern Michigan University accounting professor who left that national union role in 2016, said he does about five of these university audits a year. He presented his findings to Gallaudet faculty members in August.
"There's no doubt that there are very high administrative costs at Gallaudet," he told them in a video presentation. He reiterated that to Inside Higher Ed Wednesday, saying, "Overall admin costs have increased, and they're significant, and faculty salaries have not kept up with inflation."
He told faculty members the university has "a solid balance sheet," but that it's not without its challenges. Among them: enrollment issues and a bond-rating decrease that happened in June.
Enrollment has dropped from about 1,600 a decade ago to the current 1,300.
Despite these financial pressures, Bunsis's report concluded that, among the institutions that Gallaudet considers its peers, it spends the largest percentage of its salary expenses on administration.
Rashid acknowledged that administrative costs had increased but said, "A great part of this increase has to do with reconfiguration of the administrative team."
"For example, a long-time vice President for administration and finance was responsible for operations, finance and legal affairs," Rashid wrote. "When that person retired, and in accordance with best practices, the duties were split between a chief operating officer, and [a] chief financial officer and a chief legal officer. Two other 'C-Suite' positions were created to further our mission, which stresses diversity and bilingualism."
Hunt said university administrators have recently begun a series of talks with faculty members about finances and other issues, including a presentation from the chief financial officer. In that presentation, she said, administrators told them that raises aren't planned for next year.
"So that will be again that that's not happening," she said.