You have /5 articles left.
Sign up for a free account or log in.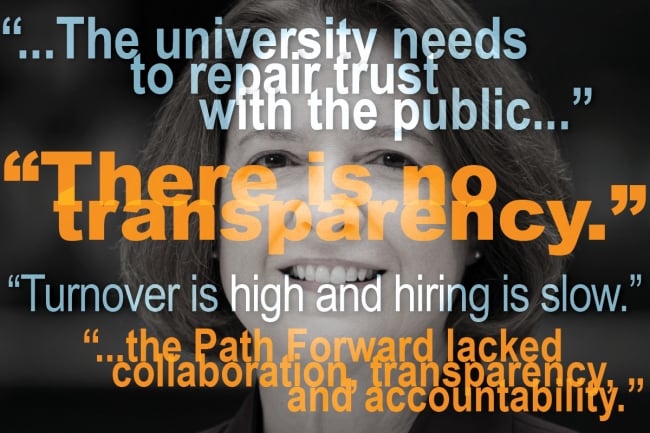 Justin Morrison/Inside Higher Ed | Photo, documents: Texas A&M University
Former president Kathy Banks implemented major changes at Texas A&M University under a plan she called the Path Forward. But Banks retired abruptly in July amid a sprawling hiring scandal, and now the institution's new leaders appear poised to walk back some of those changes.
A report released Tuesday—based on 100-plus meetings with faculty and staff—notes that many employees are displeased with the changes Banks introduced. That's nothing new; tensions over her stewardship have lingered since late 2021. But the report, titled the "Quick-Look Assessment of the Path Forward Implementation" distills employee concerns into 32 pages, providing a kind of blueprint for leaders to use as they weigh a retreat from the Banks plan.
Key findings from the report indicate that the Path Forward created confusion across campus, lacked collaboration and transparency, and prompted widespread discord.
"The speed and scope of changes in structures and systems, as well as the lack of communication and transparency, placed our employees in difficult situations and limited their success, creating numerous occasions where processes were slowed or stopped, and where points of contact were unknown," a team of Texas A&M administrators wrote in the assessment.
The Report
Texas A&M released the Path Forward in December 2021, only a few months into the Banks presidency.
Banks partnered with MGT Consulting on the plan, which among other things proposed combining the College of Liberal Arts, the College of Science and the College of Geosciences into a new College of Arts and Sciences; restructuring various administrative positions, including the provost's office; and reorganizing the library and stripping librarians of tenure, among other proposed changes.
Many parts of the plan were controversial from the start. One source told Inside Higher Ed that Banks largely dictated her own plans to MGT Consulting.
"She said, 'Our job is to tell them what we want to do, they'll write it up in a report, and then, when there's public criticism, we'll say we're following the advice of the consultants,'" a former cabinet member recounted, speaking anonymously due to concerns about career repercussions.
In a statement sent to Inside Higher Ed Wednesday, a spokesperson for MGT Consulting said that the organization surveyed members of the Texas A&M community in 2021 and conducted more than 60 interviews "with key stakeholders" over a three-month period to prepare the report.
"The consultant team was asked to identify changes that would restructure TAMU in a significant way to increase effectiveness and transparency and to contribute to overall student success," the spokesperson wrote, noting the team took into account the survey responses.
MGT Consulting also distanced itself from the final recommendations put forth by Banks. "Based on an analysis of the collected information and data, the consultants wrote the MGT report," the spokesperson wrote, adding that Banks and her team "accepted, modified, or rejected recommendations put forward by MGT and the resulting plan was outlined in the Path Forward. Those two documents, while related, are not the same."
(Banks did not respond to a request for comment from Inside Higher Ed.)
Now the changes that came out of those efforts are likely to be scaled back in some ways. Among other things, the new assessment recommends the university conduct an analysis to deal with space challenges related to classrooms and offices, restore the provost as the chief academic officer, move the bachelor of science in biomedical science out of the College of Arts and Sciences and back to the veterinary school, and centralize advising service.
The report also criticizes "top-down" decision-making.
"Academic program decisions, especially curricular choices, need to return to the faculty with less top-down directed solutions. This includes department and degree names, what programs should be proposed, and how academic units and programs must be structured," the authors wrote in the "General Observations" part of report.
The assessment acknowledges that some concerns raised by faculty and staff—over the centralization of finance, human resources, information technology and marketing and communications, for instance, or the business struggles of the new School of Performance, Visualization and Fine Arts—do not have clear solutions and will need further study before recommendations are issued.
Certain changes—such as the decision to strip Texas A&M librarians of tenure, which was completed in May 2022—seem harder to overturn than others. The team of administrators who authored the report—Joe Pettibon, Tim Scott, Deborah Wright and Matt Fry—made clear that in some cases it may be too late for Texas A&M to reverse course.
"Concerns have been expressed about the origins of the MGT report and the value of its recommendations. Nevertheless, changes have been implemented and the university is in a different place than even one year ago," administrators wrote in the "Quick-Look Assessment." "Any steps taken in a different direction must build on where we are today, not where we were."
What's Next?
How Texas A&M will reverse changes made by Banks remains unclear. Executive leaders continue to hear feedback and sift through the recommendations in the assessment.
"When Interim President Mark A. Welsh III assumed office more than eight weeks ago, he charged a small team with leading a quick-look assessment on the Path Forward," a Texas A&M spokesperson wrote in a statement. "The team conducted more than 100 listening sessions with key stakeholders, culminating in an initial report with observations and recommendations."
The spokesperson noted that the report was "shared with the university community for feedback" on Tuesday and Texas A&M is allowing a one-week commenting period. Afterward, Welsh will review the comments and announce final decisions in an Oct. 4 meeting.
However they enact changes to the Path Forward, administrators will first and foremost need to rebuild trust on campus—which eroded sharply under Banks, the report noted.
"While there is a degree of weariness, there is also guarded optimism that the university can recover from the traumatic and negative events of this past summer with evidence of administrative accountability, utilization of established processes, shared governance, and transparency," administrators wrote in the report, while acknowledging concerns over shared governance. "With time trust can be rebuilt as leaders exhibit the core value of respect."