You have /5 articles left.
Sign up for a free account or log in.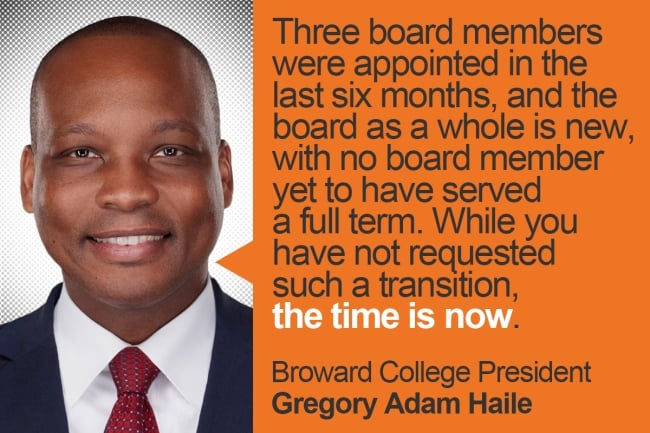 When Broward College president Gregory Haile submitted his resignation on Sept. 13, the Board of Trustees called an emergency meeting and urged him to reconsider. But at a board meeting Tuesday, it became clear that Haile is not coming back.
In remarks at the meeting, Haile offered no explanation for his abrupt exit and declined interviews with local reporters afterward. He called the decision "probably the hardest thing" he has ever done, according to a recording of his remarks provided by the college. He added that he would let his resignation letter "speak for itself."
The board also announced at the meeting that it would soon appoint an acting president, who would be selected only from current or former employees and trustees. The position will be posted for five days, then the board will meet next week to interview candidates and determine a salary for the job before selecting an applicant.
An Abrupt Resignation
Haile's sudden resignation came on the same day—and just a few hours after—he met with board chair Alexis Yarbrough.
Yarbrough is one of three new Broward College trustees appointed in February by Republican governor Ron DeSantis. A former general counsel for the Florida Department of Transportation and current chair of the Fourth District Court of Appeal Judicial Nominating Commission, Yarbrough is married to Shane Strum, who served as DeSantis's chief of staff from 2018 to 2020.
Though a newcomer to the board, she was elected chair in late August.
Emails obtained by Inside Higher Ed via a public records request show that Yarbrough requested a call with Haile for the morning of Sept. 13 to discuss the college's ongoing search for a chief information officer and a chief operating officer, as well as a development project on campus.
According to the emails, she also requested a memo from Haile with a "description of each board you sit on, the dates you joined, copies of the written approval for each appointment from the board chair; disclosure of any compensation receivd [sic] this year from any board, speaking engagement, or any other outside employment; and any records reflecting expenses the college incurred in your service to such boards, employment, or speaking engagements, including but not limited to travel."
Haile's biography on the college website indicates he is a board member of the Greater Fort Lauderdale Alliance, Florida TaxWatch, the Everglades Foundation, BBX Capital, the Florida Chamber of Commerce, Achieving the Dream, the Broward Workshop and the United Way of Broward County. He is also deputy chair of the board of directors for the Federal Reserve Bank of Atlanta, and his LinkedIn shows he has volunteered on various other boards in recent years.
The emails show that Haile responded with an offer to meet in person instead of by phone and added numerous items to the agenda—including "your leadership relating to the development of the board agenda and our support of you" and "cadence for meeting with me for updates," as well as a discussion of his contract.
"As our new chair, I want to be sure that we discuss how to best support you, update you on certain areas of interest to you, and other key elements relating to your leadership," Haile wrote.
Yarbrough agreed to the two-hour in-person meeting, which emails show was scheduled for 12 p.m. on Sept. 13. Haile's resignation email arrived at 4:17 p.m. that same day.
"Three board members were appointed in the last six months, and the board as a whole is new, with no board member yet to have served a full term," Haile wrote in an email following their meeting. "While you have not requested such a transition, the time is now."
He provided no clear reason for his departure in the note to board members.
At an emergency meeting the next day, the trustees voted to "engage Haile in a dialogue to understand the motivation to resign." Meeting minutes show that some trustees wanted to "resolve this situation" and apparently keep Haile as president. An email from Haile's attorney to Broward College's general counsel made clear that Haile "has no desire to continue as President of the College." And despite the board's desire to keep Haile, the lawyer's email noted that the president was immediately locked out of his computer, cut off from email and denied access to his office.
Neither Haile nor his attorney responded to a request for comment from Inside Higher Ed.
Board Reaction
Though Haile's resignation was sudden, board criticism had been building for months. A review of meeting minutes show that the board had pressed the president on declining enrollment, cuts to athletics, his failure to respond in a timely manner to requests for more financial information and his decision not to renew a senior administrator's contract which resulted in 120 days of paid leave and then a $56,000 payout after the college rescinded a job offer for another position after he had accepted.
But by email and in a phone interview following Tuesday's board meeting, Yarbrough said she had not pressured Haile to resign and his resignation came as a "complete shock."
Yarbrough indicated that she had twice questioned Haile about his outside board appointments, particularly at BBX Capital, which she said is a paid position. She said she stressed the importance of avoiding a conflict of interest or appearance of impropriety in Haile's role as board member for the holding company.
"I specifically asked how much money he made," Yarbrough told Inside Higher Ed. "I specifically asked whether the principals engaged in any business activities with the developer on the central campus [development] project. And I asked about time and expenses the college incurred in him serving on such a board."
She also said she told him that other people who work with colleges in Florida suggested that "college presidents do not sit on paid boards outside of their role as president unless there is some nexus to the college that in some way it benefits the college, like sitting on a board of college presidents, for example."
Yarbrough said Haile told her he had a legal memo clearing him of any conflict of interest but resigned before producing any documents. While the president is allowed to serve on paid boards with the consent of the board chair, Yarbrough said college staff members were unable to find evidence that his appointments had been approved.
Presidential Search
With Haile out, the board will now begin a search for his successor. And if the search follows recent precedent, it's likely to be fraught with politics, in keeping with a growing trend in the Sunshine State, where GOP officials with ties to DeSantis have often been considered or hired for presidential posts.
Among Republican lawmakers who are now college presidents in the state are former U.S. senator Ben Sasse, who was hired as president of the University of Florida last fall; former state lawmaker Richard Corcoran, who was tapped as interim president at New College of Florida in February; and Fred Hawkins, another legislator and DeSantis ally, who took the helm at South Florida State College despite having no prior experience in higher education.
The Florida Atlantic University presidential search is currently in limbo, with state officials alleging anomalies in the process after DeSantis ally Randy Fine was not named among the finalists.
DeSantis allies and Republican officials were also named finalists for presidential posts at Florida Gulf Coast University and Pasco-Hernando State College earlier this year but were not hired. And at New College of Florida, various Republican political operatives have been hired into high-ranking administrative positions, some with little or no experience in higher education.
As for Broward College's presidential search, Yarbrough said, "There has been no direction given from anyone in the DeSantis administration for us to take any specific action whatsoever as it relates to any search for the president." She also pledged to lead a search that will be "an open and transparent process" with community input.
(This story has been updated with factual corrections from Broward College.)