You have /5 articles left.
Sign up for a free account or log in.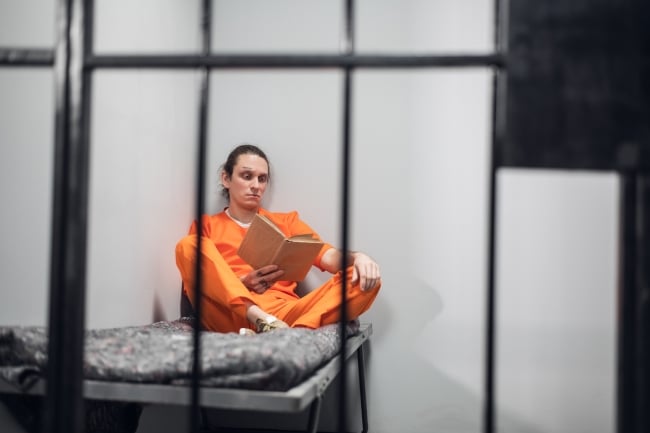 fpphotobank/iStock/Getty Images Plus
Incarcerated students and their supporters celebrated when Congress lifted the 26-year ban on Pell Grants for people in prison, a decision that took effect in July. Many people expected college in prison programs to balloon as higher ed institutions took advantage of new Pell dollars and that access to these programs would expand.
But the excitement has given way to the realities of the slow and bureaucratic process of ensuring the quality of new or expanded programs and that they meet federal requirements.
Experts on prison education say college in state and federal prisons will indeed grow, though not overnight. They note that the process of creating such programs is necessarily time consuming as state corrections and college officials work to get academic programs approved for the grants and confirm that they meet quality standards established by the U.S. Department of Education.
"There's been a little bit of 'where's the program?' and needing to explain the reason for this is not just an intentional delay—it's meant to protect students from potential bad actors, make sure that the colleges are offering quality credentials …" said Ruth Delaney, initiative director for the Unlocking Potential initiative at the Vera Institute of Justice, a research and policy organization focused on criminal justice issues. "But obviously for people waiting decades for this to come back, it's not a welcome message all the time."
Delaney noted that some incarcerated students read the news about the reinstatement of Pell Grants to students in prisons and assumed they'd see new offerings starting this fall, but the current steps are to ensure programs can well serve them.
Under the Department of Education regulations for Pell eligibility, prison education programs must be approved by state corrections agencies, the federal Bureau of Prisons, or a sheriff, an accreditor and the U.S. Department of Education. Programs are then required to undergo a "best interest" assessment two years later by corrections agencies, to determine whether programs are serving students' best interests at a level on par with programs outside prisons. Programs will be judged on metrics including the transferability of credits earned and the quality of instructors' credentials compared to instructors on college campuses.
More than 200 colleges and universities already participate in Second Chance Pell, a pilot program that began in 2015 that allows incarcerated students access to Pell Grants in their programs. These institutions can continue to operate for up to three years but must ultimately meet the same standards as other prison education programs and can't expand until they complete the approval process.
The department released an application on June 30 for institutions to apply for Pell eligibility. Delaney noted that not all state corrections agencies have their approval processes in place. The Vera Institute recently informally surveyed state correction agencies and found that, among those who responded, at least 30 states had processes in place for colleges to apply for approval, 15 had applications drafted and two intentionally delayed establishing an application process because they have other funding sources available to incarcerated students in their states.
Delaney said that's meaningful progress, especially given the tight timeline state corrections agencies were under.
"We're feeling pretty good about where the field is at the moment," she said. But "we'd like to see everyone be Pell ready in the new year."
Variation by State
The Pell restoration process has varied widely from state to state. Some corrections agencies are seeing colleges eager to start prison education programs, while others have noted a slower trickle of interest than expected.
Ben Jones, education director at the Wisconsin Department of Corrections, initially expected about 30 institutions to signal interest in applying to become Pell-eligible. But very few institutions did so after the department issued a request for information from interested colleges and universities in April with 11 questions, including how they would provide financial aid and academic advising to incarcerated students and handle technology barriers.
Only two institutions, already Second Chance Pell sites, filled out the questionnaire and are in the process of getting the required approvals. Some college officials said the timing was too tight, given that the request for information was due in June, and they still plan to apply later on.
"When you think about expanding your college program into a prison, I think on the surface, it's super exciting," Jones said. Campus leaders see it as "service-type work" with potential for "increasing enrollment with a steady audience of folks." But "the cost of doing business can be higher. There are security things, it's harder to get things passed with regards to technology—there are just a whole lot of logistical issues to running and conducting a college in prison program …"
Jennifer Sanders, superintendent of the Ohio Central School System, a school district operated within the Ohio Department of Rehabilitation and Correction, said she's seen a similarly slow surge of interest in Ohio. A handful of colleges and universities reached out to her to express interest in becoming Pell-eligible, four institutions have started the department's application process and one college already received approval from its accrediting body and the state agency.
Ohio already has higher ed programs in all 28 of its prisons and five of the seven colleges and universities operating in prisons are Second Chance Pell sites, so Sanders said there may be less of a sense of urgency in the state.
But "what we're hoping is that with Pell, we don't have a lot of waitlists, that we're able to meet the needs of our population consistently and so that we can minimize people waiting to get into college," she said. As institutions start to undertake the approval process, "I'm looking forward to the outcome. I'm really looking forward to inviting more people, more colleges and universities to be part of the rehabilitative power of education."
The California Department of Corrections and Rehabilitation also plans to use Pell dollars to build on already robust existing programming for incarcerated students. These students can already use the California College Promise Grant, state aid for low income students, to pay for community college in prisons, but Pell dollars will help increase access to bachelor's degree programs.
Bachelor's degrees are currently offered at nine facilities in the state. Three of the five universities offering them are Second Chance Pell sites, and other campuses are expected to receive approval for Pell eligibility from the Department of Education next year. The state corrections agency is also working with Cal Poly Humboldt to start a new bachelor's degree program at Pelican Bay State Prison.
"Restoring Pell Grants has allowed the department to further our partnerships with California State University and the University of California for bachelor's degree programs," Alia Cruz, information officer for the California Department of Corrections and Rehabilitation, said in an email. "Students now have more opportunities to transfer and continue their academic success."
Typically, 10,000 incarcerated students participate in community college associate degree programs per semester, so "we anticipate applications to our four-year college programs will continue to increase as more students earn the fully transferable associate degree," she said.
Some states have unique policy hurdles, however. For example, the Florida Department of Education doesn't count students incarcerated in Florida as state residents for the purposes of in-state tuition, unless students can prove they were living there a year before their incarceration, Open Campus media reported. As a result, Pell Grants wouldn't fully cover most students' tuitions which "creates a real challenge for any college that is feeling like they don't have the institutional resources to make up that difference," Delaney said.
Jonathan Feinstein, Texas state director at the Education Trust, an advocacy organization, said his chief concern is making sure the state is prepared to assess the quality of these programs two years down the line, as the federal government requires. His organization advocated for legislation, that was not adopted, which would have required the Texas Department of Criminal Justice to weigh certain factors in its approval process, including whether programs lead to in-demand jobs and the availability of student support services, and ensure data collection and sharing agreements between the department, institutions and other agencies. The bill also stressed the importance of ensuring women's prisons have equitable academic opportunities, a concern in Texas and other states.
The goal of the bill was to "potentially even go beyond what the federal government was asking for in the best interest [determination] to make sure that students are well served and that new programs or continuing programs really meet the goals of the state when it comes to things like improving public safety, reducing recidivism and meeting workforce needs," he said.
Feinstein is concerned about a lack of legislative oversight and publicly available data on incarcerated students as Texas undergoes the Pell restoration process, but he commended the corrections agency for setting up an advisory group to involve other stakeholders in the process.
William Freeman, manager of the Higher Education Justice Initiative at the Education Trust, added that incarcerated students face barriers to filling out the Free Application for Federal Student Aid, or the FAFSA, that need to be taken into consideration nationally as prison education programs grow.
Freeman, who was in prison for two decades, emphasized the high stakes of the Pell reinstatement process for students who will have easier access to higher ed because of it. He earned 73 transferable credits from Goucher College while in prison and graduated from the main campus with a bachelor's degree after his release. He's now a Bloomberg Fellow and master's degree candidate at the Johns Hopkins School of Public Health.
"I'm a first gen everything. I was an heir to illiteracy," he said. Now he's "breadwinner" in his family and owns a home. He advises federal policymakers on how to improve higher ed offerings for students like him and "folks want to hear from me."
A degree "gave me options that were not options," Freeman said. "It's given me choices and it shifted my children's life … and all of this is from the transformative power and possibility of higher education."