You have /5 articles left.
Sign up for a free account or log in.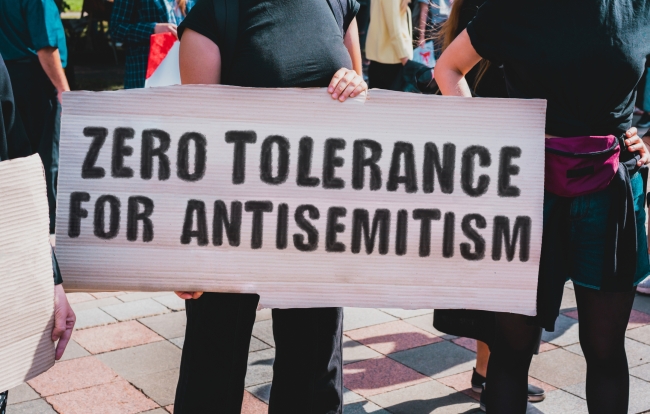 Andrii Koval/iStock/Getty Images Plus
The Education Department is reminding colleges and universities about their responsibilities under federal civil rights law to protect students from antisemitic harassment.
Assistant Secretary for Civil Rights Catherine Lhamon wrote in a Dear Colleague letter released Thursday that a university violates Title VI of the Civil Rights Act of 1964 "when it fails to take adequate steps to address discriminatory harassment, such as antisemitic harassment." The office has already resolved one complaint against a university this year related to antisemitism.
The letter was one of several actions called for in the administration's new strategy to counter antisemitism nationally and throughout society released Thursday during an event featuring Second Gentleman Doug Emhoff and Susan Rice, the president's top domestic policy adviser.
"This plan will save lives," Emhoff said.
The 60-page strategy document outlines a plan to raise awareness about antisemitism, protect Jewish communities and reverse the normalization of antisemitism, according to a fact sheet. The strategy includes 100 action items for different departments across the administration.
Jewish groups, such as Hillel International, praised the administration's comprehensive strategy, which they hoped would have a positive impact on Jewish students. Hillel was one of many organizations that provided input on the plan.
Colleges and universities play a key role in the national strategy, particularly as more Jewish students report experiencing antisemitism on a college campus. One-third of Jewish students reported personally experiencing antisemitism, according to a 2021 study. A 2022 survey also cited in the report found that more than half of Jewish students worry that people make unfair judgments about them because they are Jewish.
The administration called on higher education institutions to condemn all forms of hate, have clear ways for students to report hate incidents, create task forces to combat hate and ensure that Jewish students are included in campus diversity, equity and inclusion programs.
"On college campuses, Jewish students, educators, and administrators have been derided, ostracized, and sometimes discriminated against because of their actual or perceived views on Israel," the report states. "All students, educators, and administrators should feel safe and free from violence, harassment and intimidation on their campuses. Far too many do not have this sense of security because of their actual or perceived views on Israel."
The report later added that all students have "a right to learn [in] an environment free from antisemitic harassment. ED OCR will be watching to be sure these students are safe."
The Education Department's Antisemitism Awareness Campaign includes the Dear Colleague letter and site visits to institutions that have engaged in their own campaigns or experienced upticks in antisemitism.
"Antisemitism has no place in our society, and I am proud that the department will continue to use all available tools to prevent and address antisemitic discrimination in our nation's schools," Education Secretary Miguel Cardona said in a statement. "No student should have to face discrimination or harassment because of their race, color, national origin, shared ancestry, such as Jewish ancestry, or ethnic characteristics."
Julia Jassey, co-founder of Jewish on Campus and a senior at the University of Chicago, said the national strategy was encouraging, particularly the efforts to improve education about antisemitism, the Holocaust and Jewish American heritage.
She appreciated that the report acknowledged the different forms of antisemitism from swastikas on a school desk to undue criticism of students or professors because of their real or perceived feelings toward Israel.
"We're really encouraged to see how that can help universities, companies, administrators understand the breadth of antisemitism and take action," she said.
Kenneth Marcus, who founded the Louis D. Brandeis Center for Human Rights Under Law, said the overall report shows that combating antisemitism is a priority, though he said he would've liked to see more substance in the document. Marcus led the Office for Civil Rights during the Trump administration
"It is helpful whenever the president of the United States signals that a problem occupies the attention of the federal government," he said. "We know that there are some colleges that are doing a better job of addressing antisemitic incidents. Today is a reminder that these incidents need to be taken just as seriously as any other form of violence."
To Marcus, the report also shows that the administration is embracing a definition of antisemitism developed by the International Holocaust Remembrance Alliance. That definition says in part that "claiming that the existence of a State of Israel is a racist endeavor" constitutes discriminatory speech.
"There are some college administrators who think that IHRA has been controversial and that they shouldn't use it," he said. "But this strategy document coupled with the new OCR Dear Colleague letter make very clear that IHRA is part and parcel of the laws of the United States and that it is a part of the evaluation process used by the Office for Civil Rights whenever there is an applicable case of antisemitism brought to federal investigators."
Several groups have urged the administration to reject that definition, which they said is distorted and could lead to the censoring of Palestinians.
Lina Assi, an advocacy manager for Palestine Legal, an organization that supports those who speak out for Palestinian freedom, said that she reads the report as a rejection of that definition.
"The national strategy document removes IHRA from the center of the conversation, de-emphasizes the role of a definition and declines to make it law," she said.
Assi later added that the Office for Civil Rights has had multiple opportunities to adopt the definition as a tool and "has repeatedly declined to do so, including today."
"OCR is focused on addressing real cases of antisemitism," she said. "OCR is also focused on context, and OCR is also focused on the ways that racism and the systems of oppression intersect."