You have /5 articles left.
Sign up for a free account or log in.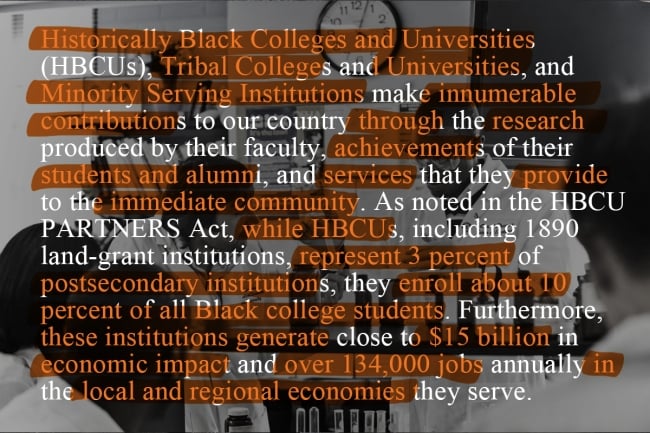 Photo illustration by Justin Morrison/Inside Higher Ed | U.S. Department of Education | Howard University
After years of efforts by advocates to draw attention to the historic underfunding of historically Black land-grant colleges and universities, the federal government issued its own call to action this week, urging the governors of 16 states to address the inequities.
Education Secretary Miguel Cardona and Agriculture Secretary Tom Vilsack sent joint letters to each state's governor, highlighting just how much the Black land grants in their state are owed.
Over all, 16 of the country's 19 historically Black land-grant universities have been underfunded by their states by a total of $13 billion, according to the federal analysis of per-student state spending data from 1987 to 2020. Only two states, Ohio and Delaware, were found to have equitably funded their HBCU land grants. The other states' institutions had funding gaps between $172 million to $2.14 billion compared with their predominantly white counterparts.
Experts and advocates say the Biden administration's analysis, and its appeals to governors, are welcome steps that elevate a long-standing issue for historically Black land-grant universities, which, under federal law, are supposed to receive equitable funding compared to their predominantly white land-grant peers. Although the letters don't have much in the way of teeth beyond naming and shaming, advocates are hopeful that this step signals that the federal government will be focusing on the issue and pursuing solutions. The Education Department did not respond to a request for comment about its next steps.
The country's traditionally white land grants were first established in 1862, and there are now 57 of these so-called 1862 universities. Not all of them were open to Black students, though, so Congress created the historically Black land grants in 1890. These institutions, referred to as "1890 universities," are mostly located in the South.
Cardona and Vilsack wrote that equitable state funding could've supported infrastructure and student services at their public HBCU land grants and better positioned the universities to compete for research grants. In their letter to Tennessee governor Bill Lee, for example, they write, "Tennessee State University has been able to make remarkable strides and would be much stronger and better positioned to serve its students, your state, and the nation if made whole with respect to this funding gap."
Tennessee State University president Glenda Glover agrees. With an additional $2.1 billion over the last 33 years, Glover said, the university could've updated its aging buildings, offered more scholarships and had a more competitive academic program. For context, the university's current annual budget is about $250 million, she said.
"We've accomplished so much with so little," she said. "This funding would take us to the stratosphere."
Tennessee has made recent efforts to address the historic underfunding of Tennessee State. A 2021 report found that the state shortchanged the university to the tune of between $150 million and $544 million over a 60-year period. A state lawmaker who led that report told The Tennessean that the federal government's report looked at "different buckets" of funding.
Following the 2021 report, the state appropriated $250 million to Tennessee State for infrastructure. Lee's office did not respond to a request for comment.
'Prioritizing the Black College'
The country's historically Black land-grant universities were created by state lawmakers who were given a choice by Congress: either allow Black students to attend their existing land grants or open a separate institution. If those lawmakers chose to create a separate university, federal law required states to equitably distribute funds between the two institutions. The historically Black land grants have been fighting for parity in state funding ever since.
Today, the Black land grants enroll a higher percentage of Black and low-income students than their traditionally white counterparts, and they play a key role in diversifying science, engineering and agriculture workforces. Meanwhile, they've had to deal with insufficient funding to update their aging facilities, expand their campuses and offer more aid to students, among other consequences.
The secretaries acknowledged in their letter that the issue of underfunding "predates all of us." College presidents, students, advocates and researchers have worked to draw attention to the extent of the underfunding and its impact. Some groups have filed lawsuits to try and address the issue.
The department's analysis focused on overall state funding per student. That goes a step further than other recent reports that looked at gaps in state funding between the two types of institutions, said Denise Smith, senior fellow at the Century Foundation, a progressive think tank. "Obviously, some of these states have not put value in and invested in these institutions in the way that they should have been for decades," she said.
Smith recently authored a report focused primarily on states' failure to provide matching funds for federal research and extension grants. If states fail to match the federal money dollar for dollar, universities can either forfeit the federal money or seek a waiver. Federal law allows states to opt out of the matching requirement for the 1890 institutions and only kick in half in matching funds. That's how this group lost out on $200 million in state funding from 2011 to 2022, according to her report. Smith recommended that the federal government phase out the waiver by 2026.
The secretaries chided some states for not providing a one-to-one match in recent years for the 1890 institutions. They also suggested that the governors make a "substantial state allocation toward the 1890 deficit" and commit to matching the federal land-grant dollars two to one.
Although the data are appreciated, Smith said it will be important for the Agriculture and Education Departments to follow through and work with states. The departments offered to host budget workshops and work with state leaders to address the funding inequities.
"The money's there; it's just a matter of them actually prioritizing the Black college," Smith said. "They always find a way to give the white land grants what they need, but don't do the same for the Black land-grant universities."
Mortimer Neufville, president of the 1890 Universities Foundation, a nonprofit focused on supporting its namesake institutions, said in a statement to Inside Higher Ed that the data confirm "beyond question the historic underfunding of state matching funds" for some of the Black land grants.
He added that he hoped the data and direct appeal to governors will push them to act and equitably fund the 1890 institutions. "I also stress the need to treat the one-to-one match as a floor, not a ceiling for ongoing funding, as many PWI [predominantly white] land grants receive higher than the one-to-one match funding," he said.
The States Respond
Inside Higher Ed reached out to all 16 states that received letters for comment. Only Louisiana, Maryland and Missouri responded.
Jay Dardenne, commissioner of the Division of Administration in Louisiana, said in a statement that the state has been making historic investments in higher education across the board during Governor John Bel Edwards's tenure.
"In addition," he said, "there has been a sustained commitment to addressing serious inequities in this and many other important areas … However, we recognize that more work needs to be done to fully fund higher education. The governor has directed us to meet with the secretaries to learn more about the underfunding referenced."
The federal analysis shows that Southern University and A&M College, the historically Black land grant in Louisiana, lost out on $1.1 billion from 1987 to 2020. Dardenne said it's unclear where the Biden administration is getting that number or what it is based on.
The federal departments used the National Center for Education Statistics' Integrated Postsecondary Education Survey to build a data set of state funding provided to the 1862 and 1890 institutions dating back to 1987—the earliest year the data are available. The agencies used fall enrollment figures to determine per-student spending at the institutions.
Between Southern University and A&M College and Louisiana State University, the average gap in state appropriations per student over 33 years was $3,831, the analysis found. In 2020, the gap was down to $2,918.
Maryland governor Wes Moore's office said in a statement that the governor has been a strong advocate for the state's HBCUs and that funding for them has increased 20 percent since he took office at the beginning of this year. The federal analysis shows that the University of Maryland Eastern Shore is owed $321 million.
In 2021, Maryland agreed to a $577 million settlement in a federal lawsuit that accused the state of underfunding all the state's HBCUs and developing competing programs at predominantly white institutions. Moore was elected in 2022. "Governor Moore will continue to support these life-changing colleges and universities that make Maryland a more equitable and competitive state," the statement said.
Missouri governor Michael Parson said in a statement that Lincoln University, the state's land-grant HBCU, has seen a 63 percent increase in its state appropriation along with $38 million for capital improvement projects and other programs. Lincoln is owed about $361 million, according to the federal analysis.
"We know mass standardized letters make for flashy headlines, but the fact is Missouri's land-grant HBCU, Lincoln University, and all public higher education institutions have seen generational investments under Governor Parson's Administration," the statement said. "We're putting in the work to do better in Missouri. With this letter, we wonder if the federal government is focused on the same or just another distraction from their failed policies."
'Never Too Late'
Felecia Commodore, an associate professor of education at Old Dominion University in Virginia who studies HBCUs, said the letters "demonstrate both the political and economic impact" of the underfunding and the urgent need to fix it.
While she thinks the letters will bring attention to the issue and potentially resources to help address it, she's curious about the next steps to translate the letters into substantive action on the state level and how the Biden administration can incentivize states to remedy the problem. Otherwise, she worries the letters could be misconstrued as political posturing.
"HBCUs need to receive their rightful funding and need investment to continue to build upon the great work they do and the great opportunity they offer many in our populace, particularly Black Americans," she said. "For that reason, I hope we take seriously how to ensure this happens and not use them as political fodder when convenient."
Glover, at Tennessee State, said she wasn't aware that the Biden administration was working on its report but is gratified that the federal government is looking into the issue. She's hoping state officials will take the secretaries up on their offer to find a path forward.
Glover emphasized that she does not blame anyone in particular for the current situation, given that the underfunding has happened over decades.
"But once you find out something has happened," she said, "you have a duty to look into it and have a conversation about it. Because it is never too late to do what's right."