You have /5 articles left.
Sign up for a free account or log in.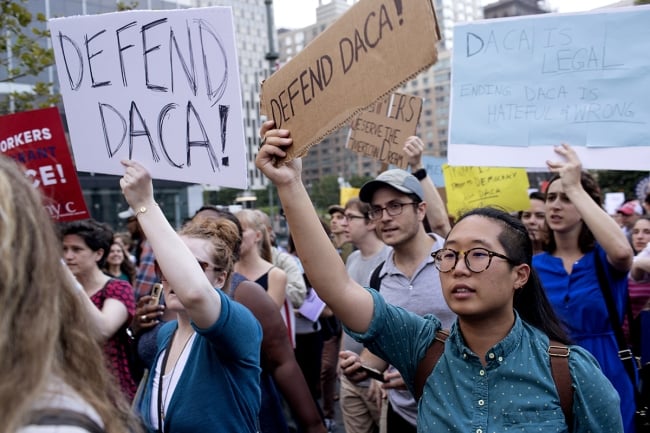 A recent federal district court ruling that deemed the Deferred Action for Childhood Arrivals program, or DACA, illegal is heightening concerns and uncertainty about the future of the program among undocumented students and their advocates.
The Obama-era program, which protects immigrants brought to the country as children from deportation and allows them to work in the U.S. legally, has been intermittently under fire since it went into effect in 2012, losing political support during the Trump administration and regaining it under the Biden administration.
Judge Andrew Hanen of the United States District Court for the Southern District of Texas decided the program was unlawful in a decision affirmed by the Fifth Circuit Court of Appeals last week. Under his ruling, DACA recipients who attained protected status as of July 2021 can continue to participate in the program and apply for renewals, and new applications can be submitted but not processed.
Cezanne Hayden-Dilbert, a DACA recipient and manager of operations and people for the Presidents' Alliance on Higher Education and Immigration, an association of American college and university leaders, said she wasn't surprised by the ruling but was exasperated. She arrived in the U.S. as a 3-year-old after her family emigrated from Jamaica to Canada. She graduated from high school in 2002, before DACA existed, with top marks that earned her scholarships to college, which she couldn't use because she was undocumented. She later attained DACA status and ultimately earned her bachelor's degree from Miami Dade College last year.
She said having DACA status over the last several years has felt like "you're constantly in a state of limbo."
"That feeling and that ball of anxiety is something that has lived with me for a long time, and I work to kind of push it down a bit," she said. The latest court ruling only adds to her feelings of uncertainty.
"Those of us who have DACA, we're just going, 'OK, what's going to happen to us next,'" while friends without DACA status remain perpetually "locked out" without a solution to their undocumented immigration status, she said.
This was the second time Hanen ruled against the DACA program. He first determined the program was illegal in a 2021 decision after nine states, including Texas, sued to end the program. The recent ruling concluded that the Biden administration's latest attempt to codify the DACA program through a new regulation didn't resolve Hanen's concerns about the program, including its "lack of temporal limits" and its allowance for recipients to travel out of and lawfully re-enter the country.
At least 408,000 undocumented students are enrolled at U.S. colleges and universities, making up 1.9 percent of college students nationwide as of 2021, according to a report from the Presidents' Alliance and the American Immigration Council. Meanwhile, a third of undocumented students and 0.7 percent of all college students—about 141,000 students in all—have DACA status or are eligible to participate in the program.
White House Press Secretary Karine Jean-Pierre said in a statement that the Biden administration was "deeply disappointed" by the ruling.
"As we have long maintained, we disagree with the District Court's conclusion that DACA is unlawful, and will continue to defend this critical policy from legal challenges," she said.
Miriam Feldblum, executive director of the Presidents' Alliance, said the ruling doesn't change the status quo. The federal government hasn't been able to process new DACA applications since the decision in 2021. Still, she described this latest development in the program's ongoing legal saga as "distressing, anxiety-producing, disappointing" to undocumented students. She predicts the case will make its way to the U.S. Supreme Court, where it will again face a "precarious future."
Most undocumented students at this point don't benefit from DACA protections because of applications waylaid by court rulings and the program's requirement that recipients must have arrived in the U.S. before 2007. But colleges and universities increasingly have faculty, staff members and alumni who hold DACA status, Feldblum said.
And many of these institutions have taken a variety of measures to welcome and accommodate undocumented students in recent years, including fundraising to establish private scholarships to cover their college costs and establishing centers on campus dedicated to creating a sense of belonging for them. The University of Miami's U Dreamers Program, for example, promises to meet all demonstrated financial need for admitted undocumented students.
Feldblum recommends campuses offer legal screenings for undocumented students and employees to help them determine if there are other available pathways to citizenship. She also encourages campus administrators to provide experiential learning opportunities to undocumented students that don't require work authorization and reach out to undocumented students and staff members to show support. She believes campus leaders also have a role to play in lobbying lawmakers to reach a long-term legislative solution.
The latest ruling "underscores that we need a legislative fix," she said. "We need Congress to act and to enable Dreamers, to enable undocumented students to have a pathway to citizenship."
Some higher ed leaders have also come out strongly against attempts to quash the program.
Mildred García, president of the American Association of State Colleges and Universities, said in a statement after the recent ruling that the program has shielded from deportation more than 800,000 undocumented young people, "who have become important cornerstones of economic and social development in countless American communities."
"DACA recipients, and all eligible Dreamers, are American in every sense of the word and must be safeguarded and supported," she said.
Ariana Aparicio Aguilar, a doctoral student and DACA recipient at the University of California, Riverside, and a Presidents' Alliance graduate fellow, said her university has been a meaningful support system for her. Riverside has a director for undocumented student programs and an attorney on campus to give legal advice. She also participated in a university-organized special study abroad trip for DACA students to Mexico, which she and her family left when she was 4.
The university "not only … claims to support undocumented students, but it actually has enacted actionable steps to provide some sort of relief for the students who have DACA," she said.
Gaby Pacheco, director of advocacy, communications and development at TheDream.US, an organization that provides scholarships to undocumented students, believes higher ed institutions have a critical role to play at a time when undocumented students' anxieties are at a high and the future of the DACA program continues to hang in limbo.
She noted that 24 states allow qualified undocumented students to benefit from in-state tuition, and 18 states give undocumented students access to state financial aid. She believes colleges and universities can further help these students secure scholarships, since they can't benefit from federal financial aid, and provide them with mental health support, given their unique stressors. She also praised efforts to help undocumented students secure jobs, including a recent vote by the University of California Board of Regents to find ways to hire these students to work on campuses.
She added that only people age 15 and older can apply for DACA, so some young people waited to submit applications, which comes with a $495 application fee, only to find the process frozen by the court rulings.
"It's as if you have somebody that has not eaten all day, and you put a plate of food in front of them and you say, 'You cannot eat it,'" Pacheco said.
The DACA program comes with "life-changing" benefits that are now again out of reach of those who applied, including access to a driver's license, the ability to travel without fear of deportation and authorization to work legally in well-paying jobs that provide opportunities to gain marketable skills instead of in dead-end jobs that pay low, under-the-table wages.
"Institutions of higher education are reaping the benefits of having these students on campus," Pacheco said. "So they can be doing a lot more to ensure that access to higher education is available to them."