You have /5 articles left.
Sign up for a free account or log in.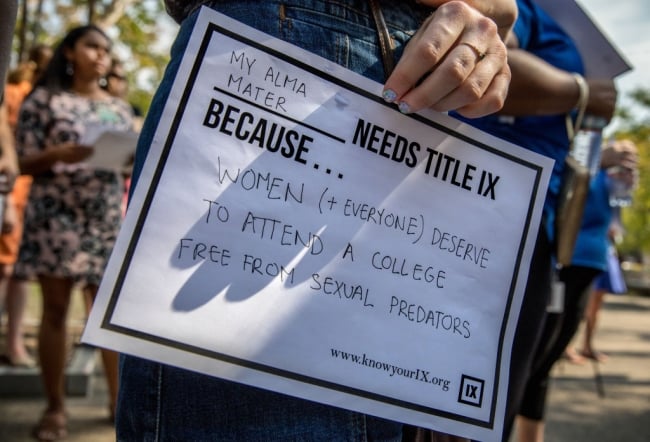 Evelyn Hockstein/The Washington Post/Getty Images
When Alexandra Brodsky and Dana Bolger launched what they thought would be a short-lived social media campaign to inform students about their federal civil rights, they planned to share resources, protest at the Education Department and go on with their lives.
"It turned out there was a real need for sustained student organizing," said Brodsky, who co-founded Know Your IX, an advocacy group focused helping survivors of sexual assault, in 2013 with Bolger.
Know Your IX is focused on ensuring students know their rights under the federal anti–gender discrimination law, Title IX of the Education Amendments of 1972, and improving and advocating for improvements to that law to help students. The organization made a name for itself in pushing the Obama administration to ratchet up enforcement of the law and fighting with the Trump administration over its rewrite of Title IX regulations. More recently, the group has been part of a coalition calling on the Biden administration to release its overhaul of the Title IX rules.
Know Your IX was one of the first advocacy groups that grew from the largely student-led movement that began around 2010 and exposed the pervasiveness of sexual assault on college campuses and began pressuring the Education Department and colleges to do more to protect students. Today, it remains a student-led project but is part of a larger nonprofit organization, Advocates for Youth.
Know Your IX's decade-long advocacy and trajectory from an online campaign to a full-fledged organization with a national network of student activists demonstrates how the movement has evolved to take on new challenges while still focusing on the core goal of eradicating sexual assault on campus.
Bolger and Brodsky and other activists were able to leverage the power of the internet and social media not just to spread the world about Title IX rights but to connect with students, share their stories, find common threads and collectively lobby for changes. Their work wouldn't have been possible without social media, they say.
"The movement is bigger than any one organization," Brodsky said. "This is a movement that goes back decades."
In the last decade, colleges and universities have hired Title IX coordinators and created processes for students to report harassment or assault. The federal government also has made new rules that govern how colleges should respond to those reports.
"I definitely didn't know that Title IX had anything to do with sexual violence and harassment," Bolger said. "That's changed for a lot of college students."
The federal government is on the precipice of a new Title IX era with the expected release of new rules that will once again change how colleges must respond to reports of sexual assault and harassment. The department had said the final rules would be released in October but missed that deadline. A department spokesperson said this week that the agency is "utilizing every resource" to finalize the rules as soon as is practicable.
"The Biden-Harris Administration remains resolute in our commitment to support all students and ensure they receive a quality education free from discrimination," the spokesperson said. The proposed rule "received a historic number of comments, and the department is working overtime to ensure that each one is thoroughly read and carefully considered."
The status of the rules was a point of contention for former and current Know Your IX activists at a virtual roundtable hosted earlier this week to mark the group's 10-year anniversary.
"I have something I'd like to say to the Department of Education: Where is the new rule? Survivors cannot wait," said Thalia Charles, a Know Your IX organizer.
The Biden administration has proposed new Title IX rules that undo most of the current regulations that were put in place by the Trump administration. The proposed rules also expand protections for LGBTQ+ students and make it easier for students to report sexual harassment. Activists have sharply criticized the Trump rules, which they say are harmful to students who experience assault or harassment. Know Your IX was one of the organizations that sued to block the Trump rules; the lawsuit was dismissed.
Brodsky said the Biden rules would "make a big difference at schools" but aren't a "silver bullet."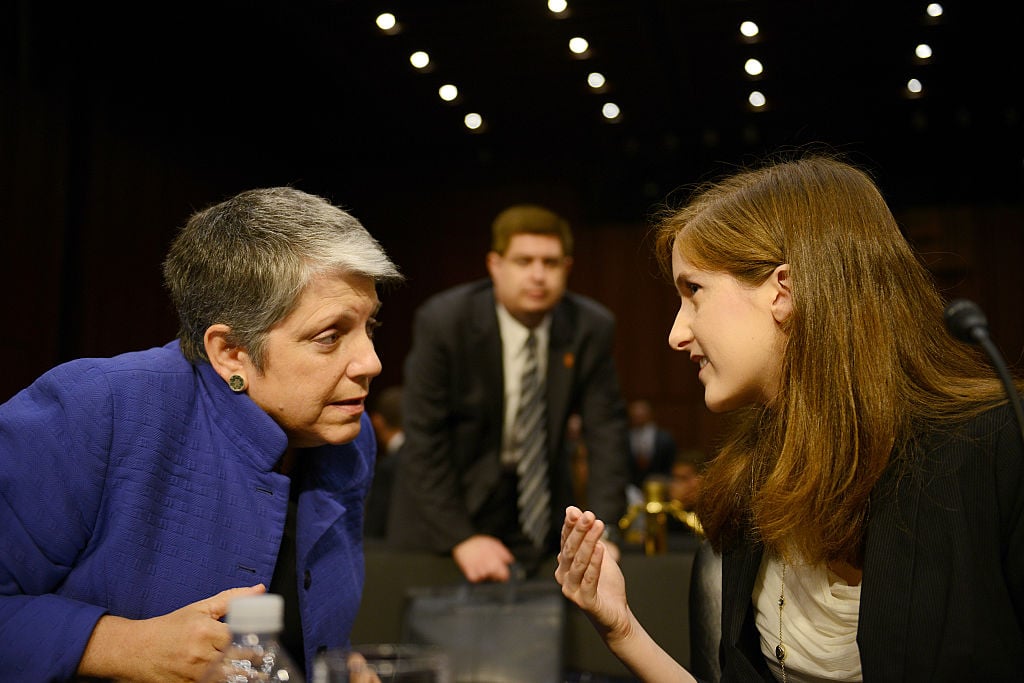 The Next 10 Years
At the town hall, Brodsky, Bolger and other former and current Know Your IX organizers reflected on the last decade and pondered what's in store for the next 10 years.
Ravina Nath, a high school senior from California's Bay Area who works with Know Your IX, said she wants policy makers to remember the original intentions of Title IX, which was that no one should be denied the benefits of a federally funded educational program or activity. She hopes a future version of Title IX will have specific protections for students with disabilities.
"I hope that, in 10 years at least, our government recognizes that students with different abilities are more vulnerable to sex-based violence," Nath said. "To me, that looks like not having Title IX offices on the fourth floor of a building with no [elevators]. Having QR codes with braille on them. Specific, tailored academic accommodations and health resources for students with PTSD and eating disorders."
Other panelists said it would be great if Know Your IX wasn't needed any longer in 10 years.
"Short of that, I want survivors to not have to fight so hard—to be able to just go to school and learn," Bolger said. "I'm incredibly grateful for the friends I have made in this fight and the skills I've learned and the politics I've developed, but nobody should have to go through all that."
Jaslin Kaur, a former Know Your IX organizer who is currently working at Run for Something, which supports young, progressive political candidates nationwide, said no matter where the Title IX movement goes from here, there's no going back.
"We can never go back to like a pre–Me Too world where speaking out about sexual harassment and sexual violence was not normalized," she said. "Even though I would definitely say that we are in the midst of an antifeminist backlash in so many ways, I do think the ground has already been broken."
Emma Grasso Levine, project manager of Know Your IX, said the organization and movement to end campus sexual assault have "a long way to go."
"There's still a lot that needs to be changed and fixed," she said. "I'm hoping that we will soon have new regulations that will begin to undo a lot of the harm that students experienced."
Shifting Demands and Finding Hope
The activists' focus and demands have shifted over the years, from calls for stronger enforcement of Title IX to debates over how to handle investigations on campuses—the latter of which became the focus of the Trump administration. Critics of the Obama administration's guidance on Title IX had argued that it was unfair to students accused of misconduct.
In 2013, activists were demanding transparency from the Education Department about the Title IX rules and wanted to know which institutions were under investigation. The following year the department started publishing a list of colleges and universities subject to Title IX investigations—a practice the Trump administration stopped.
Brodsky and Bolger acknowledge there are new problems and challenges that weren't on their radar in 2013. Those include retaliation against student survivors who speak up and students accused of assault filing complaints against those who accuse them.
"It's part of a larger story of backlash that was really spurred by this student movement that we were part of and the successes that we had," Brodsky said. "I think the debate has sort of become [that] … sexual harassment and false allegations of sexual harassment are like, equal problems, and that's become the whole story."
Brodsky said she'd rather see a Title IX system focused on what survivors need to stay in college and that prevents harassment from occurring in the first place.
"Campus investigations are part of that, but way more students turn to their schools for help because they need mental health support, or they need an extension on a paper that's due shortly after they've been sexually assaulted, or they just need to feel safe in school right now," she said.
Brodsky and Bolger have stepped away from Know Your IX and both now work as lawyers. But they're still around to offer help or advice when needed.
"We knew when it was our time to go," Brodsky said. "People who are not in school are not going to understand what the urgent contemporary problems are."
Bolger said she's inspired by the current student organizers who followed in her and Brodsky's footsteps.
"We've been dealing with the same problems for millennia, so I don't think any of us thought that it was gonna go away immediately," she said. "It makes me so hopeful to see people are fighting, standing up and having success in their communities."
Brodsky said that current student activists, thanks in part to Know Your IX and the foundation of the last 10 years, are savvier and more aware of their rights.
"They have a sense that these fights have been ongoing," she said. "I had no sense that it was a problem beyond like, a year before I arrived on campus. They have a much broader perspective."