You have /5 articles left.
Sign up for a free account or log in.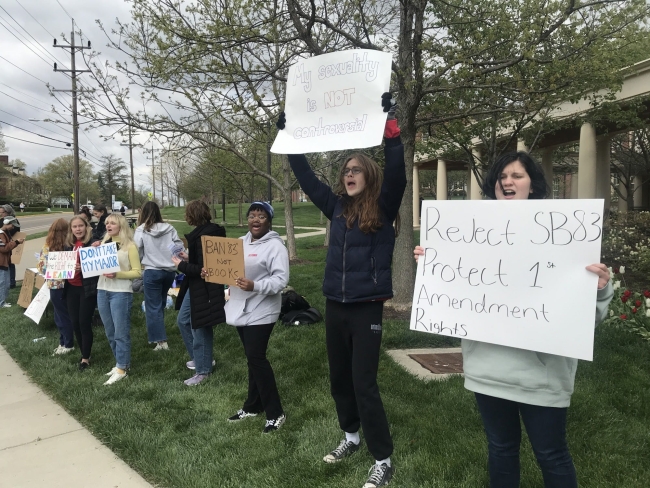 Alice Momany/The Miami Student
In a rare move, the Ohio State University Board of Trustees has publicly opposed sweeping state legislation that will profoundly alter higher education in the state through a number of reforms that touch on multiple areas of campus life.
The pushback landed one day before the legislation passed the State Senate on a 21-to-10 vote Wednesday, with Republicans largely voting in favor and Democrats in opposition. The bill will now move to the Ohio House.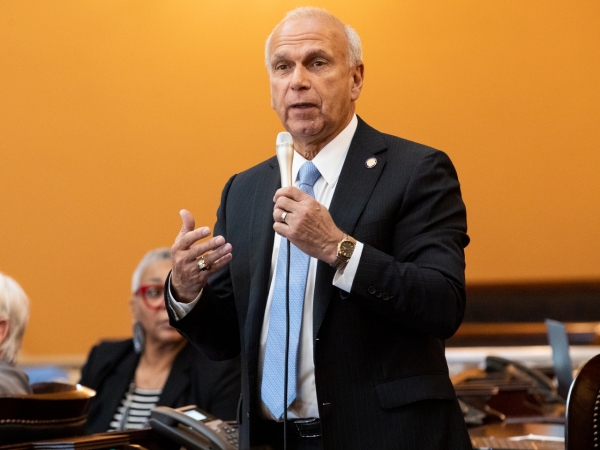 Ohio Senate Bill 83, sponsored by Republican senator Jerry Cirino, takes aim at mandatory diversity training, partnerships with Chinese universities and faculty unions' right to strike. It will also establish a new evaluation system for students to rate professors with an emphasis on how faculty have eliminated bias from their classrooms. In addition, SB 83 will create a posttenure-review process and establish instructional workload policies dictating minimum course loads, among other things, for faculty members at state universities, as well as shorten the terms of trustees serving on governing boards.
Cirino has argued that his bill essentially rescues free speech and academic freedom, which he believes have been suppressed at Ohio's public universities by a "woke ideology" that has led to an all-out assault on the First Amendment. Other supporters of SB 83 have argued that the bill is a necessary counterpunch to liberal indoctrination on college campuses that will recenter the mission of state universities to better serve students.
The trustees join other higher education constituents—including faculty, current college presidents and students—who see the far-reaching legislation as unnecessary and intrusive. But despite the best efforts of SB 83's opponents, the legislation is likely to become state law, pending approval by the Ohio House.
Opposition to SB 83
Ohio State trustees announced their opposition to SB 83 on Tuesday in a statement that argued the bill, in its current form, would undermine shared governance, weaken academic rigor and "impose extensive and expensive new reporting mandates" on Ohio's public institutions.
While the statement noted that the legislation "raises important questions about 21st-century education and the role of the university in preparing students for civic engagement," it warned that the resolution of such questions "could impact our university's ability to attract the best students, faculty and researchers, and ultimately the quality of higher education at all Ohio public universities."
It went on to say, "The trustees of Ohio State welcome a fulsome dialogue with the legislature—and other leaders of our state and the academy—to address these issues openly and cooperatively, rather than through an unusually expedited legislative process. We urge the Ohio Senate to allow universities more time to consider the legislature's concerns. Our shared goal of strong and vibrant public universities for the benefit of all Ohioans can best be achieved by further dialogue."
Ohio State is currently operating without a president; Kristina Johnson announced her resignation last fall and formally departed this month. The Columbus Dispatch reported that trustees have no plans to name an interim president; senior officials are instead reporting directly to the board. In the absence of a president, it seems the responsibility of speaking up has fallen to trustees.
Other presidents in Ohio have voiced their own concerns on SB 83 in cautious statements that reflect concerns about the proposed bill as it works its way through the state Legislature.
In a State of the University speech last month, University of Cincinnati president Neville Pinto noted that he and others have advocated "for the university's point of view" on SB 83 through various calls and meetings with state lawmakers "to get our perspective on the table." However, Pinto suggested in his speech that it was likely that "some version of the bill will pass."
A University of Cincinnati update on the bill said that Pinto has worked alongside fellow members of the Inter-University Council of Ohio, which represents the state's 14 public universities, to lobby lawmakers on the bill. The update did not specify what reforms the group was seeking, and Inter-University Council officials noted that concerns vary by institution. (IUC officials did not respond to questions about specific shared concerns held by the consortium.)
Kent State University president Todd Diacon also addressed SB 83 in a live webcast, emphasizing the importance of being "fiercely committed to access" and "diversity and making it a welcoming environment for everybody."
But no leaders of any public institution in the state offered a more forceful denunciation of the legislation than the Ohio State Board of Trustees.
They got plenty of support from outside academic groups—including the American Association of University Professors, the American Historical Association and others—who sounded alarms on the pending legislation. The Ohio State Association of Community Colleges has also raised concerns, arguing in written testimony that mandates in SB 83 would burden colleges with increased operational concerns.
The free expression group PEN America has likewise voiced opposition to the bill.
"SB 83 would not only legalize censorship in Ohio's public universities, but would mandate it," Jeremy C. Young, Freedom to Learn program director at PEN America, said in a statement. "SB 83 is the longest and most complicated educational gag order ever proposed, and one of the most censorious. It contains a rogue's gallery of censorship aimed at faculty, administrators, and—for the first time in an educational gag order—explicitly at students. And it represents an extraordinary and unnecessary level of micromanagement of a university's affairs."
Counting written and in-person testimony, more than 500 people have commented on SB 83, with the large majority speaking in opposition during more than seven hours of hearings.
'Courageous and Important'
University boards are often reluctant to weigh in on pending legislation—particularly trustees who are appointed by a governor or other political body, as they are in Ohio, rather than elected.
An Ohio State spokesperson told Inside Higher Ed, "This is the first time in recent years the board has issued such a statement" and that "trustees are unified in their opposition to this legislation."
Though the opposition of trustees failed to sway lawmakers, some observers noted that the statement took political courage and came with a certain degree of personal and institutional risk.
Richard Legon, the immediate past president of the Association of Governing Boards of Universities and Colleges, suggested that the statement sends the message that Ohio State's board takes its fiduciary duty seriously and is committed to protecting the values of the institution. Still, he said, lawmakers could pressure those trustees to step down, or Ohio State could be targeted in some way—perhaps facing cuts to its budget or other forms of political retaliation.
"I think we should recognize that they are doing something rather courageous and important," Legon said.
In some ways, SB 83 parallels the sweeping reforms in Florida driven by Republican governor Ron DeSantis, who has sought to reshape higher education in the Sunshine State by defunding diversity, equity and inclusion programs; allowing for posttenure review at any time; and restricting teaching on certain topics. But one stark difference between Ohio and Florida has been the response from university officials.
While Ohio State's board spoke up, trustees at Florida's 40 public institutions have said little on legislative efforts to overhaul higher education. As in Ohio, Florida's trustees are appointed rather than elected, chosen by DeSantis and the Florida Board of Governors.
Similarly, though Ohio's public university presidents voiced their concerns in measured ways, their comments provided a stark contrast to the silence in Florida, where none of the 40 presidents who lead state colleges and universities would discuss their concerns with Inside Higher Ed—even when offered anonymity to allow them to speak without fear of retribution.
Legon, who believes university leaders and boards should be more vocal in the face of culture war attacks on higher education, hopes to see trustees from other institutions follow Ohio State's example.
"At the leadership level, at the board level, nobody seems to be pushing back," Legon said. "Perhaps the Ohio State statement can embolden other leaders, other boards, other trustees from around the country—not just in Ohio—to say, 'Wait a minute, this is our fight, too.'"