You have /5 articles left.
Sign up for a free account or log in.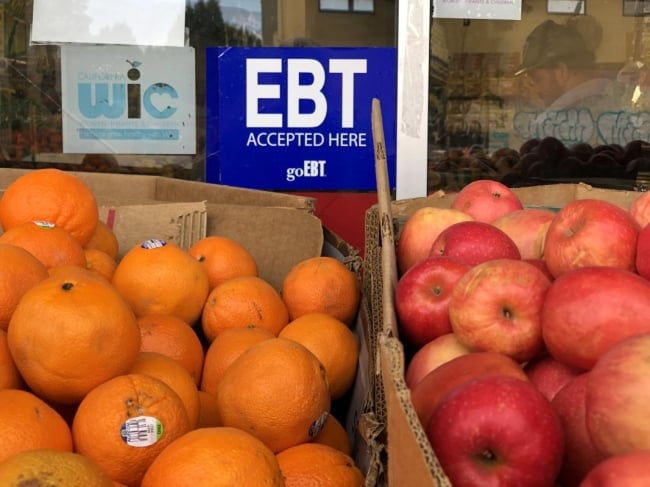 The Education Department wants colleges, universities and state higher education agencies to make sure eligible students know about the federal Supplemental Nutrition Assistance Program before pandemic provisions expire this spring.
Congress changed requirements in December 2020 as part of a pandemic-relief bill to make it easier for students to access the food assistance program. Under those changes, a student who is enrolled at least half-time and is either in a federal work-study program or whose family does not contribute any money toward their education is eligible for the program. Previously, they had to work 20 hours a week in order to receive money to pay for food through SNAP or meet other criteria, including being a single parent or having a disability, in addition to meeting the other income, household and citizenship requirements in the program. Recipients in a single-person household can't have a net income of more than $1,133 a month to be eligible. The work requirement and the other criteria will resume June 10.
The department said in a Dear Colleague letter released Thursday that colleges and universities should conduct immediate outreach to their students who meet the current criteria. Students who enroll before June 9 can receive SNAP benefits for a year.
"Students are a priority area for targeted SNAP outreach," the department's letter states. "Many students who are at risk of food insecurity and potentially eligible for SNAP do not report receiving SNAP benefits, indicating that these students may be unaware of or misinformed about their potential eligibility."
Colleges and universities had already been working to sign up students before the department's memo, CalMatters reported.
About three million low-income students became eligible for SNAP under the pandemic provisions, the Century Foundation estimated, though experts aren't sure how many students took advantage of that eligibility given the historic barriers embedded in the program.
The Hope Center for College, Community, and Justice at Temple University has found through surveys that about 18 percent of students who reported experiencing food or housing insecurity were enrolled in SNAP. About 34 percent of college students over all were food insecure, according to the center's 2020 basic needs survey.
"A lot of students are, again, encountering really substantial barriers to gaining access to food assistance, and we're gonna see food insecurity, which is already at all-time highs and getting worse with the cost increases of groceries and food," said Bryce McKibben, senior director of policy and advocacy at the Hope Center. "It's just going to continue to spike."
McKibben said he would like to see Congress extend the pandemic flexibilities.
"If Congress doesn't act, we still have a significant number of students who are not getting access to SNAP because they don't have enough information or awareness," he said. "So colleges and universities and systems of higher ed and state agencies need to work together to send out regular and proactive notices about SNAP eligibility to potentially eligible students and not consider it to be a one-and-done but to do it over the course of an academic year and at key points in which the student is interacting with the university."
Before this latest memo, he said, the department hadn't communicated directly with colleges about the particular SNAP benefits during the public health emergency. He said the memo clearly says that colleges and states can and should work together to get students information about the program.
"They are making this a financial aid and student success responsibility, because giving students access to food assistance is ultimately about helping them persist and complete college," he said.
McKibben said the Hope Center has been asking the Education Department and the U.S. Department of Agriculture's Food and Nutrition Service to send a memo like Thursday's document, "so we're happy to see them issue this guidance."
Carrie Welton, senior director of policy and advocacy at the Institute for College Access and Success, said the pandemic provisions likely didn't have that much of an impact on SNAP participation—highlighting the need for broader reforms.
"The biggest problem is that the rules—even without the pandemic provisions—are overly complex and unnecessarily stringent," she said.
However, Welton said, she doesn't want students to think they aren't eligible at all with the end of the pandemic provisions, adding that it will be important for TICAS and other organizations to make that clear to students.
Welton outlined the challenges with the SNAP requirements for students, which include working 20 hours and going to classes at least half-time, in a recent report for TICAS. She recommended that Congress eliminate the student requirements entirely—or at least simplify the eligibility criteria—and add postsecondary education to the list of activity requirements that recipients must meet to maintain their benefits.
Congress adopted strict rules for students to receive SNAP in the 1970s because of concerns that wealthier students were receiving the benefit, Welton said.
"The biggest concern is that student exemptions in SNAP are already confusing," Welton said. "The extra guidance is appreciated and certainly warranted, but so many students already don't think that they're eligible for SNAP and find the process complex and confusing to navigate."
Welton and other student advocates see an opportunity to improve SNAP during the upcoming reauthorization of the farm bill, a wide-ranging package of bills that includes provisions for the food assistance program.
"We feel like we're in a position of having to defend SNAP right now, given the conversations coming from a lot of Republicans about making the work requirements in SNAP more difficult, not just for students but the general population," she said. "It's bad timing to be a SNAP advocate, given that we know the program needs important changes but also playing defense at the same time."
Welton said that "every little bit of effort helps" connect students with the program, but she said colleges, universities and state agencies are being asked to make up for government inaction.
"I think it's unfortunate that higher education institutions are increasingly expected to fill the gap of poor government policy," she said.