You have /5 articles left.
Sign up for a free account or log in.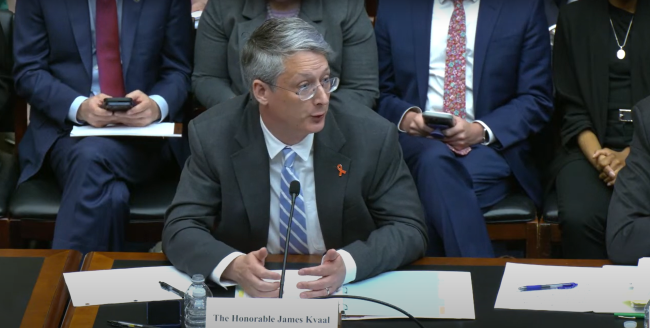 Picking up where they left off at last week's hearing with Education Secretary Miguel Cardona, Republicans on the House Higher Education and Workforce Development Subcommittee pressed senior department officials for firm answers and commitments on responding to requests for documents and details and on other issues.
Wednesday's hearing was the second in a series examining the implications of the Biden administration's policies on the student loan system. This time, Under Secretary James Kvaal and Federal Student Aid chief operating officer Richard Cordray testified. Both men defended the administration's student loan policies and shared some details about efforts to restart loan payments and to modernize the Free Application for Federal Student Aid.
House Republicans generally used their time to continue to air their grievances with the administration's policies, including the proposed gainful-employment regulations, which several committee members said unfairly targeted for-profit colleges. Democrats used their time to criticize the Republicans' criticism of the policies and to highlight how the policies support borrowers at risk of defaulting on their loans.
"The Department of Education has vastly overstepped its authority; you are operating under complete executive fiat," said Utah representative Burgess Owens, the Republican who chairs the subcommittee, in his opening remarks.
He then listed several actions he said were abuses of power. Those included extending the student loan payment pause, avoiding direct questions from Congress, forgiving up to $20,000 for eligible Americans and proposing a more generous income-driven repayment plan.
By the end of the hearing, Owens said the Education Department had lost its way and it needed to bring innovators—for-profit institutions—back to the table.
"We need to disrupt the system, not break it up," he said.
Democrats on the subcommittee also used their time to decry the Congressional Review Act resolution that would block the administration's debt-relief plan and restart payments. House Republicans approved that resolution Wednesday afternoon. President Biden has said he will veto the resolution if it reaches his desk.
"I wish I could say that this hearing reflected a bipartisan commitment to meeting the needs of our nation's student borrowers," said Florida representative Frederica Wilson, the top Democrat on the subcommittee. "Unfortunately, today, my Republican colleagues kept up their unpopular campaign to attack borrowers and their families … This is the so-called education committee. We should be leading the charge to help our students find relief."
Resuming Repayments
A few lawmakers asked about the Office of Federal Student Aid's plans to restart student loan payments in a few months—an unprecedented effort that's expected to be quite complicated.
North Carolina representative Virginia Foxx, the Republican who chairs the full education committee, and other committee members have previously requested more details from the departments about its plans to resume payments.
"With all due respect, this department has had almost two years to come up with a plan to return borrowers to repayments, and what I'm hearing here is that servicers have no guidelines, no funding and no ability to reach out to borrowers because you won't let them at this point," Foxx said. "It feels less like incompetence and more like an intentional ploy to break the student loan program and use servicers, Congress and anyone but yourselves as scapegoats so you can replace it with your radical free college agenda."
The department did reduce payments to servicers because of budget cuts at the agency. In response, servicers have scaled back call center hours and laid off staff.
Foxx asked both Kvaal and Cordray if they would assume personal responsibility if there's not a smooth return to repayment. Both said yes.
"We have no incentive to break the student loan system," Cordray said.
Oregon representative Suzanne Bonamici, a Democrat, asked Cordray how the department plans to communicate with borrowers before payments resume.
"We've been working with servicers for a long time knowing that return to repayment would come at some point," he said. "It's been a bit of a zig and zag at times. We understand it's going to be happening later this summer. Servicers are rightly concerned."
Cordray said the agency would use social media to share what borrowers need to know before repayment. That includes setting up auto payments and enrolling in an income-driven repayment program.
For-Profits and Gainful Employment
Several lawmakers focused their questions on the department's treatment of for-profit institutions, especially in light of the new gainful-employment rule. Those regulations require programs to show that graduates can afford their yearly debt payments and that they are making more than an adult who didn't go to college. Those that fail the two gainful-employment tests could risk losing access to federal student aid.
"This committee continues to be troubled by FSA's laser-focused opposition to all things that are for-profit tax status while turning a blind eye to nonprofit and public institutions that graduate students with high debt and poverty-level wages," Owens said.
Similarly, Pennsylvania representative Glenn Thompson, a Republican, criticized the department's proposed rule as discriminatory because it only applies to programs at for-profit institutions as well as nondegree programs in any sector. He said all programs should be held to the same standards.
Kvaal said that no program should routinely leave students with debts they can't pay, but the Higher Education Act of 1965 restricts the gainful-employment rule to certain programs.
Thompson replied that the department has violated the Higher Education Act "on multiple occasions."
"I'm curious why you are citing that reason now," he said.
California representative Mark Takano, a Democrat, said the gainful-employment rule is not an attack on for-profit institutions but one that would protect taxpayers.
"The risks are based on data, and the data show there's a higher level of failure at for-profit schools than at nonprofit schools; that is undeniable," Cordray said in response to a question from Takano about which students default the most.
FAFSA
New York representative Brandon Williams, a Republican, was the only member to ask at length about the new version of the Free Application for Federal Student Aid. He wanted to know if the department was on schedule to release the new form and when it would be launched.
Cordray said the new application was on schedule.
"This has been a huge, massive shift for FSA," Cordray said. "It involves numerous computer systems and retiring a 47-year-old mainframe system … We're on target to deliver this by the end of the year, and we are bound and determined to do that."
Cordray declined to give a specific date beyond that the form would be released in December of this year, as the department has previously said.
"We're not prepared to give a specific date because we're still trying to pull it forward as much as we can," Cordray said. "We would hope that it would be earlier in December rather than later in December."
Williams pushed Cordray to provide more specifics.
"Seventeen million families will have a lot of anxiety until you meet your deadlines," he said.
Foreign Gifts Reporting
Raising an issue brought up at previous hearings, Indiana representative Jim Banks, a Republican, asked about the department's enforcement of Section 117 of the Higher Education Act of 1965, which requires colleges and universities to, twice a year, disclose all foreign gifts and contracts totaling $250,000 or more.
Banks wanted to know if the department had opened any investigations related to the law. Cordray said he couldn't speak to any open investigations, though he added that his office was working collaboratively with law enforcement on the issue.
After Banks pressed the issue of investigations, Cordray said FSA will be looking into a recent news report about the University of California, Berkeley's relationship with the Chinese government. The Daily Beast reported earlier this week that the university did not report millions in investments from the Shenzhen government to build a research campus in China.
A university spokesman said Wednesday that the story "was filled with errors, omissions, and demonstrable falsehoods" and that the university did not receive the money in question.
"UC Berkeley has no ownership of any of the facilities in Shenzhen and no agreements or plans to receive ownership interest in them," the spokesman said. "Therefore UC Berkeley is not required to report this funding under Department of Education Section 117 guidelines, nor would it be appropriate to do so since this is funding for a separate institution."