You have /5 articles left.
Sign up for a free account or log in.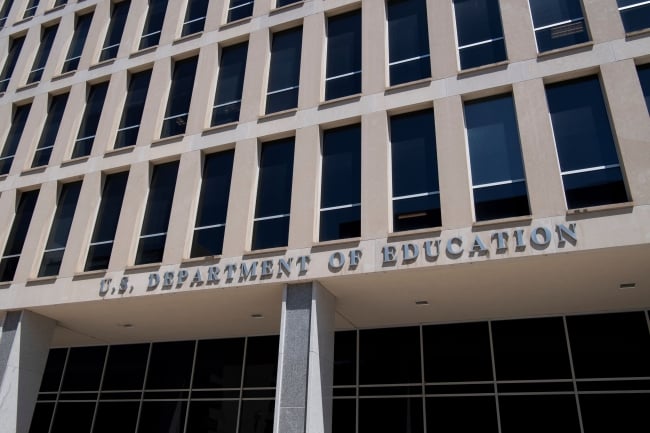 Caroline Brehman/CQ-Roll Call Inc./Getty Images
A provision nestled within a sweeping set of regulations released last month could change which laws certain colleges and universities must comply with.
The Education Department is proposing to require colleges and universities to comply with the consumer protection laws in all states where they enroll students if they want to receive federal financial aid—regardless of whether they are part of state authorization reciprocity agreements. The proposal was part of the regulations that included new rules on gainful employment, which was the most high-profile proposal in the set. This change, though, would apply to all programs.
Currently, institutions can join a state authorization reciprocity agreement in order to enroll online students from outside the state where the college or university is located and bypass some state requirements. Without the reciprocity agreement, institutions would have to seek authorization from each state in which they want to enroll students and meet a variety of requirements.
This new requirement is one of several new conditions that the department is planning to add to institutions' program participation agreements, which are required to access federal financial aid.
Department officials said in the regulations that the new conditions would "create a more rigorous process" and better protect students and taxpayers.
Forty-nine states or territories, including the District of Columbia and Puerto Rico, have signed on to the voluntary agreement overseen by the National Council for State Authorization Reciprocity Agreement (NC-SARA), which sets the standards for postsecondary distance education. Critics have said that NC-SARA's policies leave students in online distance education programs without the same state protections as students in brick-and-mortar programs.
Although the department's proposal doesn't mention NC-SARA by name, several experts said they read the regulations as intended to affect institutions that are part of the organization.
NC-SARA said in a memo released this week that the proposed language regarding consumer protection laws was "inherently vague and imprecise" and will lead to confusion. The proposed change also would infringe on the role of states and "impact the intent and value of reciprocity for SARA member states and SARA-participating institutions," per the memo. NC-SARA officials were not available for comment for this story.
The department said in the proposed regulations that the agency was responding to concerns from states worried that out-of-state institutions were taking advantage of students but unable to apply their consumer protection laws.
"That can hamper state efforts to try and step in and help students if there is evidence that an out-of-state school is taking advantage of students," the regulations state. "It can also minimize the ability of students to access tuition recovery funds to repay any tuition paid out of pocket."
Institutions would only have to follow consumer protection laws that relate to closures, recruiting and misrepresentations.
Emmanual Guillory, senior director of government relations for the American Council on Education, said during a virtual panel discussion Wednesday that about six states have stronger consumer protection laws compared to NC-SARA's policies.
"That's going to be an additional hurdle" for institutions that operate in those states, he said.
The new conditions under the department's certification procedures were proposed as part of a 1,000-page package that included rules on financial responsibility, administrative capability, gainful employment and ability to benefit. The public comment period on the regulations closes June 20. Other conditions include requiring those entities with direct or indirect ownership of a proprietary or private nonprofit institution to sign the agreement, a prohibition on transcript withholding in some cases, and limits on whom institutions can employ or affiliate with.
Colleges and universities also would be required to show their programs meet the professional licensure requirements in the state where a student lives at the time of enrollment. That includes teacher-prep programs as well as those in the health-care industry, such as nursing. That change could lead institutions to cut back on programs in some states or limit how many students can participate, some experts said, which could exacerbate workforce shortages.
"We are aware of institutions enrolling students in programs that do not meet such requirements," the department wrote in the proposed regulations. "Students in these programs often find themselves struggling to find employment and owing student loans on credentials that do not qualify them to work in the occupations for which they were trained."
However, some higher education groups say the department's proposal needs more nuance to better reflect students' situations such as those who may be located in a state temporarily or those who choose to attend a program because of its reputation. The proposal also doesn't take into account the reality of how state licensure boards operate, said Cheryl Dowd, senior director of the State Authorization Network for the Western Interstate Commission for Higher Education's Cooperative for Educational Technologies, or WCET.
Additionally, less resourced institutions would likely struggle to satisfy this requirement as opposed to larger online education operations such as Southern New Hampshire University, said Russell Poulin, who leads WCET.
"I'm not sure that the goal was to make sure life is better for the large institutions," Poulin said.
Dowd and Poulin have been sounding the alarm about these proposed changes since the regulations' release. They're skeptical about the legality of the department's proposal and worry about unintended consequences.
"We really do concur with the department about wanting to protect students and protect the integrity of the [Higher Education Act of 1965] programs," Dowd said. "It's just a matter of wanting to do it in a way that compliance can occur and that the department is able to enforce the rules they develop."
Poulin said that joining NC-SARA is up to state lawmakers.
"Reciprocity is state law," he said. "Remember that every state agreed to be part of this and that they agree that this is how they work. What they're trying to do is change that state law through this federal action."
They also want more clarity about what the department means by recruiting, closures and misrepresentations and how states could respond.
"There could be a number of different closure-related or recruitment-related requirements in a state, and we don't know what the parameters for that are because they use this term, which is rather vague, around closure, recruitment, misrepresentation," Dowd said. "What will fall under those packages is still unclear at this time."
The department said in the proposed regulations that recruiting, closure and misrepresentation have historically been where the department has incurred the greatest expenses from student loan discharges when institutions close or through borrower defense to repayment claims. Under the borrower-defense program, students can apply for debt relief if they were misled or manipulated by an institution of higher education, for instance, by its advertising.
"In crafting this language, the department is balancing the goals of ensuring that institutions have a reasonable path to offer distance education to students who do not reside within their borders while ensuring that states have the ability to protect their students if an institution located in another state tries to take advantage of students or is at risk of closure," officials wrote in the regulations.
The department is seeking feedback, in particular, on the best way to construct the requirement to protect students while also not creating an unnecessary burden on institutions.
Carolyn Fast, a senior fellow at the Century Foundation, is one of a dozen advocates and groups who have urged NC-SARA to bolster its own consumer protections, which she called "very minimal." She said the department's proposal was a positive step.
"It's really important that states be able to protect those students against abuses, and to do that they have to have the ability to enforce their own state laws," she said.
Fast said the colleges and universities operating in multiple states should be able to figure out what the laws are in those states and comply with them.
"Businesses in many sectors operate in multiple states and are expected to follow state laws where they are operating, and that's not really an unrealistic expectation for businesses," she said. "It shouldn't be too hard for schools to comply with rules related to misrepresentations and recruiting because basically those rules are, like, 'Don't lie to people.'"
Fast said she would've liked the department to have gone further in its proposal.
"We would have liked to see this provision not limited to those three areas, but rather apply to all state laws," she said. "But we understand the department's desire to have a compromise here."