You have /5 articles left.
Sign up for a free account or log in.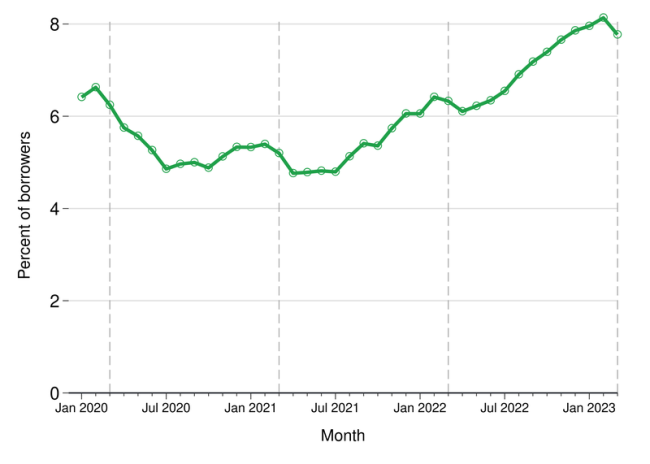 Consumer Financial Protection Bureau Consumer Credit Panel
More student loan borrowers are behind on their credit card bills and loans than before the pandemic, and they are paying more because of rising interest rates, a new report from the Consumer Financial Protection Bureau found.
The rising delinquencies mean that more borrowers will be at risk of defaulting when payments turn back on later this summer after a three-year pause. Nearly 20 percent of borrowers, about 5.9 million, have two or more risk factors that indicate they'll struggle with making their student loan payments. That's up from the estimated 5.1 million borrowers who were at risk in April 2022.
The Consumer Financial Protection Bureau has tracked the credit health of student borrowers during the pandemic. Its latest update comes as borrowers await a ruling from the Supreme Court on whether the Biden administration can carry out its one-time debt-relief plan. The court is expected to release its decision sometime this month. Student loan payments will resume 60 days after June 30.
The administration has said that debt relief is needed to prevent high rates of default and delinquency when payments resume. The bureau's data, which are based on a sample that represents about 32 million federal student loan borrowers, shows that young people and those with low incomes will likely struggle to make their payments.
Ben Kaufman, director of research and investigations at the Student Borrower Protection Center, said this latest update builds on surveys and anecdotes from borrowers that show they aren't ready to restart payments.
"What the bureau's done is really important, because they've laid bare that you can already see in people's credit file that they're not ready," he said. "The situation is worse than we could have imagined. This is a four-alarm fire."
House Republicans have pushed the administration to resume requiring payments, citing the cost of the pause, which is estimated to be $5 billion a month. No federal student loans have been accruing interest during the pause. Other analysts have argued the pause was regressive and didn't help borrowers get out of debt.
The percent of borrowers who are behind on their nonstudent loan payments steadily increased during 2022 to more than 8 percent in early 2023 before dropping off a bit in March. Bureau researchers noted that the decrease in March could represent a new trend, but "we do not think it signals improving conditions for these borrowers."
As of March, about 2.5 million student loan borrowers had a delinquency on a nonstudent loan, according to the update. That's an increase of about 200,000 borrowers since September 2022.
About 30 percent of the borrowers who are considered at-risk have balances of less than $20,000. Biden's debt-relief plan would wipe out $10,000 in student loans for Americans who make less than $125,000 a year. Those who received a Pell Grant while in college would see an extra $10,000 in relief.
"The people who are going to be hurt here are low-income people with smaller balances," Kaufman said. "The explicit rationale for the president's cancellation plan was to avoid this mess and in part to alleviate the administrative burden and, by extension, alleviate the burden on students."
People living in low-income census tracts have seen a 57 percent increase in median nonstudent loan and nonmortgage payments, while those who are ages 18 to 29 have seen a 252 percent increase, according to the update.
"For borrowers who left school and exhausted their six-month grace period during the pause, the transition into student loan repayment for the first time may be difficult, especially if they have taken on other debts without previously needing to manage their student loan payments," the update says.
Half of all borrowers are facing monthly payments for nonstudent loan, nonmortgage debts that are at least 10 percent higher than when payments were first paused, per the update.
Larger nonstudent loan debts is one of several factors that could make the return to repayment more difficult for borrowers. The agency tasked with overseeing the student loan system is underfunded and cutting the budgets of loan servicers. Additionally, about 44 percent of borrowers will be working with a new loan servicer in part because several companies left the federal student loan system during the last three years.
"For some borrowers, this process may be smooth with few changes," the report says. "But other borrowers may need to create new logins with their new servicer, re-enroll in autopay, or update their payment information."
About 18 percent of borrowers in the bureau's sample have not yet entered repayment, so they'll have to identify their servicer and set up an account before payments resume.
Researchers with the bureau pointed to income-driven repayment plans as a way to help borrowers manage when payments resume. That echoes recent calls from advocates and researchers who have urged the department to put its new, more generous income-driven repayment plan in place before restarting payments. That plan would cut payments in half for undergraduates and allow borrowers who take out $12,000 or less in loans to qualify for relief in 10 years, among other changes.
New America, a left-leaning think tank, found in a recent report that the borrowers who would benefit the most from IDR are at risk of not enrolling in the plan because they don't know about it.
"Availability of these programs neither ensures that borrowers are aware of them and can enroll nor means that its contractors are providing adequate information and service," the New America report says.